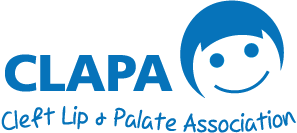 There are so many ways you can support CLAPA. Can you help us continue bringing the cleft community together?
We've come up with some fun and easy ideas to help you get started with fundraising, and if you've got some genius plans of your own, our friendly fundraising team would love to hear from you at [email protected]!
We are so grateful to see the inspiring and innovative things you come up with to raise funds for us, from selling hand-made bags to organising a community party to raise awareness for cleft lip and palate.

If you don't have much time on your hands but would still like to fundraise for CLAPA, then using a platform such as Facebook or Just giving is a great, quick, and easy way to support us during your birthday celebrations and are completely free.
We rely on the kindness and generosity of the community to help us provide services beyond the hospital walls and make sure every child born with a cleft can grow up smiling inside and out. Can you help us be there for every child, adult, and family in need?
Donate to CLAPA