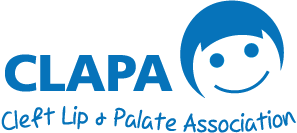 There are so many ways you can support CLAPA from home. Can you help us continue to bring the cleft community together even while we're apart?
We've come up with some fun and easy ideas to help you get started with fundraising from home and if you've got some genius plans of your own, our friendly fundraising team would love to hear from you at [email protected]!
Some ideas to get you started:
Step Up for CLAPA
Even lockdown can't stop this feel-good fundraising challenge! Wherever you are, whatever the weather, you can show your support by lacing up your trainers and getting your steps in.
Give something up
Whether it's chocolate, alcohol or clothes-shopping, pledge to give up your favourite vice for a whole month and call on family and friends to sponsor you. When you set up your Just Giving page or Facebook Fundraiser for your challenge, make sure to tell everyone why you want to support CLAPA!
Support CLAPA as you shop!
If you don't have time to organise your own fundraiser or take on a challenge, did you know that you can support us as you shop by signing up to Amazon Smile? To date Amazon has donated £4,072.06 to CLAPA thanks to you, showing how much impact a few pennies and pounds can make when lots of people are taking part! Click on the button below to register.
While it might not be possible to take part in a big event at the moment, why not take on a challenge closer to home? Whether you prefer a 5k park loop or a Spartan race, you'll find plenty of upcoming runs to choose from across various locations in the UK!

Obstacle course in the garden? Marathon in your living room? Rethink your challenge (or take on a new one) and show your sponsors you aren't giving up!
We rely on the kindness and generosity of the community to help us provide services beyond the hospital walls and make sure every child born with a cleft can grow up smiling inside and out. Can you help us be there for every child, adult and family in need?
Donate to CLAPA