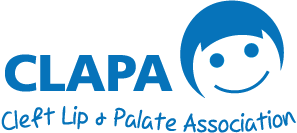 Make A Donation Or Pay In Money
Make a donation today to help CLAPA continue to provide vital services for families affected by cleft lip and palate.
CLAPA relies on the kindness and generosity of people like you to continue our work improving the lives of people affected by cleft across the UK. Thank you so much for your support!
---
Donate through the Charities Aid Foundation
Note: If you'd like a letter of acknowledgement or a certificate for your donation, please get in touch with our friendly fundraising team at [email protected]
If you would like to pay in money from your fundraising event, please click here to see the wide variety of ways you can make your donation.
An Important COVID-19 Update
Due to COVID-19, our staff team are working from home and we only have two members of staff coming to our office twice a week to operate our feeding service. Along with delays to post, it may take longer for us to receive your cheque than usual and we will no longer have the ability to post a 'Thank You' for your donation to your return address.
If you would like to be thanked, please attach your name and an email address to your cheque so we can thank you digitally.
Alternatively, if you are sending us a donation via bank transfer, please email [email protected] with your bank transfer details (including your name and the amount donated) so we can be sure to thank you digitally in this way too.
Thank you very much for your support, it really makes a difference.
Paying In Money
By Cheque
Please send a cheque made payable to 'CLAPA' with any sponsorship forms you may have to our address (see below). Try and make sure that as many of the sponsors as possible have filled in their surname, house number, postcode and ticked the gift aid column.
CLAPA
The Green House
244-254 Cambridge Heath Road
LONDON
E2 9DA
By Bank Transfer
Alternatively you can make an online BACS transfer or pay cash or cheques directly into any Barclays Bank and add your name as reference.
In order to pay cash directly into our bank account, you will need a pre-printed paying-in slip. If you do not have one of these, please email [email protected] to request one. Please provide a copy of the 'Counterfoil' paying in slip once the transaction is complete.
Barclays Bank Plc
Sort Code: 20 – 37 – 83
Account No.: 60588806
Please remember to contact us and let us know the date and amount of the deposit so that we know to attribute the sum to you. Please call the fundraising team on 020 7833 4883 or email [email protected].
We'll send a thank you as soon as we've received your donation or sponsorship.
Transfers from Overseas:
IBAN: GB21 BARC 2037 8360 5888 06
SWIFTBIC: BARCGB22
How Your Money Will Make a Difference
£3.50 Could buy a pack of specialist feeding teats
£40 Could fund a Welcome Pack for new parents
£200 Could fund training for a Peer or Parent Supporter
To find out more about what CLAPA does and how your donations will make a difference, click here 
'I cannot express enough how much CLAPA has positively affected our life. The support from the Cleft Nurse when our daughter was a baby was amazing and much needed, but the community support we receive from CLAPA continues to be an important part in our lives as our daughter grows up.'

(Parent attending a CLAPA event in 2018)
Want to make a direct donation or set up a direct debit? Head over to our donation page to find out more.
Make a Donation