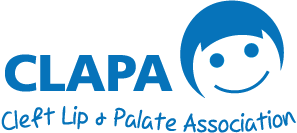 CLAPA is committed to safeguarding the people of all ages and backgrounds who use our services. Click to find out more about how we make safeguarding a priority.
All the photos you'll see on CLAPA.com have been submitted to us by parents and people affected by cleft lip and palate in the United Kingdom. We'd like to thank each and every one of you not just for making this website possible, but for filling our photo galleries with beautiful images that can comfort and inspire families all over the world.
PLEASE NOTE: While no photos have graphic surgical content, some show babies and young children very soon after surgery, and in some cases there is visible blood, swelling and bruising.  We publish these photos to help parents and carers prepare for their child's surgery, but we know that these may be distressing to some, so please carefully consider if this is something you are comfortable viewing.
If you would like to talk to another parent or adult about any worries or questions you may have, contact our Parent and Peer Supporter Service.
CLAPA's gallery is the best resource around for seeing what children with a cleft look like from birth until after surgery. We have a large number of photos showing a wide variety of clefts, and we are updating our gallery all the time with new images.