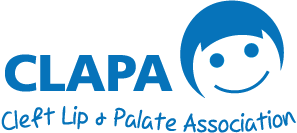 The voice of the cleft community is the foundation of everything we do at CLAPA. From developing new services to shaping our messaging, we want people affected by cleft to be involved every step of the way.
And it's not just us that needs your views. New research projects on a huge range of topics surrounding cleft are starting all the time. They need participants as well as people to give feedback on their project from start to finish.
CLAPA Voices is your chance to have your voice heard.
Join today, and we'll get in touch about opportunities throughout the year for you to feed into our work, as well as take part in research projects. You can pick the ones that interest you and fit around your schedule, and where possible, we'll provide flexible ways to get involved.
We might contact you about:
Opportunities to get involved with cleft research, either as a participant or to give feedback on the study itself
Reviewing a new leaflet before it's published
Giving your thoughts on a new service that we're developing
Completing more in-depth surveys about aspects of our work
Reviewing website updates and making suggestions
Commenting on ideas for future fundraising campaigns
Sharing your experiences with NHS Cleft Teams
Add your voice – sign up today!