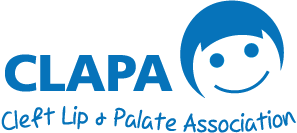 CLAPA's events are a way to help the cleft community connect with each other, share experiences, and find support.
This page goes through the different kinds of events we run and what you can expect from each one. It also goes through how to use Zoom for anyone who may be uncertain about joining an online event.
If there is anything missing from this guide, or you have any other questions, please get in touch at [email protected], use our contact form, or call 020 7833 4883.
In this guide:
Expectant Parents
Parents, carers and family members
Events for Children and Young People (Coming Soon)
Parents, carers and family members
Children and Young People (under 18) born with a cleft
Check individual events for suitability
Adults (18+) born with a cleft
Parents, carers and family members
Children and young people (under 18) born with a cleft
Check individual events for suitability
Check individual events for suitability
Adults (18+) born with a cleft
Parents, carers and family members
Expectant parents
Young people (16+) born with a cleft
Researchers and cleft health professionals
About CLAPA Events
Access Needs
We want our online events to be inclusive to everyone in the CLAPA Community. If you have any access needs which our online events do not currently meet, please let us know and we will do everything we can to make sure you are able to attend. You can use the contact details on the event page, or contact us directly.
Joining the Conversation
Our online events aim to be safe spaces where members of the UK cleft community can share their experiences and ask questions with others. However, attendees are also welcome to come along and just listen in if they feel more comfortable doing so. Everyone is welcome to turn off their video and/or microphone at any point.
If there is something you would like to contribute but would rather not say out loud, you can message the event host using the chat function on Zoom. If you would like to remain anonymous, please say so in your message.
Raising an issue
Most of our online events are led by CLAPA volunteers, with a CLAPA staff member in attendance to make sure things run smoothly and to keep everyone safe. If at any point during the event you have a question, feel uncomfortable, or want to raise an issue, the session leaders will be happy to help. You can send them a private message using the Zoom function and they will then discuss the most appropriate way forward with you.
Safeguarding
We take the safety and wellbeing of everyone who uses our services very seriously. This is the reason for many of the extra precautions we take during events, such as asking people to display their names on Zoom or asking a parent/carer to 'drop off' their child at the start of events. By following the instructions we give for joining events, and by reporting anything you think may be wrong, you're helping us keep everyone safe.
As part of our commitment to safeguarding, there may be times when we have a responsibility to report concerns to local safeguarding bodies or authorities like the police. We will always explain this first unless we believe doing so would put someone at risk of harm. Read more.
Giving feedback
Your feedback directly shapes the events we organise. Whether you loved an event or thought we could do better, we want to hear from you.
Please help us improve by completing any feedback forms you're sent after the event, or by letting us know directly by emailing [email protected] or filling in our contact form if you'd rather do this anonymously.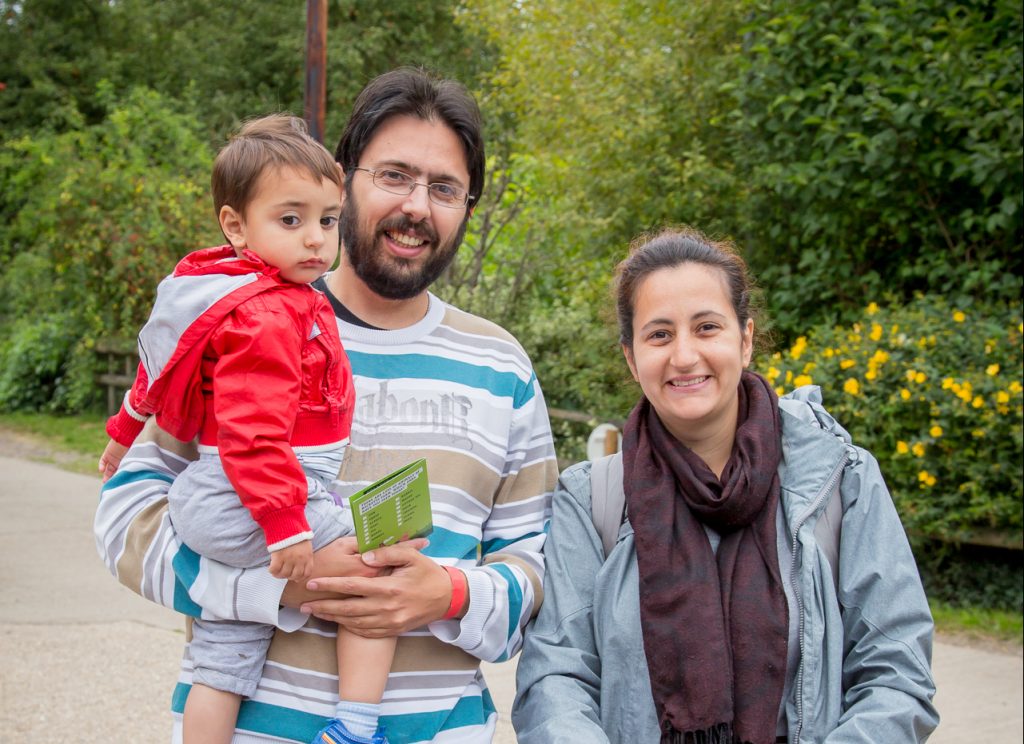 About Coffee Clubs
CLAPA's Coffee Clubs are a place for people affected by cleft lip and palate to share questions, concerns, stories, experiences, and whatever else is on their minds.
They are organised around different topics such as feeding, surgery and diagnosis to help people meet and talk with others with similar experiences, or who are at a similar place in their cleft journey.
These events are facilitated by a CLAPA volunteer, with a member of CLAPA staff also in attendance. The facilitator will help to guide the discussion and make sure the atmosphere remains supportive, but otherwise, Coffee Clubs are loosely structured to allow the free flow of conversation.
If you have particular questions around the topic you know you'd like to raise, state these in the event sign-up form to make sure they're addressed during the event. You can also email the event organiser in advance, or even contact the event host using the chat function during the event itself.
Everyone is welcome to join the discussion when they have something to add, but we ask that attendees use the 'raise hand' function when others are talking to avoid interruptions.
You are also very welcome to just listen in on the discussion with your camera on or off. There is no pressure put on any individual attendees to talk at any point during the event. You will not be asked to introduce yourself, but you are free to do so in the chat if you would like.
You should change your display name to your own name(s) as well as your child's name and age if relevant. Even if you're not actively taking part, this helps to reassure everyone else that you're a real person with a personal connection to cleft.
Discussions may touch on sensitive issues and attendees may get emotional as a result. Coffee Clubs are a safe and supportive space where everyone should feel free to express themselves and their concerns without fear of judgement. We ask everyone attending our Coffee Clubs to remain respectful, supportive and empathetic towards other attendees throughout, and to contact the host via the chat function if they have any concerns about this.
We also ask that you respect the privacy of all attendees by treating any information revealed in sessions as confidential. We hope this will ensure that everyone feels comfortable talking openly during the sessions.
Family Fun Sessions
Run by CLAPA Volunteers, these sessions feature a variety of virtual family-friendly activities like scavenger hunts, baking sessions and lots more. The sessions give families the opportunity to connect with others and have a chat in between activities or at breakout times. They're also great opportunities for children to interact with others who look and sound similar to them, and to build friendships in a safe space.
Whether the event involves running around your house to find objects as part of a scavenger hunt or dancing during an online party, the focus is always on fun.
Check individual event listings to find out more about what we have planned, including age ranges and what you'll need to bring or prepare beforehand.
These sessions were created during lockdown, but we know that as restrictions ease families still hugely value the chance to connect regardless of geographical location.
Parents/carers must remain in the room during sessions to ensure we can safeguard children throughout the event.
If you have a particular idea for a theme or something fun you'd like us to do, please email (Joy) with your suggestions.
Creative CLAPA
Creative CLAPA sessions are informal, accessible skill-sharing events designed to create conversation through creativity.
Each session features a different creative activity such as drawing or painting, but you don't need any prior skill or practice to take part. Our volunteer will take you through the creative process to reach a beautiful outcome while you chat about your own experiences with cleft or just listen in to others. There will be a slide show with instructions as well as a live demonstration for you to follow and you will be given a list of equipment needed for each session so you can make sure you have everything to hand.
These themed sessions are designed for different parts of the cleft community, so check individual event listings for more information.
Mini-Courses
These are a short run of 6 or so regular events designed to teach you (and/or your child) a new skill. To sign up, you need to commit to attending every session in the mini-course.
Run by volunteers, these mini-courses are an informal, friendly space to learn something new and meet others affected by cleft who are at a similar point in their journey. Seeing the same faces week after week is a great way to make connections and build friendships.
We're currently trying out this format with a 'Baby Signing' mini-course, and we hope to announce more like this in the future.
Look out for individual courses to find out more about the age range and what's needed to take part.
Events for Adults
Employment Webinars
In Autumn 2021, we are hosting a live 'Employment Webinar' stream on our CLAPA Adults Facebook Group.
These webinars are aimed at adults born with a cleft who may be looking to start their employment journey, who may have just joined a new workplace, or who are already in employment and want to gain some extra knowledge or find out more about dealing with difficult situations. You'll get the chance to ask questions and get advice and support from our trained volunteers with lived experience of cleft in the workplace.
We will focus on a different topic each month, starting with CV writing and applying for jobs, then we'll explore preparing for interviews and interview techniques, preparing for your first day, and rights at work which will include dealing with difficult situations.
These sessions will be held on Zoom and will be streamed to our CLAPA Adults Facebook Group.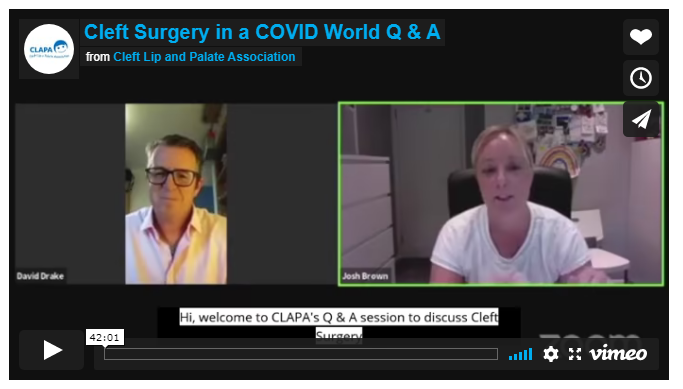 Live Q&As
CLAPA runs 'Question and Answer' events (Q&As) on topics where hearing from an expert is important, such as research projects or specific areas of cleft care.
These Q&As are streamed live onto CLAPA's Facebook page (link) through Facebook Live. You don't need to be logged into Facebook to watch these live streams, nor do you need to 'Like' our page, but if you do then you'll be alerted when a live stream is about to start.
We typically ask for questions to be submitted in advance and will post a simple, anonymous form on our Facebook Groups, as well as from the Events page (link). You can also ask questions during the stream itself, but you must be logged in and 'like' our page to do this.
These live Q&As generally feature a CLAPA volunteer or staff member asking questions of an expert on the topic, such as a surgeon or a cleft researcher. The expert will do their best to answer in a way that is helpful and accessible to the cleft community.
You can watch previous Q&As on our Facebook page or on our Vimeo page. We aim to upload a new version of the video with subtitles or transcripts once these have been completed; typically a few weeks later.
With these Q&As, we hope to make cleft care and research more transparent and easier to access for people affected by cleft. If you have an idea for a Q&A topic we could cover in the future, please get in touch at [email protected]
About Zoom
Zoom allows people to set up and join 'meetings' by video over the internet. Most of CLAPA's online events are run using Zoom.
Zoom works best if you have a laptop, tablet or smartphone which has a camera and microphone built-in, or a desktop computer that has a webcam and microphone attached.
You don't need to set up a Zoom account to join a meeting or event, but you do need to download and install the app or software beforehand. To do this, visit the Zoom download centre and click on the right link for your device.
If you're using a laptop or desktop computer, you should use the first download link under 'Zoom Client for Meetings'. If you're using a tablet or smartphone, scroll down to find the links to the App Store and Google Play.
You can also 'dial in' to meetings and events using a phone number with a landline or mobile phone, just like you would for a conference call. If you do this, you don't need to download anything in advance.
Joining a Zoom Meeting
If you're nervous about using Zoom for the first time, we strongly recommend you try it out in advance by joining a test meeting. This will let you join an empty test room and become familiar with how everything works with no pressure.
To join a Zoom Meeting, you need to click the link CLAPA which we'll email to you a few hours before your event.
This will be sent to the same email address you registered with on Eventbrite. If you can't see this link an hour or so before the event, please check your junk or spam folder. If you still don't have the email, visit our events page at clapa.com/events to find the relevant event page and email the contact listed in the event description.
In this email, we'll include the meeting ID and passcode, as well as telephone numbers for those joining via telephone.
Joining via telephone
Dial the telephone number listed in the email.
Please note that sometimes the default phone numbers are based in the USA, which can be very expensive to call. In the email, there will be a link to find a more local phone number.
When you dial one of these numbers, you will be given instructions on how to join using the meeting ID and passcode listed in the email.
Joining with your device
When you click the link in the email, Zoom will start. You may need to click 'agree' or 'allow' on a message to let Zoom open on your device.
Before you join, Zoom will show a preview of your video. You can choose to join with your video on, or to join without your video.
Once you're in the meeting, you can turn your video and/or audio off at any time by clicking the buttons shown below. We recommend keeping yourself muted when you are not speaking, as seen here.

You can change your display name by right-clicking on your video and clicking 'Rename' on a laptop or desktop computer, or by clicking the three dots on the right-hand side by your video on a mobile or tablet device.
Join a test meeting in advance by visiting zoom.us/test. This will let you join an empty meeting where you can test the audio and video settings and become comfortable with how Zoom works.
If you would like to try out Zoom with one of our staff before the event and learn a little more about what to expect, please get in touch with the event organiser.
Find out more about our upcoming events on our website, or on our Eventbrite page!