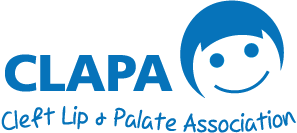 Events for Parents and Carers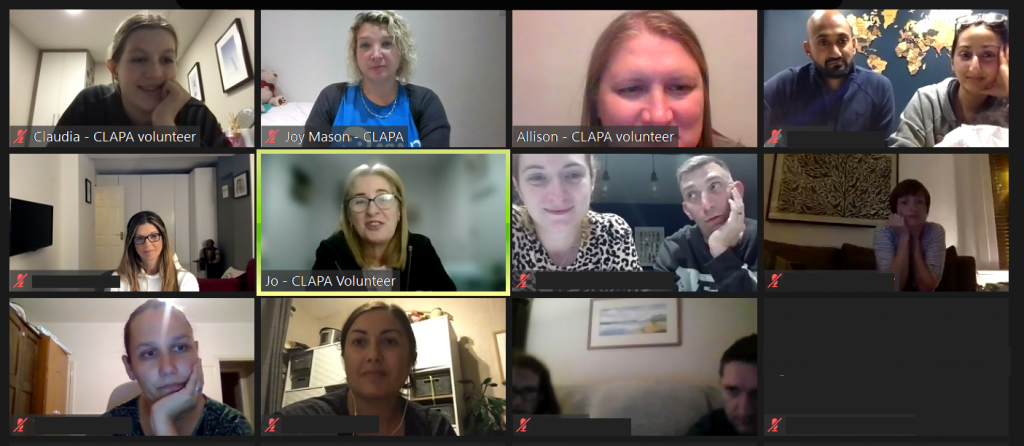 Coffee Clubs
CLAPA's Coffee Clubs are a place for people affected by cleft lip and palate to share questions, concerns, stories, experiences, and whatever else is on their minds.
They are organised around different topics such as feeding, surgery and diagnosis to help people meet and talk with others with similar experiences, or who are at a similar place in their cleft journey.
These events are hosted by CLAPA volunteers, with a member of CLAPA staff or volunteer Facilitator also in attendance. The host will help to guide the discussion and make sure the atmosphere remains supportive, but otherwise, Coffee Clubs are loosely structured to allow the free flow of conversation.
If you have particular questions around the topic you know you'd like to raise, you can state these in the event sign-up form to make sure they're addressed during the event. You can also email the event organiser in advance, or even contact the event host using the chat function during the event itself.
Everyone is welcome to join the discussion when they have something to add, but you are also very welcome to just listen in on the discussion with your camera on or off. There is no pressure put on any individual attendees to talk at any point during the event. You will not be asked to introduce yourself, but you are free to do so in the chat if you would like.
Discussions may touch on sensitive issues and attendees may get emotional as a result. Coffee Clubs are a safe and supportive space where everyone should feel free to express themselves and their concerns without fear of judgement. We ask everyone attending our Coffee Clubs to remain respectful, supportive and empathetic towards other attendees throughout, and to contact the host via the chat function if they have any concerns about this.
We also ask that you respect the privacy of all attendees by treating any information revealed in sessions as confidential. We hope this will ensure that everyone feels comfortable talking openly during the sessions.
Thank you so much for all these meetings they are so beneficial for our understanding and make us feel better prepared for the next steps to come
Creative CLAPA
Creative CLAPA sessions are informal, accessible skill-sharing events designed to create conversation through creativity.
Each session features a different creative activity such as drawing or painting, but you don't need any prior skill or practice to take part. Our volunteer will take you through the creative process to reach a beautiful outcome while you chat about your own experiences with cleft or just listen in to others. There will be a slide show with instructions as well as a live demonstration for you to follow and you will be given a list of equipment needed for each session so you can make sure you have everything to hand.
These themed sessions are designed for different parts of the cleft community, so check individual event listings for more information.
One parent attending our very first Creative CLAPA session said;
'Amazing session! Katie was a great teacher and it was a real confidence booster! Thanks so much!'
Mini-Courses
These are a short run of 6 or so regular events designed to teach you (and/or your child) a new skill. To sign up, you need to commit to attending every session in the mini-course.
Run by volunteers, these mini-courses are an informal, friendly space to learn something new and meet others affected by cleft who are at a similar point in their journey. Seeing the same faces week after week is a great way to make connections and build friendships.
We're currently trying out this format with a 'Baby Signing' mini-course, and we hope to announce more like this in the future.
Look out for individual courses to find out more about the age range and what's needed to take part.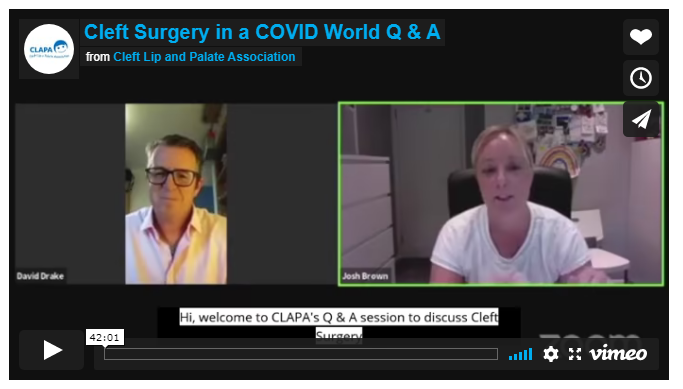 Live Q&As
CLAPA runs 'Question and Answer' events (Q&As) on topics where hearing from an expert is important, such as research projects or specific areas of cleft care.
These Q&As are streamed live onto CLAPA's Facebook page (link) through Facebook Live. You don't need to be logged into Facebook to watch these live streams, nor do you need to 'Like' our page, but if you do then you'll be alerted when a live stream is about to start.
We typically ask for questions to be submitted in advance and will post a simple, anonymous form on our Facebook Groups, as well as from the Events page (link). You can also ask questions during the stream itself, but you must be logged in and 'like' our page to do this.
These live Q&As generally feature a CLAPA volunteer or staff member asking questions of an expert on the topic, such as a surgeon or a cleft researcher. The expert will do their best to answer in a way that is helpful and accessible to the cleft community.
You can watch previous Q&As on our Facebook page or on our Vimeo page. We aim to upload a new version of the video with subtitles or transcripts once these have been completed; typically a few weeks later.
With these Q&As, we hope to make cleft care and research more transparent and easier to access for people affected by cleft. If you have an idea for a Q&A topic we could cover in the future, please get in touch at [email protected]
Hearing information about what to expect from individuals that have gone through the surgery them selves as well as parents and specialists. Really helpful to hear and know more about what is ahead for us.
Virtual Massage
From preparing for operations to managing numerous hospital appointments, caring for a child with a cleft can be stressful. Since the pandemic began, parents, carers and extended family have faced a new host of worries they can't anticipate or control, and we know anxiety levels are at an all-time high for many in the cleft community.
Most of our events are centred around sharing information and skills and, while this is an important part of coping with a cleft journey, it's not the only part. To care for others, it's vital we take time out to care for ourselves.
To help with this, CLAPA is trialing a new range of wellbeing activities designed to give parents, carers and other close relatives (including grandparents) a cleft-focused space where they can take time to relax and let their worries go.
Our virtual massage sessions are led by Ellen Woodley, a qualified Level 5 BTEC Clinical Sports and Remedial Massage Therapist. At the start of the sessions, you'll have the (entirely optional) chance to share something about your cleft journey that's worrying you at the moment. Ellen will then walk attendees through some basic techniques to ease tension and reduce pain in specific areas of the body. Click here to find out more about Ellen's work.
It was nice to talk to a parent of a child with a cleft lip as I got to ask questions. It was also interesting to have an adult on the session who had recovered from a cleft lip and you could see the amazing progress she had made. It was a lovely friendly atmosphere and the coordinator was so kind and thoughtful.