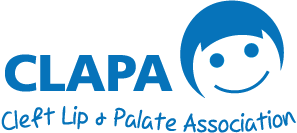 Our Strategy
CLAPA is your charity and your community, Here, you can find out more about our plans to improve the lives of people affected by cleft throughout the UK.

CLAPA's Strategy for 2022-25
One in 700 babies is born with a cleft lip and/or palate; that's three every day in the United Kingdom.
CLAPA is the national charity for everyone affected by cleft in the UK. We support people to take control of their journey, connect with others, and use their voices to impact the future of care.
We do this because:
The treatment pathway can last twenty years or more and is far more complex than most people realise
People affected by cleft deserve the chance to talk to others who understand what they're going through
Up to 60,000 adults in the UK were discharged from cleft care before services were centralised. Most will not be aware of how to get the support and treatment they need, and their voices are rarely included in discussions about care.
The coronavirus pandemic has caused unprecedented disruption to all areas of our lives. NHS cleft services have suffered, and people affected by cleft will continue to feel the impact for years to come.
Historically, CLAPA has focused on local support services delivered through a regional structure, but we only reached a fraction of the cleft community. When the world changed in 2020, so did we. Our pivot towards online, UK-wide service delivery has seen us become more equitable, accessible and flexible. We may be small, but our reach has never been this wide.
Everything we do is led by the voices of people affected by cleft. To meet their needs in an ever-changing world, we need to use our limited resources in a way that has the greatest possible impact. To be truly equitable, we need to better understand the barriers that stop people from getting the support they need. To meet new challenges head-on, we need to form strong partnerships that make the most of our unique position in the cleft world.
Our core services provide fantastic support to thousands of people affected by cleft each year. This new strategy will see us continue to deliver and develop these services with three key aims in mind. Over the next three years, we will become a more efficient, sustainable and adaptable charity which can keep up with whatever the future has in store for the UK cleft community.
"In a connected and ever-developing world, our CLAPA community deserve the best service our team can deliver. From vital information and guidance to events and engagement, CLAPA will always excel in both serving and bringing our community closer together. In challenging economic times, there is an even greater need for CLAPA and our new strategy enables us to be flexible and agile – to adapt to changing circumstances – and to place the community at the centre of everything we do. Having CLAPA in your pocket makes that possible. For those without access to digital resources, we will remain accessible and open through other channels. CLAPA's history is wonderful, with this exciting new strategy, we're looking to secure CLAPA for the future."
– Nick Astor, Chair of CLAPA Trustees and father of a child born with a cleft
"CLAPA has supported, connected and empowered people affected by cleft in the UK for over 40 years. In April 2021, we launched a radical one-year, digital-first strategy to help us keep pace with the way people now access support and information. This last year has enabled us to focus our energies and resources on becoming a dynamic organisation which puts the needs of the cleft community first and strives to reach people from all corners of the UK. Our online programme of activities and events has allowed us to engage with people who have never been involved with CLAPA before and the feedback we have received has been extremely positive."
"I am now delighted to be able to share with you our new strategy for the next three years and hope you will come with us on this journey to continue to deliver and develop our support for all those who need it."
– Claire Cunniffe, CLAPA CEO
Download CLAPA's Strategy 2022-25 (PDF)

Cleft Lip and Palate Association Strategy 2022-25
Vision
No one affected by cleft lip and palate in the United Kingdom will go through their journey alone.
Purpose
CLAPA is the national charity for people affected by cleft lip and palate in the United Kingdom. We support people to take control of their journeys, connect with others, and use their voices to impact the future of care.
Over the next three years, we will develop and deliver our core support services by:
AIMING FOR EQUITY by understanding and tackling the barriers preventing people from accessing the support they need.
Historically, our reach has been impactful but narrow. We want to ensure everyone affected by cleft in the UK has the chance to get involved and have a say in their charity's future.
We will improve our data collection to inform how we develop existing services. We will also talk to people who aren't currently involved with us to understand how we need to change.
CREATING & GROWING PARTNERSHIPS with NHS Cleft teams, researchers and other organisations.
As a small charity, we can't fill every gap by ourselves. We will foster a collaborative spirit by creating beneficial partnerships with others working to improve the lives of people born with a cleft in the UK.
We will increase our relevance and influence in the cleft world by building on our position as the voice of people affected by cleft in the UK. We will ensure everyone who wants to has a chance to impact cleft care and research in a way that's right for them.
We will also strengthen our ties with NHS Cleft Teams to support them as they work to recover from the pandemic.
CREATING ENDURING RESOURCES reflecting our expertise which make the best use of our limited resources.
We will become a one-stop shop to answer every question people affected by cleft might have, from the practical to the emotional.
We will support NHS Cleft Teams by working with volunteers to grow the confidence and skills of parents, carers and patients.
 We will raise awareness of cleft amongst generic health professionals by creating community-focused video resources to be used in training courses around the UK.
To support this strategy, we will:
Live our organisational values by being inclusive, trusted, adaptable and collaborative
Be a great place to work and volunteer
Build skills in our staff team that will help us be digital-first
Embed a culture of fundraising across the charity
Maximise all suitable opportunities for income generation
Previous Strategies
Download CLAPA's Strategy 2021-22 (PDF)
Can you help us make this strategy a reality? Invest in the future of the cleft community by signing up to a regular donation today.
Make a Regular Donation