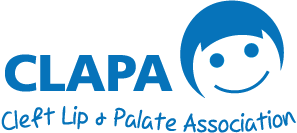 Goals & Strategies
As a charity, everything we do is planned around the needs of the people we support - we work for YOU!
As an organisation, CLAPA is committed to transparency as well as making sure everything we do is led by our community of people affected by cleft lip and/or palate.
On this page, we will shortly be publishing more information about our plans leading up to 2020. For now, you can read our Strategic Plan which has led the work we've done over the past two years.
Strategic Plan: Jan 2013 to March 2017
1. CLAPA's vision
A society where having a cleft lip and palate is no barrier to achieving your desires and ambitions.
2. CLAPA exists because:
Cleft lip and palate is a condition affecting one in 700 of the population (est 89,000 in the UK, based on UK population figures of 62.3m in July 2010) but the causes are unknown.
Clefts require complex medical treatment over 20 years or more and the condition has both psychosocial and physical effects
There is variation of services across the UK with not all services meeting the proposed standards in the NHS National Service Specification and a risk that existing services will be eroded
No organization or body uniformly and regularly reviews UK wide Cleft services from the user perspective
No other body exists to represent the views and experiences of users of cleft services
3. CLAPA's commitments are:
Services will be delivered when and where they matter most
User involvement is at the heart of our work
All our activities and resources will be equally accessible to all stakeholders
We will use resources as efficiently as possible
We will identify and employ best practice in all our work
4. Key Stages of Development and Treatment
There are key stages of treatment and development for people with cleft lip and palate where CLAPA can target its help and communications to be most effective.
Antenatal Diagnosis
Birth to discharge
Feeding
Primary Operation – Lip
Primary Operation – Palate
Hearing – tests, management
18m Speech and Language Therapy assessment
Babble workshops
Nursery school/day care
Primary School
5 yr audit clinic
Orthodontics – pre Alveolar Bone Graft Surgery
Alveolar Bone Graft
10 yr audit clinic
Secondary School
Orthognathic surgery etc (teen onward)
15 yr audit clinic
Adult treatment: revision, psychological support, SLT, dental implants, rhinoplasty, ongoing orthodontics, genetic counselling, surgery
 5. CLAPA's strategy is to:
Involve all our membership and health service providers: engaging with and making use of our supporter base to achieve our objectives through surveys, communications and informative events; gaining feedback and data (through focus groups and other mechanisms) to inform and drive our strategy and activities.
Support our membership and the wider cleft community through activities such as local events, providing specialist equipment, online support and peer support through a nationwide volunteering programme. Providing and signposting information in print and online.
Improve services for people with clefts using what we learn from the Involve and Support strands to represent the interests of the UK cleft community and act as an agent for change and improvement in social, health and educational contexts.
6. CLAPA will deliver this strategy by using:
Communications that raise awareness of cleft lip and palate and CLAPA to targeted audiences and which maximise the impact of our activities
Staffing that has the necessary range of skills to deliver the strategy
Financial resources that are sufficient to achieve our strategy and give CLAPA long term stability but not too great to prevent funding
Governance that ensures we comply with all relevant legislation, monitor risk and have an effective Trustee Board
Infrastructure that provides an efficient workspace and technology to deliver a national service
Key Strategic Aims: Jan 2013 – March 2017
Involve
Listening to and promoting the voice of users and health service providers.
CLAPA has an active, engaged, diverse and representative membership that gives CLAPA credibility as a membership organisation.
CLAPA's membership is representative of the UK cleft population (cleft type, ethnicity, geographical spread, age range).
CLAPA will use its membership to continue to drive CLAPA's strategy and to inform CLAPA about the issues that are important to people affected by cleft lip and palate.
Support
Working with others to provide local and national support.
There is a national network of local support for everyone affected by clefts covering all 9 regions in place by March 2017
Online support is provided through social media platforms and other online resources
Users have access to an information service that delivers timely and accurate information
CLAPA runs a feeding service that provides affordable and appropriate equipment.
Improve
Acting as agent for change and improvement.
There are improved standards of care and support provided by health, dental and education services through increased awareness of cleft lip and palate. There is increased awareness of specific topics in cleft care (eg late diagnosis of cleft palate) amongst the general public. In the longer term when Regional Coordinators are in place there will be increased general awareness of cleft lip and palate
All patients in the UK are receiving cleft care that at least meets the standards of the NHS Standard Service Specification by March 2017.
CLAPA is represented at the right places to influence decision making about cleft care in the UK
CLAPA plays an active role in raising awareness of and promoting best practice in cleft care and research worldwide
Infrastructure
We will become a £1m organisation to fund our Regional Coordinator programme