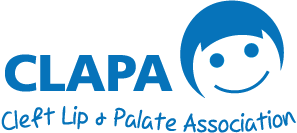 There are so many ways to get involved with CLAPA – from speaking at events to climbing Kilimanjaro for cash!
Whether you're happier shaking a collection tin or giving your opinion on the latest research (or both!), we've got a role for you.
Our volunteers are the backbone of CLAPA as a charity – they work tirelessly all around the UK running Branches and local groups, picking up cheques, speaking at schools, educating midwives and dental students, even sitting on research panels.
If you've got the time – and the will – to join our team of incredible volunteers, apply today and see where it takes you.
While volunteers are CLAPA's backbone, we wouldn't have gotten off the ground as a charity without our fundraisers running 10ks, cycling across continents, shaving their heads and organising huge money-making bashes!
80p of every £1 you donate goes straight into charitable activities, so you can know for sure that we make every penny count. Have a great idea on how you could raise funds to help us continue our work? Find out how to put it into action!
Not everyone's up for jumping out of a plane (though we certainly won't stop you if you are!), so here we've explained all the different ways you can give back to CLAPA, including raising money while shopping the January sales!
CLAPA is a charity grounded in the needs of our community, and there are lots of different ways you can make sure your voice is heard.