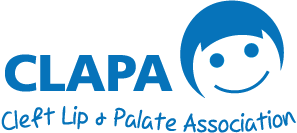 The Cleft Lip and Palate Association (CLAPA) is the only national charity supporting people affected by cleft lip and palate in the United Kingdom. We receive no government or NHS funding; our work is only possible thanks to people like you stepping up to fundraise and volunteer. Learn more about what we do.
By getting involved with fundraising or volunteering, you'll be helping to make sure we can support families like yours for years to come.
Our volunteers are the backbone of CLAPA as a charity - they work tirelessly all around the UK, supporting other members of the community, hosting events, supporting us behind the scenes, picking up cheques, speaking at schools, educating midwives and dental students, even sitting on research panels.

There are so many ways to support CLAPA through fundraising, from cake sales to tough mudders! Whatever you're into, we've got an idea or event to suit you, and our friendly team will look after you every step of the way. Join #TeamCLAPA today!
CLAPA is a small charity dedicated to supporting everyone in the UK affected by cleft. Can you help support our vital work with a donation of any amount?
Donate to CLAPA