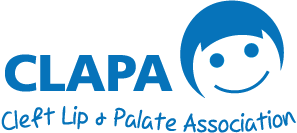 Welcome to CLAPA's volunteer pages!
Whether you're an existing volunteer or new to CLAPA and interested in applying, you'll find everything you need here.
Got questions about volunteering? Please call us or email – we'd love to hear from you!
Volunteering is at the heart of our work with hundreds of volunteers generously offering their time and skills to support over 20,000 members! We have a wonderful variety of roles available so no matter what time you have, or what your skills and experience are, there's something to suit you, from local events and activities to national campaigning and representation.
Four reasons to volunteer with CLAPA
You will be part of a national charity helping us to make a difference to the lives of those affected by cleft lip and/or palate.
You can get involved in a lot of different areas depending on your skills and interests including: organising events and activities, supporting children, adults and young people affected by cleft, fundraising, public speaking, research, administration and committee work, taking part in our annual children's camp(s), awareness raising and the media.
You will receive our excellent training and information resources, have fun, learn new skills, meet new people, receive regular updates about our services and training opportunities, develop your CV, help your community and know that you're doing something to really benefit others
You will be helping our organisation to grow and expand and do even more to help those with cleft!
We ask all volunteers to complete an application form, and for all volunteer roles your travel and other expenses are reimbursed, full training and induction is provided and you are fully supported in your volunteering with us.
Once your application has been received, a CLAPA team member will be in touch and invite you to one of our Induction and/or Training days. These are held at regular intervals across the country so there should be one local to you. These cover all of the roles available, CLAPA policies and procedures, information, knowledge and practical skills needed to carry out your role, plus a chance meet other volunteers and staff!
If you'd like to help us, meet others, gain new skills and know that you're making a positive difference to the lives of people affected by cleft then please get in touch, we'd love to hear from you!
Download our application pack and apply: Volunteer Application Pack
Current roles include:
Adult Voices Council (AVC) Member
Branch Committee Member
Cleft Clinic Volunteer
Fundraiser
Happy Faces Group Coordinator (this requires additional training)
Parent Contact (this requires additional training)
Peer Contact (this requires additional training)
Residential weekend volunteer
CLAPA Ambassador
If you are interested in volunteering for CLAPA or have any questions, please email volunteer@clapa.com or call 020 7833 4883.
You can also contact your Regional Coordinator:
Central England Claire Evans, claire.evans@clapa.com, 07792 772362
East of England Hamza Anwar, hamza.anwar@clapa.com, 07772 684 398
South East England (incl London) Cherry LeRoy, cherry.leroy@clapa.com, 079855 38982
Scotland Gillian McCarthy,  gillian.mccarthy@clapa.com, 07586 045402
South West, North West and North East England, Wales and Northern Ireland: Anum Ahmed, anum.ahmed@clapa.com, 020 7833 4883 (ext: 202)