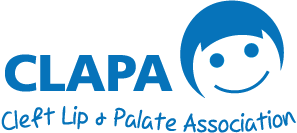 With these free fundraising options, you can support CLAPA while shopping, switching insurance, or even selling second-hand clothes.
It's never been easier to help others affected by cleft in the UK, and you'll be amazed at how quickly every donation adds up!
Make sure to search for 'Cleft Lip and Palate Association' when choosing your charity, as 'CLAPA' isn't always accepted. Look out for our Registered Charity Number, which is '1108160' in England and Wales, and SC041034 in Scotland.
If you have any questions about these platforms or would like to be able to support us another way, please get in touch at [email protected].
Last year, people like you raised over £50,000 by creating fundraisers on Facebook! They take just minutes to set up, and 100% of the money goes to CLAPA. Tell your story and help your friends and family to start supporting CLAPA today.

Generate free donations by shopping on thousands of online shops or even by comparing and switching insurance and utilities! Give as You Live helps you turn your online spending into much-needed support for CLAPA.
CLAPA is a small charity dedicated to supporting everyone in the UK affected by cleft. Can you help support our vital work with a donation of any amount?
Make a Donation