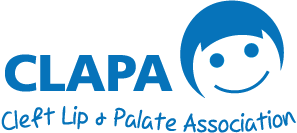 Here you can find a variety of videos explaining cleft lip and palate, including specific procedures and treatments. Many of these videos are also used throughout our main treatment pages.
Jump To
View all our Treatment Videos on Vimeo
Parents & Young Children
Easing the First Few Hours
The Northern and Yorkshire Cleft Lip and Palate Team in Newcastle created this film, "Easing The First Few Hours" (part funded by CLAPA), as part of Cleft Lip and Palate Awareness week.
It is a comprehensive film covering types of cleft, causes of clefting, the care that the baby and child will receive with the cleft team and, importantly, the experiences and advice of parents whose child was born with a cleft lip and or palate. It is aimed at new parents and the health professionals who treat them at the time of diagnosis or birth.
Speech and Language Therapy Q & A
On Tuesday 9th November 2021 we were joined by cleft specialist Speech and Language Therapists, Marie Pinkstone and Imogen Underwood, for a Q & A on Speech and Language Therapy on Facebook Live. They covered the causes of speech issues, what speech and language therapy involves, how to support your child with their speech, and much more, and answered questions asked live by the CLAPA Community.
Mental Health Q & A
To mark World Mental Health Day 2021, CLAPA volunteers, Claudia and Dervil, were joined by Cleft Team Clinical Psychologists Dr Catharine Shipley and Dr Kate le Maréchal to discuss cleft and mental health. They covered the cleft journey from diagnosis up to the age of 21, discussing feelings around diagnosis and surgery, concerns about bullying and self-esteem, and teenage decision making around treatment. They also responded to questions asked live by the CLAPA community.
'Dental Hygiene' Q & A
CLAPA volunteer, Jo, asks Charlotte Iddon, the Oxfordshire Oral Health Improvement Manager at Community Dental Services (CDS), questions about oral health and dental hygiene sent in to us by members of the CLAPA community. They cover questions about different toothpastes and toothbrushes, flossing, decay, and lots more. A subtitled version of this video is coming soon!
What Happens When I Come For My Videofluoroscopy?
A videofluroscopy is a moving x-ray taken while someone is talking. It helps the Cleft Team see how the palate and mouth moves while someone is making certain sounds.
This video, created by the Northern & Yorkshire Cleft Lip and Palate Team, explains to children what will happen when they come into hospital for this test.
Alveolar Bone Graft
William's Alveolar Bone Graft
William had his Alveolar Bone Graft surgery in September 2016. To help other young people like him feel better about their surgery, he decided to make a video diary to document the lead-up to the procedure and his day-to-day recovery. With William's permission, we've edited these videos together and added subtitles.
In 2017, William also did a talk at his school to raise awareness of cleft and CLAPA, which you can see at the end.
Please note, from around 4:40–9:40 there is footage of William shortly after his surgery. Some viewers may find this upsetting. However, as you can see later on, he bounces back quickly and makes a full recovery.
My Alveolar Bone Graft
This video is part of a project by the White Lantern Film Company in partnership with the Spires Cleft Centre. It aims to explain the Alveolar Bone Graft operation to children about to undergo the procedure and their families.
Young People & Adults
The Difference Between You and Me
Young people from the north-east born with a cleft lip and/or palate have spent two years making a film to help other young people with the condition.
The teenagers are all part of a special service user group supported by professionals from the health psychology and cleft lip and palate services based at the Royal Victoria Infirmary in Newcastle.
Young people from the north-east born with a cleft lip and/or palate have spent two years making a film to help other young people with the condition.
The group of 12-19 year olds decided they would like to make a documentary film about how they feel about having been born with a cleft.
The film was produced by local company Twenty First Century Media and has been funded by Northern Film and Media, Newcastle Upon Tyne Hospitals Special Trustees, Ethicon, Greggs, CLAPA and personal donations.
Osteotomy (Jaw Surgery) Q&A
In April 2017, CLAPA's volunteer-run Great Ormond Street Hospital Events Group held a Patient-Professional Forum about jaw surgery (or 'osteotomy') which is sometimes offered to young adults born with a cleft.
This Q&A session features four young adults who had the surgery talking openly about their experiences and answering questions from the audience. More about jaw surgery.
Emotional Wellbeing Q&A
During Awareness Week 2020, our Adult Services Manager, Kenny, hosted a live Question and Answer session on our Facebook page.
In this video recording, he breaks down the findings of a research paper on emotional wellbeing in adults born with a cleft. The discussion covers topics such as self-perception, employment, and family and relationships. He also talks about the importance of discussing mental health and emotional wellbeing when it comes to cleft lip and/or palate, and details how CLAPA can help.
In the last section of the video, he answers questions submitted live by members of the CLAPA community.
Physical Wellbeing Q & A
On the 10th August 2020, our Adult Services Manager, Kenny, discussed the findings of research on the topic of 'Cleft and Physical Wellbeing', covering adults' concerns with breathing, hearing, speech, eating and drinking, as well as the difficulties some adults faced when trying to gain a referral to their local Cleft Team. He also answered questions submitted by members of the community who were watching live.
Watch the video below to hear him talk through what the results mean for the UK cleft community and how services can be improved in the future.
If you have any questions about these videos or their content, or any issues accessing any of these recordings, please email

[email protected]

and we'd be happy to help.