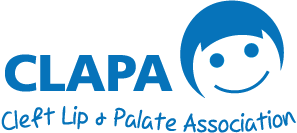 To suggest another resource for people affected by cleft, email info@clapa.com.
Group formed by parents of children with Velo Cardio Facial Syndrome/Sprintzen Syndrome/Di George Syndrome, also called 22q11 Deletion
Information on many aspects of pregnancy and birth, breastfeeding and babycare.
US based international association of health care professionals involved in the treatment of and research into cleft lip, cleft palate and other craniofacial anomalies.
UK organisation offering information and support to children and adults who have facial disfigurements.
This is an interactive US club for people affected by cleft lip/palate. There are different forums where messages can be read and posted.
The National Managed Clinical Network for Cleft Lip & Palate in Scotland
Alice Farrow lives in Italy and has a daughter born with cleft lip and palate.
Alice explains: "Six years ago I was expecting my second daughter. I went for a routine ultrasound and discovered that Miriam had a cleft lip and palate. I barely knew what that meant, but somewhere deep inside I felt that carefree breastfeeding experience – which I hadn't had with my firstborn and hoped to have this time around – come crashing down. I left that appointment in a fog, not knowing what to do next. This website is for those of you who know exactly what I'm talking about. If you've just arrived because your world has just crashed down around you, then welcome! Don't worry, you'll build your world back up again. Your breastfeeding experience will be unique – perhaps not as you imagined. It might involve, pumps and bottles, and things you would rather live without. But your child will be so, so grateful that you've just Googled breastfeeding."
CLEFT is a charity which funds research into the causes and treatment of cleft lip and palate, as well as supporting the development of cleft teams in various developing countries.
Irish organisation offering information and support to individuals and families affected by cleft lip/palate.
US organisation offering information to parents of babies born with clefts and other craniofacial anomalies and to health care professionals who are involved in the care of affected infants.
The European Cleft Organisation was established in July 2007 and is based in the Hague, Holland. It was set up as a pan European partnership between service users (patients and parents) and health professionals involved with their care. This is reflected in the membership of the board which comprises patient representatives and health professionals in equal measure. Central to the organisation's philosophy is that patients and user groups must work in partnership with health professionals, throughout Europe, to enhance cleft care.
The NHS Fetal Anomaly Screening Programme aims to set standards and oversee the implementation of a good quality screening programme for all women in England.
Hand in Hand Parenting's mission is to support parents and provide them with the insights and skills they need to listen to and connect with their children in a way that allows each child to thrive.
Healthtalk.org is a resource covering many different health conditions, now including cleft lip and palate. "This section is based on the experiences of 24 families or couples who have a child born with a cleft lip and/or palate and 15 adults who were born with the condition. Our interviewees told us their experiences of diagnosis, birth, treatment, public awareness and social interaction with respect to cleft lip and palate and they also gave advice for other people affected by cleft and made suggestions for possible changes within the cleft service in the U.K."
A childrens communication charity who work to develop speech, language and communication skills for all children.
UK support group for families affected by DiGeorge Syndrome.
NDCS is an organisation of families, parents and carers, providing emotional and practical support through our Freephone Helpline, our network of trained support workers, our wide range of other support services and our publications and website. As the leading provider of impartial information and individual advocacy on every aspect of childhood deafness, NDCS can help with welfare rights and benefit claims, making education choices, advising on health and audiology and technology, or simply as someone to talk to. NDCS campaigns for improvements in services aimed at families with deaf children, working with central and local government, health authorities, education professionals, social services, manufacturers and voluntary organisations.
The NCT Shared Experiences Helpline supports anyone who has had a challenging pregnancy, birth or early parenthood by putting them in touch with a volunteer who has had a similar experience, and giving them the contact details of other support organisations.
Pyjama Fairies make wrap pyjamas and surgical gowns specially designed for children who are having surgery or any associated test. They are designed in such a way that your child can remain fully dressed when the medical team need to examine their abdomen, complete observations and administer medication. This means your child can still feel safe and warm whilst they are in hospital. Plus they are totally free of charge!
UK organisation offering information and support to individuals and families affected by Stickler Syndrome
Talking Point is a website all about speech, language and communication difficulties in children. It has a range of information and resources for parents and carers of children and also for professionals.
Tots on Tour is a Lincolnshire-based organisation that works with families and professionals to enhance children's early communication and language skills. For children and their families, the Growing Talk Family Programme is provided and for early years practitioners there is an extensive programme of training and workshops available.
German self-help group for families affected by cleft lip and/or palate.
Index of self help groups in the UK