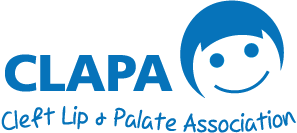 A bake sale is one of the most popular fundraising activities to do as they are a great way to increase awareness of cleft lip and palate as well as raise funds for the charity at the same time, and there's cake!
Getting started
Choose a Time and Place-You can choose to hold a bake sale with family and friends, by yourself or as part of a group or club. You can pick a time and place that is suitable for you, and the great thing is that you can hold a bake sale in almost any location, whether it is at your school, workplace, or a community center, as they are usually free to use. Make sure to ask for permission first! You could also do it at your own home as part of an event such as birthdays, Halloween or Christmas party with friends and family.
Advertise Your Bake Sale-Once you have decided on a time and place, be sure to promote your bake sale!You can do this by spreading the word across your social media and/or hanging up posters and flyers. CLAPA can provide posters and any other materials you may need to aid your fundraiser. You can fill out the form here for your free resources.
Get Baking-This is the fun part where you can be as creative as you like, you could get family, friends and the children to help you as well! There are plenty of recipes online you can use to bake your goods, from savory treats such as pies and mini quiches to sweet treats such as cupcakes and tarts. To get the most out of your bake sale, you may want to have a variety of items so there is something there for everyone. You could even decorate your cakes with some CLAPA cake toppers.
Once you've baked your goodies, you can sell them and donate the money raised to CLAPA.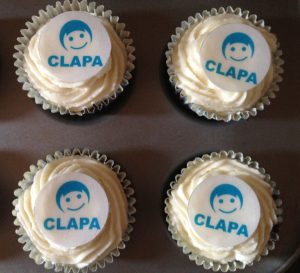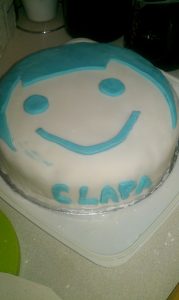 We would love to hear about your fundraising experience, why not get in touch with us  at [email protected]  to share photos of your bake sale on our social media.
They most important thing here is you tell your story, and regularly post your donation link so everyone knows why you're doing this.