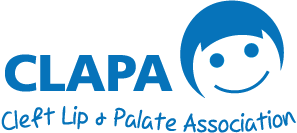 CLAPA is keen to raise awareness of issues surrounding cleft lip and palate in the UK, and we are happy to work with press and other agencies to ensure the views and needs of people affected by cleft are represented in the media.
We are able to provide information, statistics and tips for writing about cleft, as well as spokespeople and members of the cleft community for interview.
Get in Touch
If your request is urgent, please call the office from 9-5 Monday – Friday to discuss your request with a member of CLAPA staff and get immediate feedback on what we can do for you.
T: 020 7833 4883
Press contacts
Anna Martindale
Communications & Information Manager
T: 020 7833 4883
E: [email protected]
Anna Lockey
Communications Officer
E: [email protected]
Information and Statistics
Information
You are free to use any of the information about cleft lip and palate found on our website for media purposes, but please do link back and/or cite us in any publications.
Notes for Editors
For general information on cleft lip and palate and how to write about it in an article, please download our 'notes for editors' document.
Download 'Notes for Editors' PDF
Survey Reports
CLAPA runs regular surveys on our membership on a wide range of topics, and the statistics from these surveys are freely available as long as CLAPA is cited as the source. Visit our surveys page to find out more and download reports.
Find a Spokesperson
CLAPA has many families, young people and adults affected by cleft from all over the UK who would be willing to appear in news items, whether in print or broadcast. If you would like us to find a suitable case study, please get in touch stating the nature of the piece you are working on and your exact requirements. While we can make no guarantees, we will do everything we can to find someone to represent the cleft community in your story.
Usually, we will post a request on a relevant Facebook group (our Parents & Carers group alone has over 7,000 members) and, if possible, contact a local member of CLAPA staff to see if there are any nearby volunteers or other trained members of the public who can talk about both their experiences and the charity.
While CLAPA staff are not medically trained, we have a network of research and health professionals who we can contact on your behalf to appear in or comment on news items.
CLAPA has regional staff in the South East, Central and East of England, as well as in Scotland who can comment on local issues. See the relevant 'In Your Area' page for more information on local contacts.
Stories and photos
If you are a journalist looking for a local or national case study, please get in touch using the above details and we will be happy to find a family or adult on your behalf.
On our website, we have a number of existing case studies, personal stories and photos of a variety of people affected by cleft lip and palate from all around the UK. These are provided to us directly by the subjects of the stories or photos, and if you would like to use these we will have to get in touch with the people in them to request permission.
We can do this in certain circumstances, but are unlikely to do so for use in non-UK publications or presentations, or for any purposes which we do not believe directly contributes to the wellbeing of people affected by cleft in the UK.
Latest Press Releases