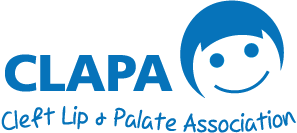 Facebook
Like us on Facebook to get the latest updates from CLAPA as well as stories and photos from our community straight on your timeline.
Facebook Group – Parents & Families
Facebook Group – Adults born with a cleft
Our main Facebook Groups have over 12,000 members between them, with even more in our smaller regional groups. Join the UK Cleft Community to swap stories and photos, share highs and lows, and help us make sure that no one has to go through their difficult times alone.
You must answer all three questions and agree to the group rules before we will accept your request to join either group. If you have not been accepted within a few days of your request, please check you have answered the questions AND agreed to the rules.
Note: We know many people choose not to use Facebook for a variety of reasons. If you would still like to join a support group, you are welcome to create an account with no identifying information and use it to join. Please indicate this to our admin team when requesting to join so we know you're a real person with a genuine connection to cleft.
Please take a moment to read our Facebook Group Guidelines before joining any groups.
Twitter and Instagram
Follow @clapacommunity on Twitter and Instagram for news and announcements about our work and, of course, plenty of cute #ShareASmile photos!
Other Options
CLAPA is currently looking at expanding our range of online support options, as while our Facebook Groups are very popular, we know that not everyone is on Facebook and we don't think this should mean they can't find a supportive community. Look out for more information about this coming soon!