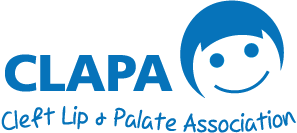 Facebook
Like us on Facebook to get the latest announcements from CLAPA – including gorgeous photos from CLAPA events! – straight on your timeline.
Facebook Group – Parents & Families
Facebook Group – Adults born with a cleft
Our main Facebook Groups have over 12,000 members between them, with even more in our smaller regional groups. Join the UK Cleft Community to swap stories and photos, share highs and lows, and help us make sure that no one has to go through their difficult times alone.
Please take a moment to read our Facebook Group Guidelines before joining any groups.
Twitter and Instagram
Follow @clapacommunity on Twitter and Instagram for news and announcements about our work and, of course, plenty of cute photos!
Other Options
CLAPA is currently looking at expanding our range of online support options, as while our Facebook Groups are very popular, we know that not everyone is on Facebook and we don't think this should mean they can't find a supportive community. Look out for more information about this coming soon!