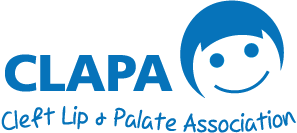 "When I occasionally reflect on the day my treasured baby was diagnosed with a cleft, it still makes me feel emotional. Not sadness, guilt or concern. It gives me an overwhelming feeling of love, pride and awe for this beautiful, exquisite baby boy who has given us so much happiness and joy. He has bounced back from his two surgeries and, without a doubt, is now an even more jolly and enchanting little chap. I feel blessed to have my beautiful cleft baby." – Katie J, London
If you've just had a diagnosis of cleft, either at a scan or after your baby was born, it's likely you're full of questions and more than a few emotions! You've come to the right place. The Cleft Lip and Palate Association aims to support everyone in the UK affected by cleft, from diagnosis right through to adulthood, and that support begins with the right information.
Jump to…
VIDEO: Easing the First Few Hours
What is a cleft lip and/or palate?
In early pregnancy, different parts of a baby's face develop separately and then join together. If some parts do not join properly, the baby is born with a cleft.
A cleft lip can range from a little notch in the coloured part of the lip to a complete separation of the upper lip which can extend up and into the nose. A cleft palate is a gap in the roof of the mouth. Cleft lip and palate can occur separately or together.
There is comprehensive treatment available on the NHS for babies born with a cleft which is provided by dedicated cleft specialists. Surgery involves taking the muscles and tissues that didn't join up in the womb, and putting them back together.
Cleft lip and palate is not associated with learning difficulties or other developmental issues, although in around 15% of cases a cleft occurs as part of a syndrome which may have other implications. In the majority of cases, even with extra surgeries and medical appointments, a baby with a cleft will grow up just as happy and healthy as any other child.
Read more about cleft lip and palate.
Why did this happen?
There is no single cause of cleft lip and/or palate. In most cases, a cleft is caused by lots of different factors (including genetics and the environment) coming together in a way that usually can't be predicted or prevented. It is very unlikely that your baby's cleft is because of something you did or didn't do.
The NHS Cleft Team can offer genetic testing, which will look into what may have caused your child's cleft. This can give you a better idea of how likely it is that any future children in your family will also have a cleft.
Around one in 700 babies are born with a cleft around the world. That's three every day, or 1,200 every year in the UK alone!
Read more about causes of cleft lip and palate.
What will happen now?
You should be referred to one of the NHS Cleft Teams all around the UK. These are teams of medical professionals, from surgeons to psychologists, who all specialise in treating cleft lip and/or palate. This should happen very soon after you're first diagnosed. If it hasn't happened yet, ask your obstetrician or midwife about getting a referral.
Included in this team will be at least one Cleft Nurse Specialist who looks after new and expectant parents and is the best person to go to with any questions or concerns you have.
If you've already spoken to your Cleft Nurse Specialist and they've told you to request a free Welcome Pack of bottles and teats, you can do so here.
If you have had an antenatal diagnosis, you may be able to get a free or discounted 3D/4D Scan at a private centre so you can see your baby's face in more detail.
Your baby will need surgery to repair the cleft, and may need further help with feeding. If your baby has a cleft palate, they may need help later on with speech and hearing. Like everything else, this is taken care of by the cleft specialists in the NHS Cleft Teams, who will monitor your child until they are 18-20 years old to ensure any issues are being dealt with.
Read more about diagnosis, what it means, and what will happen now.
Stories from Parents
Many parents of children with a cleft have written about their experiences of diagnosis, birth, surgery and beyond. They have shared these personal moments, from the hopeless to the triumphant, to help new and expectant parents prepare for their baby's future.
Most of these stories begin with diagnosis, and in the majority of cases the parents had no idea their child would be affected. Katie, from London, is one of many mums who walked out of her 20 week scan feeling very different to how she did going in:
"I was sliced with sadness. And guilt. Our daughter was 20 weeks old and already I'd failed to protect her. I have blurred memories of tissues and NHS tea. Of walking past all the other hopeful parents waiting for their scans with tears pouring down my face. Clutching my husband's hand.
Those are my memories of that day. Looking back now I can still feel the shock. We had no family history of cleft. I'd spent my pregnancy consuming epic amounts of folic acid, vitamins and oily fish. Why had this happened? To us? To her? I was angry. I felt guilty. I felt terrified.
Now, I know how pointless and self-destructive these feelings were. The reasons why a baby is born with cleft are still murky to say the least. There is currently a huge national study into the causes of cleft, as so little is known about why 1 in 700 babies are affected every year in the UK. I spent months blaming myself for something that was entirely out of my control.
Another problem was that I didn't know anything about cleft. What it can mean. How it impacts on lives. How happy children can be despite being born with cleft. How little difference it would make to my daughter's personality and to the way that we love her.
I wish I'd known then how magical she'd be. But at that moment I couldn't even imagine her. All I could think about was the cleft."
– Katie M, London
Talk to Another Parent
If you take away one thing from our website, it should be that no matter your circumstances you aren't alone. There are around 1,200 babies born with a cleft every year in the UK alone, and many of their parents join the CLAPA Community to find others with similar experiences.
Parent Supporters
Parent Supporters are trained by CLAPA to support others one-on-one, either over the phone or through email. They understand just what you're going through, as they've been there before themselves!
"When I talked to Mel I didn't know [my daughter yet]. I didn't know how resilient she would prove to be and how much strength her smile would give me. I needed to feel that I could do this – and that is exactly what Mel made me believe."
Read 'My Parent Contact' by Katie M
Online Support
Follow our Facebook Page to get regular updates about CLAPA's work around the country, or join our Facebook Group for parents which has over 8,000 members.
Please do remember that advice and information you get online should never replace the advice and information you will receive from your Cleft Team.
Antenatal Support Group
Receiving a diagnosis of a cleft during pregnancy can be a daunting and scary experience. CLAPA want to give all expectant and new parents and carers the opportunity to meet regularly throughout pregnancy to create a support network, have a platform to ask questions and air any concerns they may have and know that they are not alone in this journey.
Please note that this is not an antenatal class (usually provided by the NHS and many other organisations); however, we will no doubt touch upon many related topics. We also strongly encourage you to continue to maximise all support your local NHS Cleft Teams offer.
The sessions will be hosted by experienced volunteers who have had a child born with a cleft themselves. The session will be a chance to get to know each other, ask any questions you may have, and suggest areas/topics you would like to learn more about. We aim to hold the sessions on the last Monday of every month.
VIDEO: Easing the First Few Hours
The Northern and Yorkshire Cleft Lip and Palate Team in Newcastle have put together this film, "Easing The First Few Hours" (part funded by CLAPA), as part of Cleft Lip and Palate Awareness Week.
It is a comprehensive film covering types of cleft, causes of clefting, the care that the baby and child will receive with the cleft team and, importantly, the experiences and advice of parents whose child was born with a cleft lip and or palate. It is aimed at new parents and the health professionals who treat them at the time of diagnosis or birth.
The video is 40 minutes long and quite detailed, but it is worth watching if you have the time. Otherwise, try our YouTube channel where we have split the video up into easily digestible chapters.
Easing The First Few Hours from CLAPA Video on Vimeo.