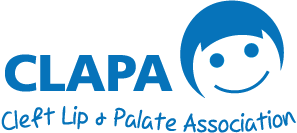 Get Started
Not sure how to get started with your fundraiser? Follow these tips to help you start planning.

Thank you so much for considering raising money for CLAPA.
Our vital services supporting families like Rachel's are only possible thanks to the generous donations and sponsorship we receive from people like you.
How CLAPA Can Help
Here at CLAPA we have a friendly and dedicated fundraising team that is happy to help you every step of the way.
Get in touch at [email protected] to let us know what you've got in mind, and we'll take it from there.
If you're ready to get going, you can request your fundraising materials and CLAPA t-shirts using this simple form.
Need Some Inspiration?
If you haven't made your mind up yet, you may find some inspiration from what other fundraisers have done previously. Check out our Fundraising Stories to read how they got involved.
You can be sure that your donation will provide essential support for the cleft community. Just £30 could provide a 'Welcome Pack' for a family of a newborn baby with a cleft. This pack includes specialist feeding bottles and teats, along with important guidance and information about the path that lies ahead. However much you raise, you can make a real difference.
Facebook Fundraisers are quick, easy, and 100% of the money goes to your charity. In 2020, birthday fundraisers on Facebook raised over £50,000 for CLAPA!

Whatever you're planning, an online fundraising page will help you tell your story and collect donations from far and wide.
From collection cans to t shirts, we've got you covered! Find out more about what's on offer and request your materials here.

Download our PDF 'Little Guide to Fundraising' for top tips. Note: this guide has not been adapted for lockdown restrictions, so please keep this in mind while reading!

Raise awareness of cleft and get a publicity boost for your fundraising with our handy guide to getting the word out.
Help make a difference to families like Rachel's. To receive your CLAPA Fundraising Pack
Click Here