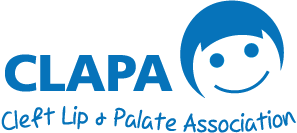 Boost your donations by 25% with Gift Aid.
Gift Aid is a simple way to boost your donations at no extra cost. If your donation is eligible, CLAPA will receive an extra 25p from HMRC for every £1 you donate.
Every Gift Aider is a Life Changer
By signing up for Gift Aid, you will be helping fund more life-changing support for the cleft community across the nation.
What is Gift Aid?
Gift Aid is a scheme run by HM Revenue and Customs (HMRC) that means charities like CLAPA can reclaim the tax on your donations at no extra cost to you.
This means all your donations will be worth 25% more. So if you make a £10 donation, we will receive £12.50.
Who can become a Gift Aider?
You must be a current UK taxpayer, but this is not limited to tax on earnings.
You also qualify if you pay tax on a pension, savings, property sales, or rental income. Council Tax and VAT will not qualify as income tax.
You only need to pay as much tax as CLAPA will reclaim on your donations.
If you pay Income Tax at a higher or additional rate and want to receive the additional tax relief due to you, you must include all your Gift Aid donations on your Self Assessment tax return or ask HM Revenue and Customs to adjust your tax code.
How do I become a Gift Aider?
Please fill in our short online form below to make your Gift Aid declaration online
Or if your prefer to complete the form at home please download the form below , print it out, fill in your details, and post to us a 'Freepost CLAPA' (no stamp needed)
Complete an Online Gift Aid Form