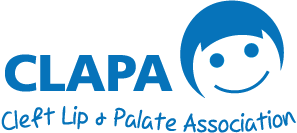 CLAPA's children and young people's services aim to give young people born with a cleft the chance to connect with each other, and a safe space to share their thoughts.
On these pages you'll find out about the latest exciting events and the CLAPA Children and Young People's Council (CYPC), who help to influence cleft research and act as a voice for young people born with a cleft. There are also lots of wonderful stories and videos to read and watch!
Make sure to follow CLAPA's Facebook page for children and young people, to hear about events and news across the UK. Just click the button below to go straight there.
Follow our Young People's Facebook Page 
'To Others Like Me'
We asked some of our amazing Children and Young People's Council members what they would say to other young people who were born with a cleft, and this video brings all of their powerful advice together in one place.
Lucy, Stephy, Aleisha, Cerys, Claudia, Will and Izzy want other young people to be proud of their cleft and to know they aren't alone. They say, 'just focus on you', 'you will learn to love your cleft', and 'it's ok to ask for help if you need it'.
Watch their video below. 
You can also watch more videos made by other young people on our videos page below!
Youth Forward
Read the latest issue of our quarterly children and young people's newsletter, filled with stories and photos, by clicking on the button below! If you're not already signed up, you can join the Youth Forward mailing list here.
Previous Issue:
Safeguarding
To learn more about our Children and Young People's services, please contact Claire Evans, CLAPA's Children and Young People Services Coordinator, at [email protected]
CLAPA's Youth Forward Community is for under 18s born with a cleft lip and palate. Join today to get a quarterly newsletter packed with pictures, stories, events and opportunities from others like you!

Find information on cleft treatment and get advice about coping with everything from braces to surgery in our 'Teenagers' treatment section.
CLAPA is committed to safeguarding the welfare of everyone who accesses our services, and has strict policies and procedures in place to protect under 18s.
Find Out More