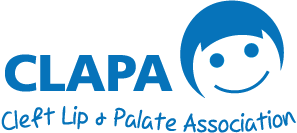 CLAPA in Lockdown: 6 Months On
In March 2020, we faced a terrifying prospect: without urgent funding, and the fundraising income from now-cancelled challenge events and community fundraising, there was a very real chance we wouldn't be around in 6 months' time.
So we asked you – our community – for help, and we were blown away by the response! You showed us just how creative, determined and positive you could be in the face of crisis, and bought us the time we desperately needed to plan for what would come next.
6 months on from lockdown, we're incredibly proud to look back at what we've been able to achieve thanks to your support.
Keeping the Feeding Service Running
Our first priority when the lockdown hit was making sure the families that urgently needed our support in feeding their babies weren't left to struggle alone. Thankfully, we were able to keep this service running safely, and will continue to do everything we can to be there for the families that need us.
Since the start of lockdown, we've sent out 366 Welcome Packs to new families, and 7837 individual bottles and teats to families and hospitals around the UK.
Keeping You Informed
We published our COVID hub early on to make sure you had a one-stop-shop for information about how the pandemic was likely to affect health services, CLAPA's services, and people affected by cleft more generally.
We've also answered 187 direct enquiries as part of our information service on topics ranging from antenatal diagnosis to getting back into treatment at age 70.
We were also proud to launch our online Q&As to cover the topics that mattered to you the most. Our most recent Q&A, Cleft Surgery in a COVID World, is the most popular yet, with over 800 views!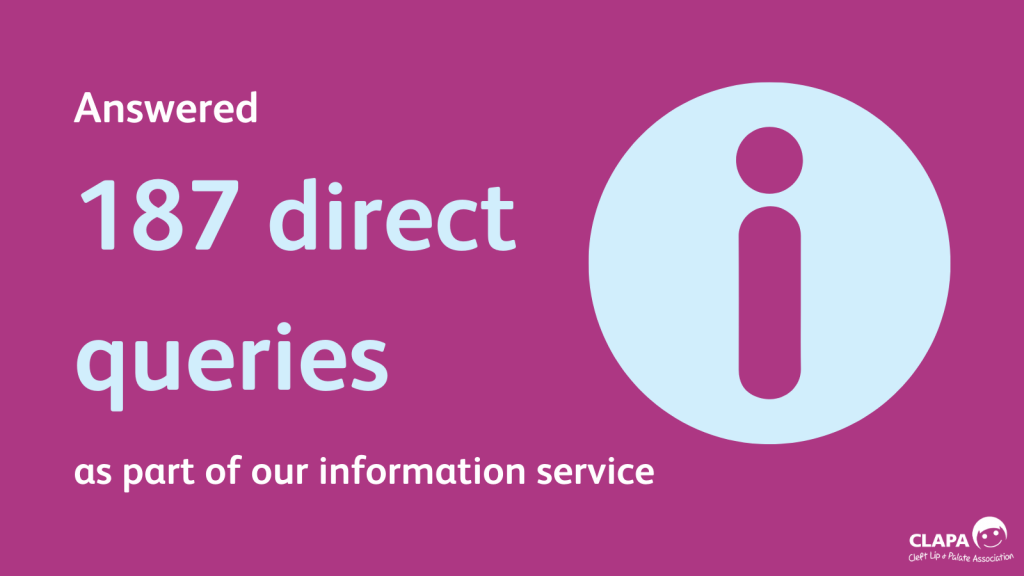 Keeping You Connected
Our 3 Q&As weren't the only online event we ran during lockdown. With the help of our wonderful volunteers, we also hosted…
Moving our events online was a challenge, but it's also given us an opportunity to try out new ways to support our community. Our Coffee Clubs give people the chance to chat about specific topics and share experiences, while our young people's events let them interact with others who look and sound like they do.
In total, 327 people attended an event through Zoom during lockdown, with many of them never having attended a CLAPA event before. Many more joined our live events on Facebook. We know these online events can't replace the magic of seeing each other in person, but for now we think they're a brilliant alternative – and we're glad so many of you think so too!
"Thank you for today. [My daughter] is lacking in confidence but it was so nice for me that she participated. I'm hoping the more she participates the more her confidence will grow. Thank you for creating a safe non-judgemental place where there was no pressure for anything."

"Thank you for organising this kind of event under the difficult situation.  I feel less anxious knowing where I can go to get some advice if needed.  It means a lot to me"

"Thank you so much for organising this event. It was our first time at a CLAPA party and we all had a lovely time. We'll definitely be looking out for more things to join in with in the future!"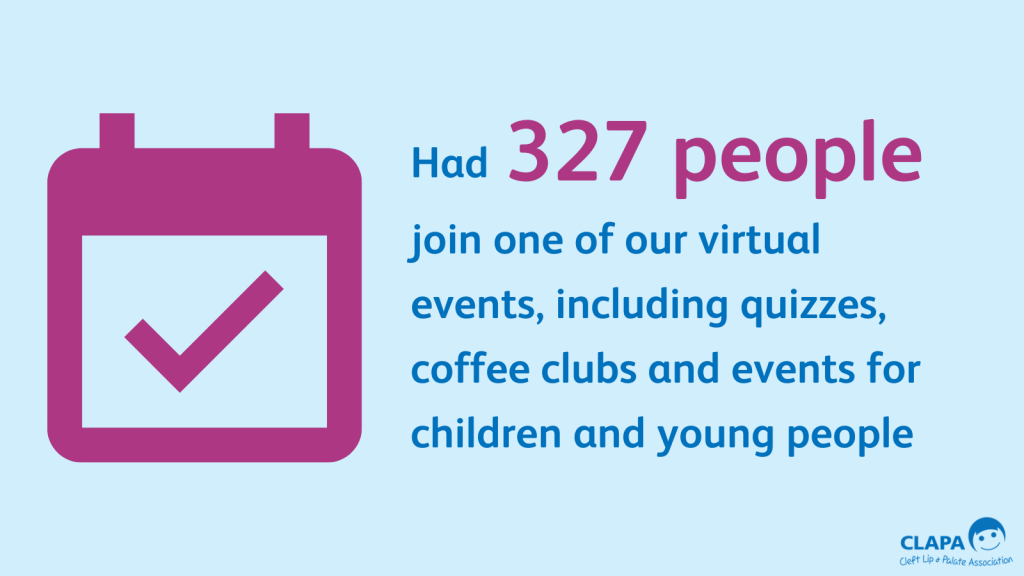 Behind the scenes, for those needing one-to-one support, our Parent and Peer Support Service continued to match experienced volunteers with people who needed a listening ear. Since lockdown, we've matched up 21 people with a supporter, and helped many more find services that would better meet their needs.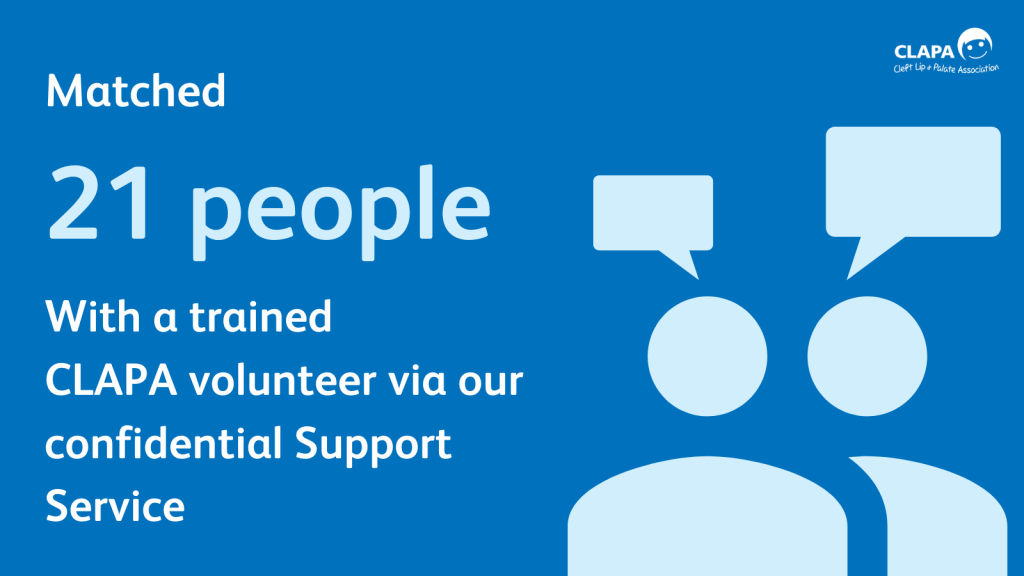 Social media was a key way we kept you connected with us and each other. During lockdown, our reach exploded, with an average of 235,385 people seeing our posts each month.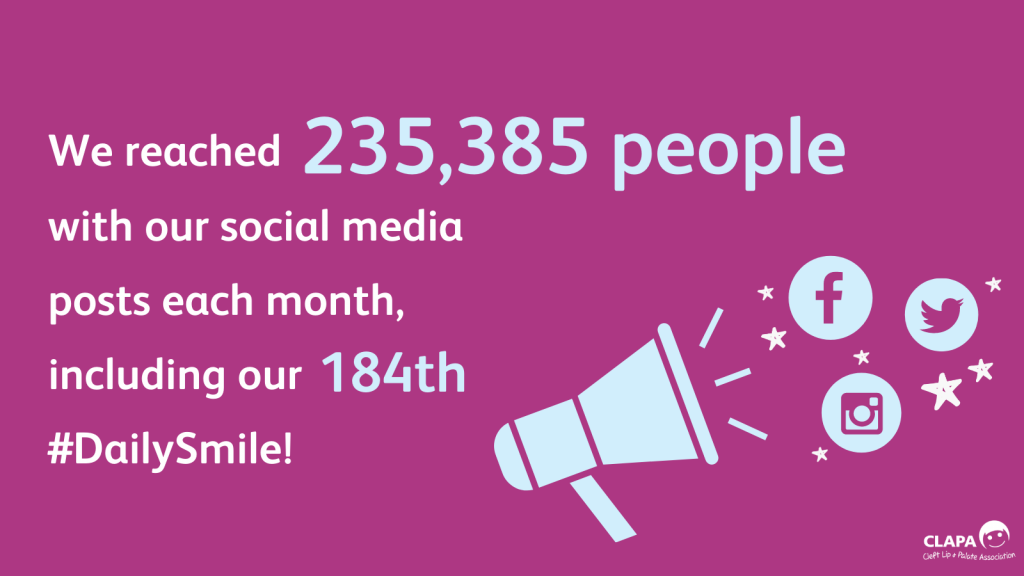 We're sure part of this is down to one of our favourite lockdown innovations: Daily Smiles! Today, we posted our 184th Daily Smile and with submissions continuing to pour in, we look forward for continuing this wonderful dose of daily positivity long into the future.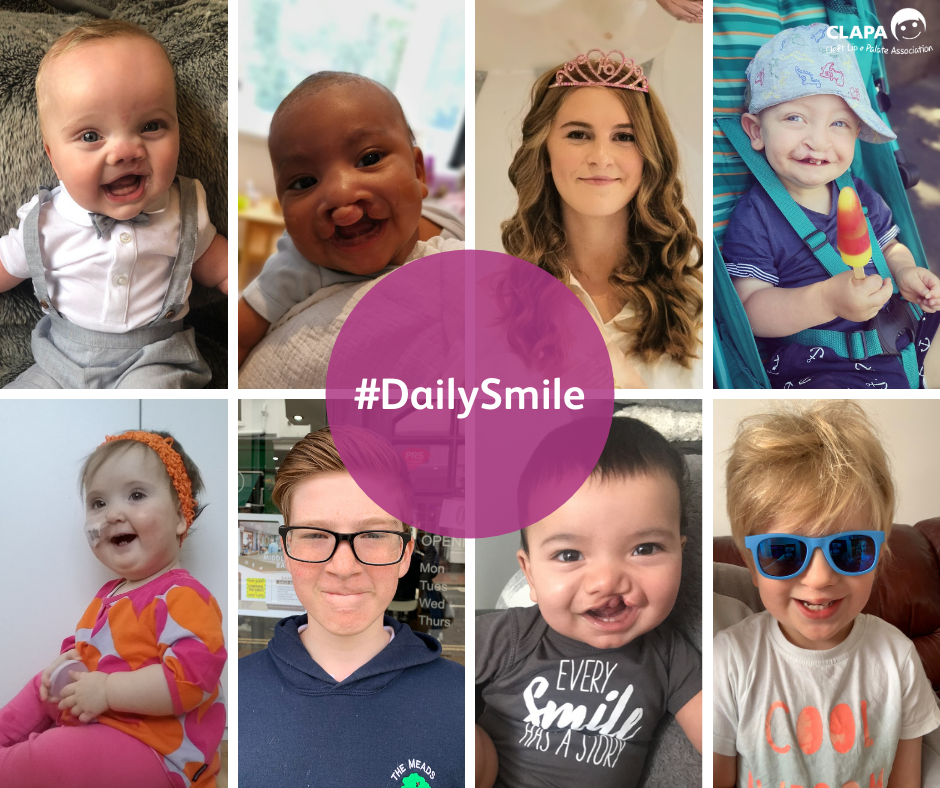 Everything Else
During Lockdown, we also…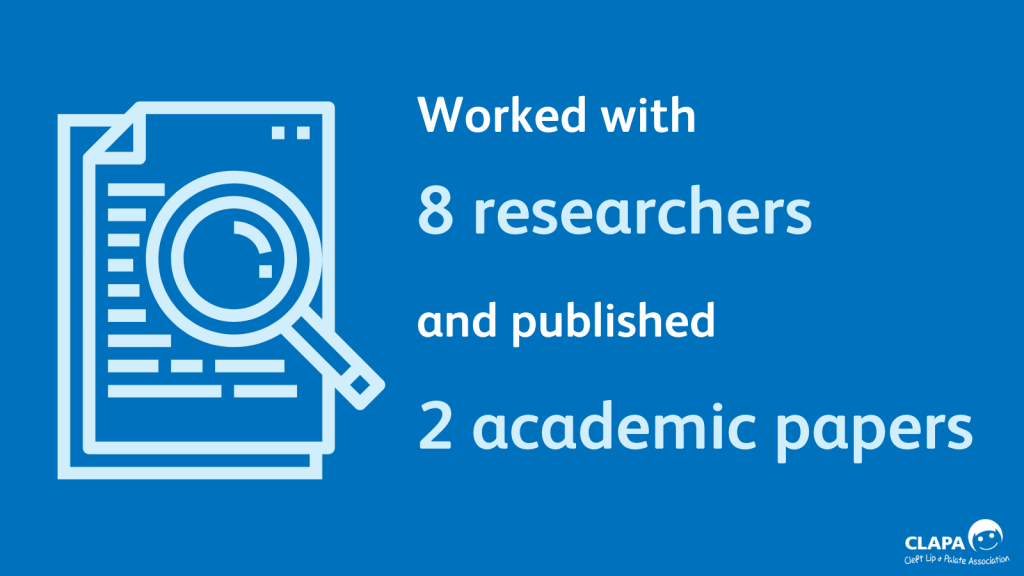 Moving Forward
In July, we launched a short survey to take the pulse of our community and find out more about how you'd been affected by lockdown, and 268 of you responded! We recently published the results of this survey, and have been using these results to guide the development of our work in August and September.
Right now, we're busy behind the scenes making plans to ensure CLAPA will still be there to support families like yours for years to come. There have been some huge changes in the past year, and we know the road ahead remains uncertain, but we'll do all we can to be by your side every step of the way.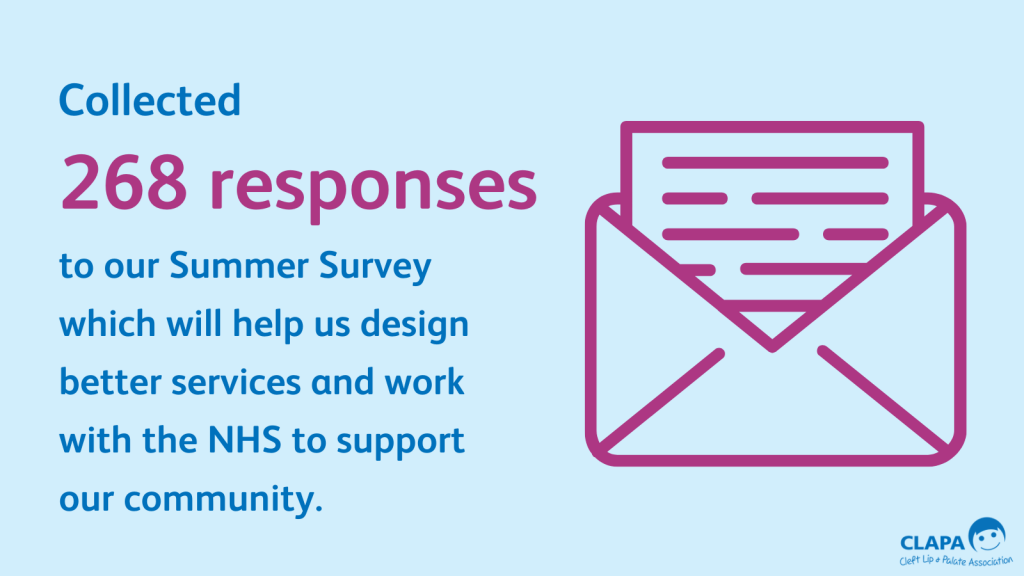 Join Team CLAPA
Since Lockdown, you've raised an incredible £157,652 through direct donations and fundraisers. This includes donations from the 171 new regular donors who have signed up as CLAPA Champions.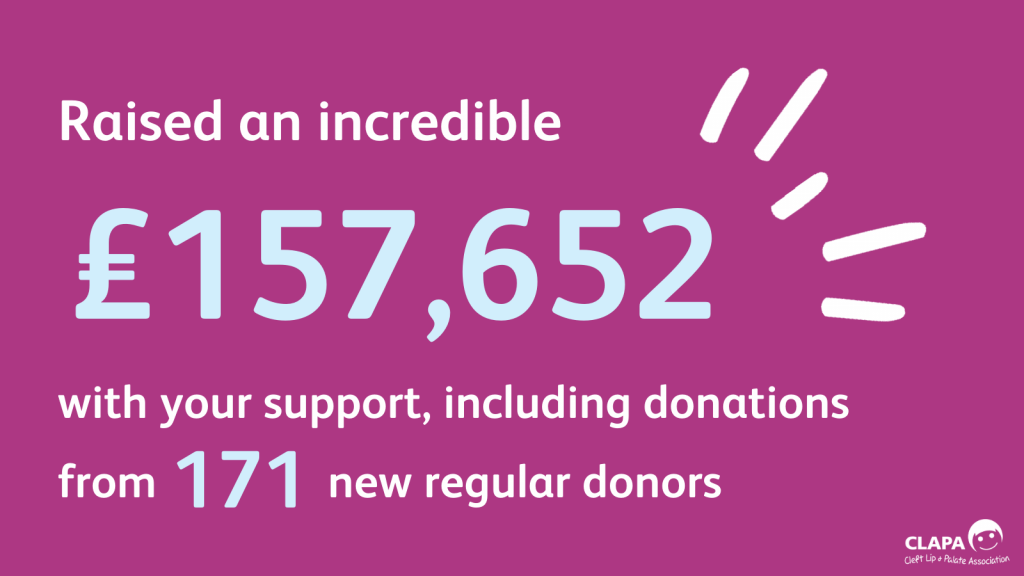 We've also been extremely grateful to receive nearly £150,000 of emergency funding from the National Lottery Community Fund, the VTCT Foundation, CAF and The Edward Gostling Foundation
This has allowed us to keep the feeding service going, to create new events and services to bring you together,  during one of the toughest times in living memory, and to be there for families like yours when they've needed us the most.
CLAPA was founded by people who believed if we only worked together, a brighter future was possible for babies born with a cleft. Thanks to your support over the past 6 months, this future is within reach.
We can't stop now. We need to raise £25,000 each month from our community to ensure that our vital services can keep running in the months to come.
Can you help us be there for everyone who needs us for years to come?
Find Your #TeamCLAPA Inspiration
Over the last 6 months we've been blown away by the incredible, creative ways our wonderful fundraisers have supported us. Here are some of our favourite stories:
To every single one of you who have supported us in whatever way you can: THANK YOU! Thank you for believing in us, and believing in a brighter future for people affected by cleft in the UK. Everything we've achieved in the past six months, and everything we'll achieve moving forward, is thanks to you! ?