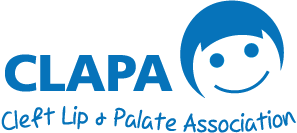 Research Summary: Emotional Wellbeing in Adults Born with a Cleft
As part of CLAPA's 2020 Awareness Week, our Adult Services Manager, Kenny Ardouin, appeared in an Q&A on Monday 4 May at 7.30pm to unpack the findings that are summarised here in more detail. This includes the all important question of "so, what next?" as we look to use what we we have found to improve the services and support that both we, and the NHS offer.
Watch the Q&A from Monday 4th on Facebook
Background
As part of the Adults Services Programme, 2018 saw CLAPA launch the 'Whole of Life' Survey, a comprehensive questionnaire for adults in the UK born with a cleft.
We know that looking or sounding different to people around you can invite unwanted attention, such as staring, comments, questions, teasing and bullying. Because of this, we felt it was important to take a closer look at how adults born with a cleft felt this had impacted their emotional wellbeing.
The 'Whole of Life' survey included a section on this topic which used a number of standardised measures to help us compare our community's results to the results from the general public to see if there was a significant difference in any areas. The results of this part of the survey fed into an academic paper published earlier this year in the Cleft Palate Craniofacial Journal (CPCJ).
This paper was authored by Kenny Ardouin, Adult Services Manager at CLAPA, Dr Nicola Stock, Centre for Appearance Research, and Dr Jess Hare, Principal Clinical Psychologist, National Cleft Surgical Service for Scotland.
We've summarised the findings of this paper below.
We'll be discussing the findings of this paper and what they mean for the cleft community in more detail on Monday 4th May at 7:30pm. Follow us on Facebook, Twitter or Instagram to find out more and join the discussion.

Mental Health
More than half of those who completed the survey had no history of mental ill health. However, nearly half self-reported that they had received a diagnosis of a mental illness. The most common conditions were depression and anxiety. Although these are high in the general population too, it would appear that people who were born with a cleft were more likely to experience one of these conditions.
This is a finding that is supported by previous research by many other cleft researchers in the UK and overseas.
Of those with a mental health condition, most felt that their cleft-related experiences were partially responsible for their mental health diagnosis, while a smaller number believed that having been born with a cleft was directly responsible. Fortunately, most people were receiving at least one form of treatment for their condition (e.g. medication, counselling, Cognitive Behavioural Therapy (CBT) etc.)
It's important to note that feelings of anxiety are often a normal reaction to an unusual situation, and not a sign of weakness. Join us on Monday's Q&A as we explain more, and how these symptoms are usually picked up and treated in cleft earlier than the general population, thanks to the Cleft Team Psychologists' routine follow up care.
The vast majority of people felt that psychological support is an important part of treatment for cleft, and that this professional support should be delivered through trained psychologists working for the NHS. It is worth recognising that most adults who completed the survey would not have had access to this while they were growing up (whereas a child grown today will see a psychologist on the cleft team throughout childhood and adolescence). Rather worryingly, almost half of the people who completed the survey were unaware that they were eligible to receive cleft specific support as part of the NHS as an adult.
We hope to change that – we'll explain on Monday's Q&A what we're doing to make sure everyone knows that they're entitled to access the NHS, as well as how to access it.
On a more positive note, many people felt that being born with a cleft had made them a stronger person and more "resilient", and could take many of life's other challenges in their stride (one example of a challenge could be managing the uncertainty created by COVID-19).
People were also asked what they found to be helpful for dealing with challenging days. The most commonly reported strategies were exercise, meditation, listening to music and talking through challenges with a partner or friend.
We'll share some more ideas on Monday's Q&A.

Self-perception
Self-worth was found to be significantly lower in adults with cleft when compared to the general population. This mirrors previous research which found low self-esteem in groups of adults born with cleft.
Adults with cleft also reported significantly higher levels of fear of 'negative appearance evaluation' (i.e. a fear that others would judge their appearance negatively) compared to the general population. Interestingly, the scores in our survey were similar to those reported by a sample of adults with other congenital conditions.
More positively, adults with cleft reported similar body esteem scores to the general population. Improving people's sense of self-esteem is something that CLAPA is working hard through our various projects, events and services to support.
Although this might sound a little scary, difficulties with self-esteem are more common than you think in the general population too, and there's good support and treatment available to help. Join us on Monday's Q&A as we explain self-esteem, the ways having a cleft can impact on it, and what CLAPA offers to help foster positive self-esteem.
Follow us on Facebook, Twitter or Instagram to find out more and join the discussion.

Work Experiences
People's own perception of how good they are at their job was, sadly, found to be lower in adults born with a cleft than that of the general population. Adults who were born with a cleft indicated that they felt less proud, less productive, and less effective in their work environment than their colleagues.
It's important to note that this is people's own perception, and not how their workmates view them. At the Q&A on Monday, we'll explain this in more detail, and offer some tips of how to feel more comfortable in the workplace.
Other research has found that teasing and bullying can influence people's later work experiences. We are adding information about Workplace Bullying to the Leaver's Pack, as when people reported being bullied in adulthood, it was almost always happening when they were at work.
Some adults reported that they have struggled in job interview settings due to issues with appearance, speech and/or hearing. Others felt that they had not been given equal opportunities to succeed in the workplace. A large proportion of adults with cleft felt that they had not been considered for a job they were suitable for, or had been overlooked for a promotion. Job dissatisfaction is known to impact an individual's long-term health and well-being. However, also keep in mind, many people reported really positive work experiences, a number of people even met their best friend or partner at work.
Conclusions
People who were born with a cleft may experience some concerns with their self-esteem, and are somewhat more likely to experience depression or anxiety at some point in their life compared to someone without a cleft. Additionally, adults who were born with cleft may not be aware that they are entitled to free psychological support via their NHS Cleft Team.
People reported that being able to talk about their feelings, fears and concerns with other people in a safe, trusting environment was very beneficial for improving their self-esteem and global emotional wellbeing.
Join us on Monday at 7.30pm for the Q&A as we unpack the story further and explain how we're using what the community told us to ensure people's emotional wellbeing is well supported from birth through adulthood.
Follow us on Facebook, Twitter or Instagram to find out more and join the discussion.
Watch the Emotional Wellbeing Q and A recording
Please click here for a transcript of this recording, kindly provided by CLAPA volunteer, Ruairidh.
Resources
A list of online and remote support services for families, adults and young people born with a cleft.
Contact details for local NHS Cleft Teams
Returning to Treatment (Adults)
Information on what kind of treatment is available to adults born with a cleft in the UK, and how to get back into the system.