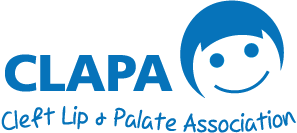 Invest in the future of the cleft community: become a CLAPA Champion
CLAPA Champions share and support the charity's ambition to create a brighter future for people born with a cleft in the UK. They believe people affected by cleft deserve a community they can count on for many years to come, and have committed to helping us make this happen.
You can join them by signing up for a regular donation of any amount, giving us certainty in the most uncertain time we've ever faced.
Become a Champion today, and you'll receive:
A CLAPA pin badge or trolley coin keyring to show your support
A special thank-you letter
A quarterly newsletter updating you on how much our Champions have raised and what a difference it's made to our work
…much more as we continue to develop this programme in the future!
Give us a gift we can rely on, so families like yours can always rely on us.
Sign up for a regular donation of any amount using the form below to join the ranks of CLAPA Champions.
Every penny you donate helps us plan for a brighter future.

Get creative this summer and join #TeamCLAPA by organising a fundraiser!
We rely on the kindness and generosity of the community to help us provide services beyond the hospital walls and make sure every child born with a cleft can grow up smiling inside and out. Can you help us be there for every child, adult and family in need?
Make a Donation