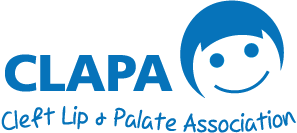 CLAPA is the charity for everyone affected by cleft lip and palate in the United Kingdom. Your donation will help us keep our services free and accessible to everyone who needs them.
As a small charity, every penny makes a difference!
Make a Single or Regular Donation
Note: This is a new donations platform. If you experience any issues trying to many a donation through the above link, please try making your donation through this link instead. If you have any questions or concerns, please get in touch at [email protected].
Paying in money? Businesses and fundraisers can make a direct transfer to our bank account using our account details. Please email out fundraising team at [email protected]so they know to look out for your transfer.
Acknowledgement
You'll receive an email receipt and a digital thank-you when you make a donation. If you make a regular donation and sign up to hear more about our work, you'll become a 'CLAPA Champion' and receive regular communications about how your donation is making a difference.
If you'd like a letter of acknowledgement or a certificate for your donation, please get in touch with our friendly fundraising team at [email protected].
How Does Your Support Help?
Aside from the day-to-day costs of keeping a charity like CLAPA online and active, your donation will give our small, part-time team the breathing space to focus on what matters most: supporting the cleft community!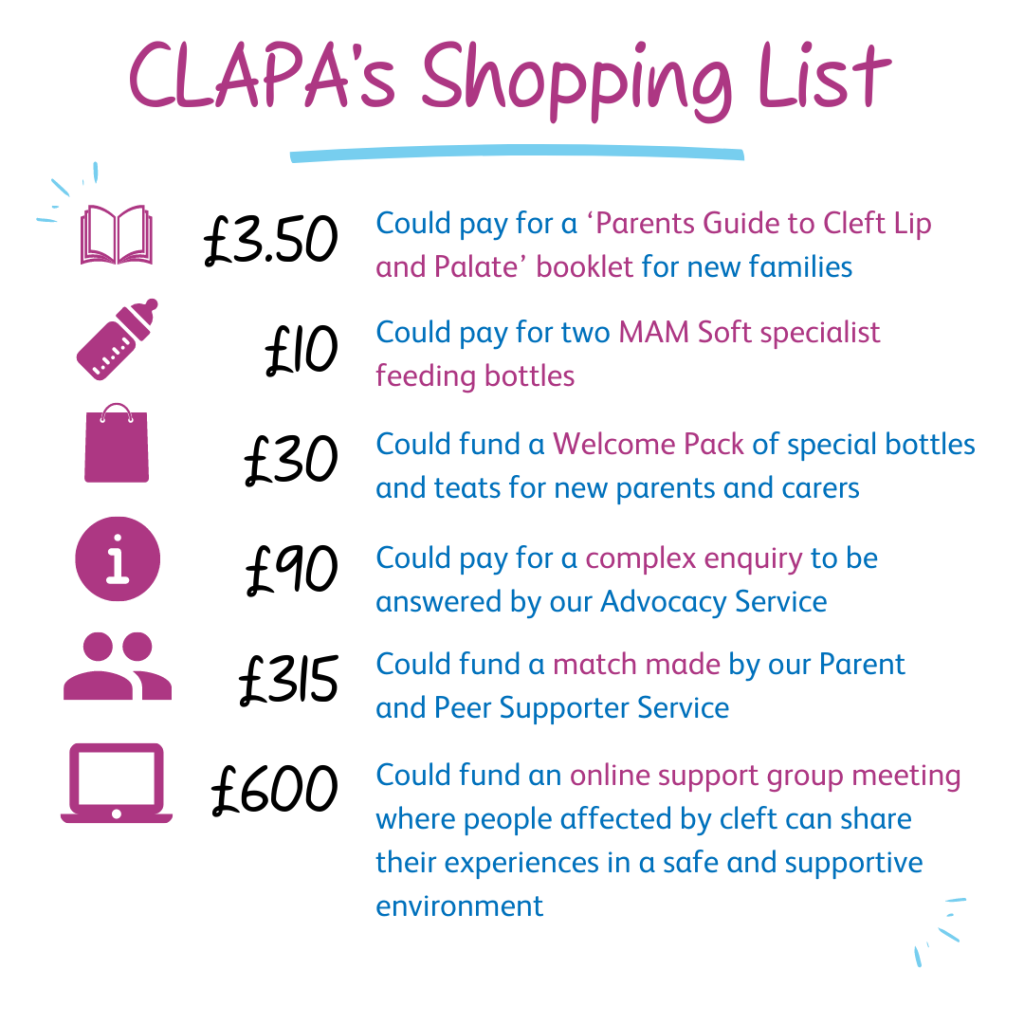 In 2021/22, we…
Sent out 10,671 items of specialist feeding equipment to families and hospitals around the UK. We also sent out 733 free Welcome Packs.
Matched up 39 people with a trained CLAPA volunteer as part of our confidential Support Service
Ran 59 online events through Zoom with 1,049 attendees. Check our most recent events at clapa.com/events
Ran 10 Facebook Live events with 925 attendees.
Shared 22 opportunities to get involved with cleft research with CLAPA Voices.
…and much more!
"If CLAPA didn't exist I really don't know how I would have managed from diagnosis 6 years ago till now. It has the most important role for a family expecting a cleft baby. The support is amazing."

Parent of a child with a cleft
As well as support from our community, CLAPA also relies on the funds it receives from charitable trusts, companies and legacy donations. These funds are in excess of the £25,000 target we need to raise each month from our supporters in the community.
How to donate to CLAPA or pay in fundraising money by cheque or bank transfer.

Facebook take no commission for donations, so everything you donate goes to supporting CLAPA's work! Set up a fundraiser and tell your story today.
From mufti days to marathons, our friendly fundraising team are on hand to help you support CLAPA however you can.

Whether you're shopping online or having a clear-out, there are many different ways to support CLAPA every day!

As a small charity, partnering up with companies can make a huge difference to what we can achieve each year. Find out more about what you can do to help.