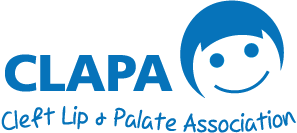 CLAPA provides vital, award-winning services to hundreds of families each year all around the UK and works to raise awareness and understanding about cleft lip and palate.
CLAPA is entirely independent of the NHS and is 100% funded by donations from the public and grants from Trusts and Foundations.
Make a donation through CLAPA's Just Giving page or through Facebook today to help us continue to provide services for all those with and affected by cleft lip and palate.
Can't see the donation box above? Visit CLAPA's Just Giving site to make a donation.
You can also set up a Direct Debit to keep CLAPA going month after month.

If you would like to pay in money from your fundraising event, please click here to see the wide variety of ways you can make your donation.
How could your money make a difference?
CLAPA is a small charity running a wide range of services on a very tight budget, so you can be sure we make every penny count. Here's an example of the difference your donation could make to families around the UK.
£20 – A Welcome Pack of special bottles and teats for new parents
£40 – An awareness-raising talk for a school or community group
£100 – Train a new volunteer to run a Happy Faces support group
£300 – Train a new Parent or Peer Supporter to help others one-on-one
£1,000 – Run a local Happy Faces Group for a year