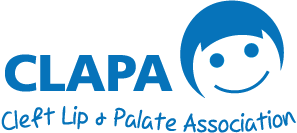 CLAPA is a small charity working hard to support the cleft community in ever-changing and very tough circumstances. We are fighting to keep our doors open for you and your family today as well as for all those families who will receive a life-changing diagnosis in the future.
CLAPA was founded by people who believed if we only worked together, a brighter future was possible for babies born with a cleft. Right now, this future is in your hands. Can you help us be there for every child, adult and family in need?
On mobile? Click here to donate!
Making a donation from a business? This form is for personal donations only; donations from businesses will be refunded. Businesses should make a direct transfer using our bank details and email our fundraising team to let them know.
If you are using your mobile to complete this form, please turn the phone horizontally.
Donate through the Charities Aid Foundation
Note: If you'd like a letter of acknowledgement or a certificate for your donation, please get in touch with our friendly fundraising team at [email protected].
How Does Your Support Help?
Aside from the day-to-day costs of keeping a charity like CLAPA online and active, your donation will give our small, part-time team the breathing space to focus on what matters most: supporting the cleft community!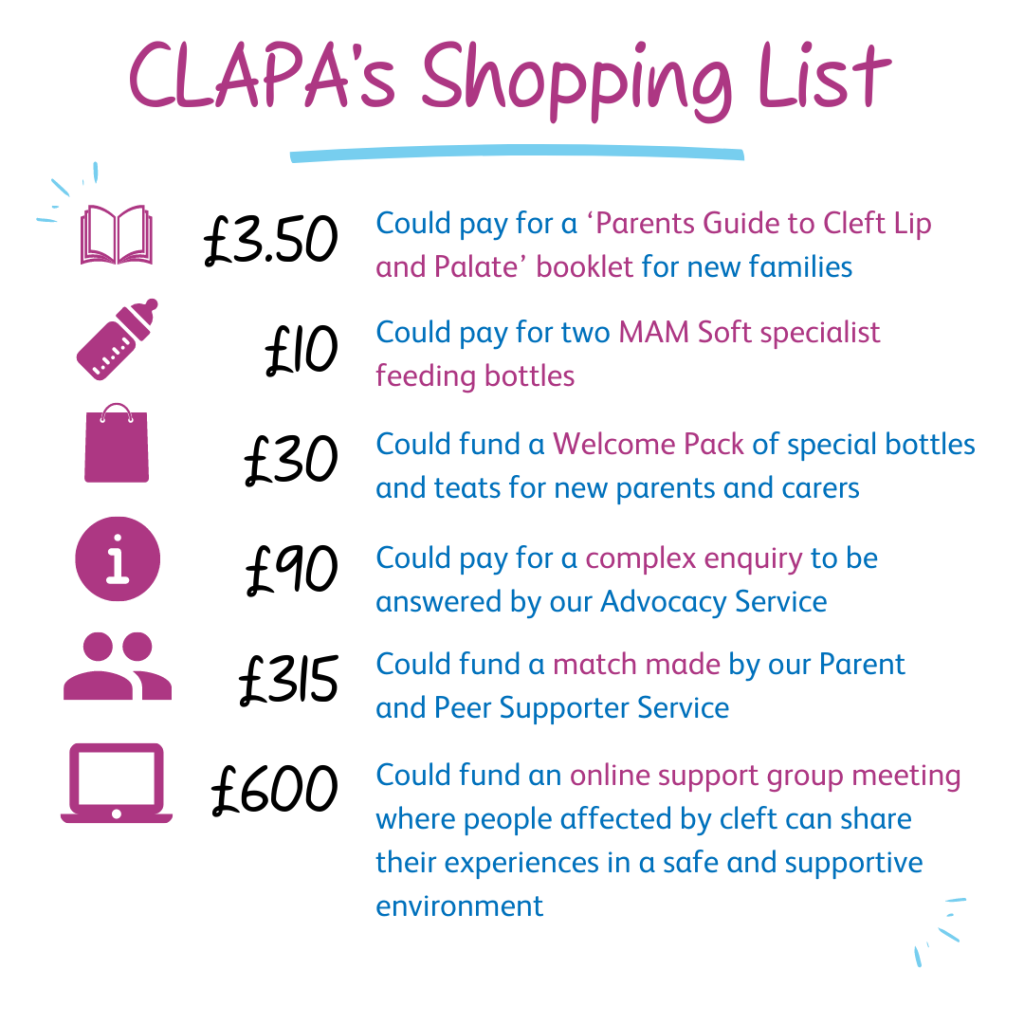 In 2021/22, we…
Sent out 10,671 items of specialist feeding equipment to families and hospitals around the UK. We also sent out 733 free Welcome Packs.
Matched up 39 people with a trained CLAPA volunteer as part of our confidential Support Service
Ran 59 online events through Zoom with 1,049 attendees. Check our most recent events at clapa.com/events
Ran 10 Facebook Live events with 925 attendees.
Shared 22 opportunities to get involved with cleft research with CLAPA Voices.
…and much more!
"If CLAPA didn't exist I really don't know how I would have managed from diagnosis 6 years ago till now. It has the most important role for a family expecting a cleft baby. The support is amazing."

Parent of a child with a cleft
As well as support from our community, CLAPA also relies on the funds it receives from charitable trusts, companies and legacy donations. These funds are in excess of the £25,000 target we need to raise each month from our supporters in the community.
Get creative at home to show your support and raise awareness this year with our range of fun and easy ideas!

Facebook take no commission for donations, so everything you donate goes to supporting CLAPA's work! Set up a fundraiser and tell your story today.