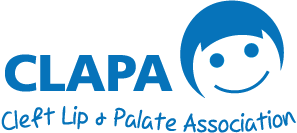 The coronavirus pandemic will cost us half our income over the next six months.
We're doing everything we can to keep CLAPA operating for as long as possible to support the cleft community during the lockdown, but without urgent help we will run out of money before this crisis is over.
CLAPA was founded by people who believed if we only worked together, a brighter future was possible for babies born with a cleft. Right now, this future is in your hands. Can you help us be there for every child, adult and family in need?
Donate through the Charities Aid Foundation
Note: If you'd like a letter of acknowledgement or a certificate for your donation, please get in touch with our friendly fundraising team at [email protected]
"If CLAPA didn't exist I really don't know how I would have managed from diagnosis 6 years ago till now. It has the most important role for a family expecting a cleft baby. The support is amazing."

Parent of a child with a cleft
Get creative at home to show your support and raise awareness this year with our range of fun and easy ideas!

Facebook take no commission for donations, so everything you donate goes to supporting CLAPA's work! Set up a fundraiser and tell your story today.