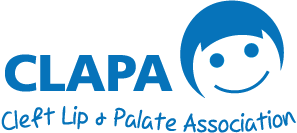 Teddy's Triathlon for CLAPA
7 year-old Teddy's little sister was born with Pierre Robin Sequence and a cleft palate. Teddy wanted to do something to help, so to mark the start of Awareness Week he completed a triathlon for CLAPA!
Here's his family's story, as told by his mum Pamela.
In September 2017, our beautiful daughter Daisy-Mae was born. One of the midwives noticed that she was finding feeding difficult and decided it was best for her to go to NICU (neonatal intensive care unit). It was here that they discovered her cleft palate.
This was very upsetting and quite a shock. A wonderful specialist Cleft Nurse from Great Ormond Street visited us to explain more about Daisy's treatment. We were then told that Daisy had Pierre Robin Sequence. The main issues being her cleft palate and a small lower jaw. She was tube fed for 6 months and had her palate repaired at a year. It was the most incredibly scary and worrying time.
Our son, Teddy, who was 5 at the time, understood that something wasn't quite right. We explained to him straight away about Daisy's cleft and kept him as involved as possible.
As a family, we have attended many CLAPA fundraising days and this was when Teddy began to understand the true meaning of a charity. Not only did he enjoy the raffles, activities and the chance to eat cakes and sweets, he began to understand how much CLAPA means to us as a family. Teddy decided he wanted to raise money to help the people who 'helped Daisy'. That is when he decided to do his triathlon.
On Saturday 2nd May, the beginning of awareness week, he completed a total of 15 laps of our local green, 5 on his bike, 5 on his scooter and 5 running. It was quite the physical challenge but he did it and has raised over £700 to help the people who helped us at the most critical and hardest times of our lives to date.
One of the hardest things we found to process was that Daisy was born with something 'wrong'. It's through the help of CLAPA that we have accepted her cleft palate (although it has now gone) and purely see her initial struggles as proof of how amazing and brave she really is. We are so incredibly proud of Teddy and so grateful for the wonderful support we have from the CLAPA community.
Thank you for sharing your family's story Pamela, and a massive thank you to Teddy for his incredible fundraising!
Inspired by Teddy? Join Team CLAPA by clicking on the button below.