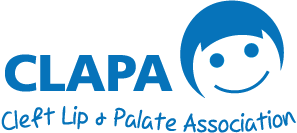 This hub is where you'll find all the latest information and updates about COVID-19 and the cleft community. 
The CLAPA Office is closed, but our staff and volunteers are still working hard to support you remotely. Our feeding service is still running, and orders will be dispatched on Mondays and Thursdays. Answerphone messages will be picked up on those days, but wherever possible, please send your enquiries through our contact form or to [email protected].
We are running a regular programme of online events through Zoom and Facebook Live. Visit our Events Page to find out more, and be sure to let us know what you'd like to see more of by completing this short survey.
Please help us and each other at this time by looking after yourselves, your families, and your community. We'll continue to post your wonderful stories and photos on our social channels, and will be closely monitoring our support groups on Facebook to make sure we're doing everything we can to help.
Take care and stay safe,
The CLAPA Team
January 2021: Rising number of missed appointments
June 2020: Resumption of Cleft Services
'Cleft Surgery in a COVID World' Q & A
On the 14th September 2020 we were delighted to host a live Q & A on our Facebook page with special guest and cleft surgeon Mr David Drake. Members of the CLAPA Community anonymously submitted questions concerning delays to surgery and changes to cleft care in light of COVID-19 before the event. Claire, a parent and volunteer from the CLAPA Community, then asked Mr Drake these questions during the Q & A.
In case you missed it, you can catch up below. If you have any trouble accessing this video please email [email protected] and we'd be happy to help.
Information and links from NHS Cleft Teams about cleft services during the COVID-19 outbreak.

Find remote support and a listening ear during lockdown.