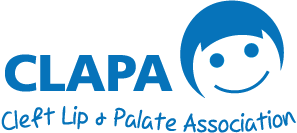 CLAPA is working on producing more videos and other media which feature children and young people born with a cleft lip and palate. We think it's very important for people born with a cleft to see others like them, in person or on screen, and this is something we'd like to invest in over the next few years.
Do you have any ideas for a video around cleft lip and palate, like a surgery diary or a vlog? Get in touch with us at [email protected]!
William's Alveolar Bone Graft
William had his Alveolar Bone Graft surgery in September 2016. To help other young people like him feel better about their surgery, he decided to make a video diary to document the lead-up to the procedure and his day-to-day recovery. With William's permission, we've edited these videos together and added subtitles.
In 2017, William also did a talk at his school to raise awareness of cleft and CLAPA, which you can see at the end.
Please note, from around 4:40–9:40 there is footage of William shortly after his surgery. Some viewers may find this upsetting. However, as you can see later on, he bounces back quickly and makes a full recovery.
For SUBTITLES, please click the 'CC' button near the volume controls above and select 'English'.
You can find William on YouTube here
How you can get involved with CLAPA
Learn more about what the Children and Young People's Council (CYPC) do, as well as how you can support CLAPA by fundraising and raising awareness at your school or college!
How does anaesthetic affect you?
In this video, some of our Children and Young People's Council (CYPC) members talk through the different types of anaesthetic and how it makes you feel, so you'll know what to expect.
Dealing with negativity
In this video, Claudia from our Children and Young People's Council (CYPC) talks through some of her own experiences and explains how she has dealt with negative comments. She wants other young people like you to remember that you're not alone and that you can always talk to someone about how you might be feeling.
The Difference Between You and Me?
Young people from the north east spent two years making this film to explain how they feel about being born with a cleft. When it really comes down to it, what is the difference between them and everyone else?
This film was produced by local company Twenty First Century Media. It was funded by Northern Film and Media, Newcastle Upon Tyne Hospitals Special Trustees, Ethicon, Greggs, CLAPA and personal donations.