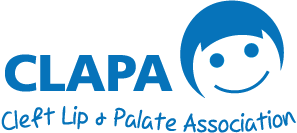 There are so many ways you can support CLAPA from home. Can you help us continue to bring the cleft community together even while we're apart?
We've come up with some fun and easy ideas to help you get started with fundraising from home, and if you've got some genius plans of your own our friendly fundraising team would love to hear from you at [email protected]!
Some ideas to get you started:
Take on a virtual run
Whether you prefer a 5k park loop or a Spartan race, you'll find plenty of upcoming runs to choose from across various locations in the UK! Click on the button below to find out more about upcoming virtual challenges, or explore the Run for Charity website directly here.
Support us as you shop
If you don't have time to organise your own fundraiser, did you know that you support us as you shop by signing up to Amazon Smile? To date Amazon has donated £2,295.30 to CLAPA thanks to you, showing how much impact a few pennies and pounds can make when lots of people are taking part! Click on the button below to register.
Declutter & Donate
With many of us spending a lot more time at home over the last 6 months, you might have noticed some things around your house that you don't really need or want anymore. A brilliant way to give your unwanted items a new purpose is to sell them on, then donate the money you make!
Whether you use apps such as Depop and Ziffit or do a socially distant front yard sale on your street, you'll be able to tidy up your home while supporting our vital services. So, what are you waiting for? Declutter and donate!
Give something up
While the end of September might not be the most traditional time to give up your favourite treat, this is always a brilliant fundraising idea. Whether it's chocolate, alcohol or clothes-shopping, pledge to give up your favourite vice for a whole month and call on family and friends to sponsor you. When you set up your Just Giving page or Facebook Fundraiser for your challenge, make sure to tell everyone why you want to support CLAPA!
Cook for CLAPA
Over the last 6 months, there have been so many beautiful stories of neighbours and communities being there for each other. A lovely way to keep these connections going as we head into the winter months is cooking for your neighbours! You could create your favourite meal and drop it off at their house, telling them a little bit about what CLAPA means to you. It's less of a fundraising idea and more of an awareness-raising idea, but we think it's a lovely thing to do anyway.
Looking for inspiration?
If you are looking for ideas, the stories shared by our incredible fundraisers are a brilliant place to start! Learn more about the creative ways our amazing community have been supporting CLAPA by clicking on the button below.
Set an achievable step goal and start counting your steps, making sure to document your efforts online so everyone knows how you are getting on! You could even get your family to join you!

Obstacle course in the garden? Marathon in your living room? Rethink your challenge (or take on a new one) and show your sponsors you aren't giving up!
We rely on the kindness and generosity of the community to help us provide services beyond the hospital walls and make sure every child born with a cleft can grow up smiling inside and out. Can you help us be there for every child, adult and family in need?
Donate to CLAPA