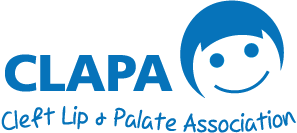 Tagged with: NHS Cleft Services
As part of the review of Cleft Surgical Services in Scotland and the proposed change to the way these are delivered, three public consultation meetings will be held throughout the country. You are invited to attend and give your opinion on the proposed changes to the service.

New guidance issued by NICE states that young people moving from children's to adult's services should be placed at the heart of decisions about their care.

A free evening course for healthcare professionals which aims to give delegates the opportunity to discuss and get hands-on experience in applying the RCPCH best practice guide 'Palate examination: Identification of cleft palate in the newborn' which CLAPA was involved with.

A proposed change will see Scottish Cleft Surgical Services being delivered from a single site in Glasgow. Until 11th May, you have the chance to comment on these changes and ensure your voice is heard.

A report has been published with the results of the Cleft Care UK study which looked at how things have changed since the introduction of specialist Cleft Teams at the turn of the century.

CleftNetEast (Addenbrookes)

Up until the turn of the century, cleft care was provided by 57 teams which had varying standards of care, Based on this research commissioned by UK Health Ministers, the Cleft Teams around the UK were set up to provide centres of specialist care.