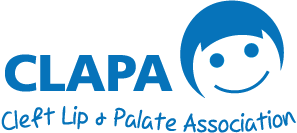 Right from the start in 1948 through to the present day, the NHS has taken away the financial burden from families in need of cleft care, letting them focus on finding the emotional support they need – without worrying over the costs of essential treatments like surgeries and appointments with clinical specialists.
Thanks to our NHS, treatment is there for people and families in need, regardless of their financial situation, something which is not the case in many other countries across the world.  On the 70th anniversary of the launch of the UK's National Health Service, CLAPA want to say a huge thank you, from ourselves and our community, for the dedication and hard work of NHS professionals in every region, every day.
Pat's Story
"I say to new and expecting parents, to children and their families; 'your child's cleft it is part of them, it is not all of them'," Pat explains. "It's a good reminder for adults too and it's definitely true for me."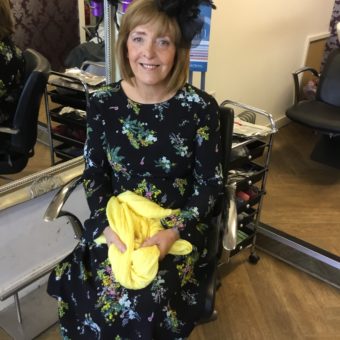 Pat was born in 1954 with a cleft lip and palate. She is currently a Cleft Nurse Specialist at the Birmingham Children's' Hospital.
As both a patient and professional in NHS cleft care, she spoke at this year's annual Craniofacial Society of Great Britain and Ireland Conference about her experiences.
After speaking with members of the CLAPA team following her presentation, Pat has been kind enough to share her wonderful story in an interview with CLAPA to celebrate the 70th Anniversary of the NHS.
"Try again!"
Pat is practicing reading with her four-year-old grandchild, who is correcting her on her phonics. They're both laughing. She tries to explain the way her cleft affects her speech in terms a young child can understand. 
"Well," her grandchild demands. "Just put your tongue in the right place!"
Pat was only a few years older than her grandchild is now when she first became aware of her cleft.
"This is bizarre!" she remembers thinking, 7-years-old and more than a little bemused. "I must be adopted."
She pinpoints this as a milestone in her life. As a child, her relationship with her cleft was often difficult. Whilst her family was supportive and loving, she didn't receive the same encouragement from everyone.
She is singing along happily at choir practice at school when her teacher takes her aside.
"Pat," she says matter-of-factly. "Would you mind miming the words?"
Her later discussions with the school's Careers Councillor were equally dismissive.
She was excited to tell the Careers Staff of her goals to be a nurse, but the response she received was not positive. Nursing had been Pat's ambition from a young age, but due to setbacks to her confidence her route to get there wasn't as direct has she would have planned.
"No, I don't think so," the counselor told her matter-of-factly. "Your speech isn't clear."
"There wasn't any talk of cleft psychologists for me back then," she remembers.
For a time, it seemed that was that. Pat notes that, as a child, it is harder to question the assertions of adults. She felt at that time she wasn't bright enough to follow her original idea, and she looked for alternatives. In short, she admits, she settled.
Though experiences like these knocked her confidence, Pat remained a 'people person'. After school, she worked in a local shop, and despite feeling self-conscious about her speech, she loved how busy she was, and having the chance to chat with customers.
While there were times when her childhood was hard because of feelings towards her cleft – she remembers a period of time when she would come home from school every day to cry in her room, face buried in her pillow until she was breathless – she credits a lot of her current resilience to this time.
"There wasn't any talk of cleft psychologists for me back then," she remembers. "My mum would tell me 'sticks and stones' and, at the time, that was the right thing to say."
It made her stronger she admits, but that doesn't mean it didn't hurt.
From her first operation at around 18 months old into her check-ups as an older child, Pat remembers the sense of belonging that came with being looked after by her NHS Cleft Team. Seeing other children who shared some of the things she had noticed about her own looks in the waiting room before appointments gave her a sudden and strong sense of belonging, and when she was discharged in her late teens, she remembers the feeling of loss that followed.
"I felt bereft," she explains. "It was a genuine grief."
As Pat matured, and began following her ambition to begin training as a nurse, her cleft gradually became further removed from her day-to-day life. Aside from the occasional comments from patients – "Oh, that's a shame. You have beautiful eyes"- her cleft became something she considered more rarely.
FAMILY
Pat met her partner, Ron, in 1975, and the pair married the next year. In her teens, romantic relationships had been a source of worry for Pat.
"I used to worry so much about kissing!" she remembers, laughing. "Later I realised that's a perfectly normal worry. Everyone worries in their teens."
Having a cleft, she suggests, simply gave her something to pin her worries on.
As Pat and Ron began planning their future together, Pat found herself thinking about her cleft again, and focused on this part of her in a way she hadn't in a long time. She felt worried, thinking about the possibility of cleft being passed down to her children. Nervously, she decided to bring up her anxiety with Ron, reasoning that there was a chance that any future children the pair had may take after her in this way. Ron, she remembers fondly, was nonplussed.
"Well," he said matter-of-factly. "You're alright, aren't you?"
Together the pair decided to stop worrying, and to deal with any outcome if and when it happened. As it turned out, neither of their two sons was born with a cleft, nor have any of Pat's grandchildren.
Over the years Pat has found her family to be a great source of support.
BACK IN THE CLEFT WORLD
It was a change in personal circumstances that originally led Pat to apply for her current role as a Cleft Nurse Specialist. She had never really expected to rejoin the cleft world, and initially she had reservations.
A Sister on her ward at Birmingham Children's Hospital highlighted the application to her, but it was her family that convinced her to take the chance. She had a lot to consider – time, finances, and nerves – but Ron was there to support her. Pat remembers his advice clearly and fondly.
"Why not apply, and then worry about what's next when you get there?"
She was out shopping when she got the call to say she had been offered the position.
She was stunned. The main feeling she remembers from that moment was that she felt humbled. She stood, surprised in the middle of the shop floor, and thanked them for the opportunity. That's what she felt it was, she recalls; a wonderful opportunity.
The early days, she remembers, were not plain sailing. The shock of returning to and being immersed in the diagnosis and treatment of cleft, something she had dismissed for so long, brought back some troubling memories.
Once again, Pat's cleft had been pushed back to the forefront of her mind.
"It felt like my cleft was right in front of my face the whole time," she admits now, still frustrated by the memory.
"People can get the wrong idea about your capabilities when you look different."
She remembers arriving home from work one day and greeting her sons in the kitchen.
"If I can't do the job I need to do without my cleft being in the way all the time, I'm going to leave," Pat announced to her son, Mark, who was around 13 years old at the time.
"Why don't you just get a plaque for round your neck, mum: 'I have a cleft, so what?'" he jokes. Caught off-guard and laughing, Pat recalls that it was moments like this with her family that have helped her find perspective when she most needed it, and have helped her keep going and stick with a job she has since grown to love.
Something she has had to get used to a lot in her role are the questions. Often, she notes, she doesn't mind at all and is glad to be able to offer insight.
She adds, "I'm quick to remind them I have no experience of raising a baby with a cleft."
Sometimes, the questions can be quite personal and can feel uncomfortable.
'Are you a trained nurse?' springs to mind for her, as does '…are you married?'.
"People can get the wrong idea about your capabilities when you look different."
TREATMENT AS AN ADULT
As well as observations through her work, Pat has had firsthand experience of the advancement in cleft care over the years.
She was in her late 20s when she decided to undergo further surgery to change the shape of her nose and upper lip.  As she'd never had a bone graft, she followed these operations with a further surgery to help ease new issues with her palate that the previous operations emphasised.
She laughs, remembering her surgeon's disgruntled reaction when she looked at the mirror and commented, "Well, it's not perfect, but it's better."
"At the end of the day," she says, "the most important judgement is from the person with the cleft."
Pat went on to have further dental treatment too, replacing the metal orthodontic plate from her original treatment with two false teeth to fill the gap in her gum, and a dental bridge that allowed her to feel the roof of her mouth as a complete palate.
"It felt like heaven," she remembers.
"Even if you never use it," she insists. "If you don't dip your toe in the water, you'll just never know. At least then you have the option."
Pat still feels that the symmetry of her nose isn't perfect, but reflects that her nose having a point, rather than its original flatter shape, has made a huge difference to her and how she feels about her appearence.
The biggest change that has come from her NHS treatment as an adult, she says, is being able to smile and feel her teeth look nice. Seeing the results of her dental work and having a smile she felt happy to show felt like she had been given the world.
To fellow adults born with a cleft, she encourages them to find out what treatment is available to them.
"Even if you never use it," she insists. "If you don't dip your toe in the water, you'll just never know. At least then you have the option."
"Your cleft is unique to you," she adds, "if you don't seek out the information, no matter what baggage you're carrying from before, you just never know what options you have."
GOING FORWARDS
Today, Pat considers herself a positive and realistic person.
She loves the job she does, and is glad to be able to use her experiences as well as her training to reassure new and expectant families that she meets.
She understands that wondering what your baby will look like is completely natural and, as a mother herself, she can imagine and empathise.
"I say to new and expecting parents, to children and their families: 'your child's cleft it is part of them, it is not all of them'. It's a good reminder for adults too and it's definitely true for me."
Personal questions do still catch her off guard at times and there are still challenges to face.
"We all look at difference," she reflects, "working in cleft care has definitely brought old challenges to the fore but I do think, actually, it has also brought me some peace with it all."
"I'm a contented person by nature and maturity has enabled me to accept my cleft. It's part of me, not all of me."
Even now, she admits, Pat could cry at the feelings she carries from her early childhood.
"Excuse my language, but it is bloody hard!" She pauses a moment. "It's a big thing to be brave enough as an adult to face what's gone before."
For her, finding out what options she had under the care of her NHS Cleft Team was exciting. She has been amazed at the range of available treatments and the improvement in care over the years, from the early days of the NHS to today.
These days, when Pat practices phonics with her grandchild, she is glad she can laugh at things that once upset her, and that she has outgrown many of her insecurities.
"I'm a contented person by nature and maturity has enabled me to accept my cleft. It's part of me, not all of me."
Thank you so much to Pat for sharing her story with CLAPA.
If you'd like to share your story with us, or would like to speak to someone about setting up an interview over the phone, please email

[email protected]

or visit our online form to submit your story.