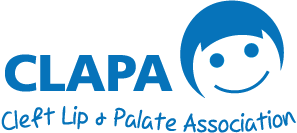 World Mental Health Day 2018
Wednesday 10th October is World Mental Health Day
Since 1992, World Mental Health Day has been a chance to highlight the importance of looking after mental health needs every day of the year.
At CLAPA, we believe that every smile tells a story, and that with the right help and support all of these stories can have a happy ending.
Everyone deserves a chance to see themselves reflected in a positive way, as the recent Portrait Positive project emphasised. In a world that so often only shows us one way to be beautiful, we believe it's important for CLAPA to show a positive image of people affected by cleft. That's why we celebrate smiles at all stages using real photos submitted by our community, and why we try to include lots of different kinds of voices in our videos. It's why we publish so many stories from our community to help everyone see themselves in the experiences of others, and look towards a time when their own stories will have a happy ending.
But we also know that for some this happy ending can feel very far away indeed, and that this focus on positivity doesn't always work for those who may be going through a tough time. This is something which came up in our recent Adults Project Roadshows, where a number of adults born with a cleft called on CLAPA to show a more "honest" picture of the cleft experience. This is something we'll be looking at over the next year as part of our drive to make sure no one feels left out of the CLAPA Community.
Today, on World Mental Health Day, we want to draw attention to some of the ways in which being born with a cleft can impact on mental health, and some of the work CLAPA does to help.
How can a cleft affect mental health?
Those with a visible difference like a cleft scar or noticeably different speech can face challenges that can have a big impact on their mental wellbeing, particularly during school years. In a 2015 study of 15-year-olds born with a cleft, 42% reported bullying at least daily, 50% reported sadness, 31% depression, and 26.3% felt marked for life.
CLAPA's 2014 survey found 64% of adults born with a cleft palate said they still had issues with their speech, and 70% said this continued to have a negative impact on their lives, with anxiety around public speaking and meeting others for the first time, and enduring negative or insensitive comments from others. 97% of adults with a cleft lip said they looked visibly different to others, with 72% saying this had a negative impact on their lives, and many commenting that they had experienced rude comments, ignorance, and even outright bullying, for which there was little support.
Many people affected by cleft tell us one of the greatest issues they face is feeling isolated and misunderstood by the public and even by friends and family. Coping with the medical issues that can go along with a cleft is one thing, but having to explain your or your child's differences over and over again, facing stares and comments, and not knowing anyone else in the same situation can take a heavy toll.
It doesn't have to be this way. Being born with a cleft may mean surgeries and hospital trips, but looking or sounding different should be no barrier to finding happiness and success, whatever that means for you.
World Mental Health Day 2018 comes hot on the heels of World Smile Day and the launch of Portrait Positive, two fantastic initiatives to celebrate smiles of all shapes and sizes, and beauty in all its forms. CLAPA is committed to making sure no one affected by cleft in the UK goes through their journey alone. We want to use today to highlight some of our services to help bring people together, tackle isolation, and create a kinder world for the cleft community, both now and well into the future.
Tackling Isolation
"I've always felt lonely and isolated with my cleft and have lacked confidence. Until tonight I've never discussed it with anyone, not even my partner, I've felt embarrassed and ashamed. Being able to meet with others who have been through what I've been through is so important." – Adult born with a cleft
An important part of CLAPA's work involves working with volunteers to hold events all over the UK which bring together people affected by cleft lip and palate. Whether it's a family meet up at a soft play centre, an adventure weekend for young people or a focus group for adults, the feedback consistently tells us that meeting others with shared experiences is the most valued part of these events.
"[CLAPA events give our daughter Emily] the opportunity to see other different noses and faces – and we observed a lot of the children also just checking each other out over lunch, in a very non-threatening environment. Average kids with average families all doing the same thing – but with the chance to explore whatever questions might be going on in their heads. Emily may not talk about the event afterwards, but we know how important it is for her from the comments and conversations that come days after – and from conversations with her teacher on how Emily has handled comments at school. It gives Emily the opportunity to speak with authority – "not all down noses are like my nose" – and set people straight."
Thanks to CLAPA's Regional Coordinator Project and our network of dedicated volunteers, we've been able to extend our reach more than ever before. Last year, we had a record 2,500 people affected by cleft attenting our events big and small across the UK, and over 12,000 people connected with each other in our online support groups. Our independent evaluation tells us that making these kinds of connections are extremely beneficial to people affected by cleft, especially under-18s. But recent funding cuts have threatened the future of these services.
With our funding in crisis, we recently were forced to cut back our services in Scotland, a truly sad decision for everyone involved. With further funding cuts, we are working month-to-month to cover our costs, and have no emergency funds left. Just one more difficult month could force us to significantly scale back our services in the very near future. We are doing all we can behind the scenes to keep CLAPA afloat, but are still trying to come up with ways to continue to be here across the entire UK for years to come.
Support Every Step of the Way
"I'm so very impressed with the service you offer to parents and carers of babies born with clefts – it is fantastic to know that someone will pull out all the stops to help you…" – Parent of a child born with a cleft
Through our Parent and Peer Supporter Service, CLAPA connects trained, experienced volunteers with others in our community in need of a listening ear. We match up people affected by cleft to a volunteer with real insight into their concerns. This contact might be a single phonecall or email exchange, or it could be an ongoing way to touch base, whatever is needed.  The service is secure and confidential – if you need to talk, get in touch today.
Of all the questions and concerns raised by adults affected by cleft in our Peer supporter service from the service's relaunch in 2016, 30% were about feelings of isolation and about psychological support. CLAPA were delighted to find that the feedback taken to evaluate the service found at least 80% of adults and parents feel less isolated after using this service.
"It is encouraging to know that there is a great support network out there who are willing to share their experiences. This can be more comforting than 'medical' support as it seems more real life."
Help for Adults
The Adult Service Project is a three year project funded by the VTCT Foundation, to research and understand the experiences, challenges and unmet needs of adults in the UK who were born with a cleft lip and/or palate (cleft). Following this, the Adult Services Coordinator (ASC), Kenny Ardouin, and CLAPA staff team will work to develop and implement services designed to address current unmet need and roll these out across the UK in the second and third years of the project.
"I've realised how important it is to have a support network."
Over the past several months, CLAPA's Adult Services Roadshow has brought together adults affected by cleft all over the UK to share experiences, discuss cleft care in the UK, and to inform the future of CLAPA's services for adults. The feedback from these events, along with feedback from CLAPA's corresponding survey has highlighted "a high proportion of attendees did report significant difficulties with their emotional wellbeing and of not knowing where to access support". Read the full report for the 2018 Adult Roadshow here.
The Roadshows and the Survey are both completed, but CLAPA does have an exciting conference for adults born with a cleft on 17th November in London – find out more and get your place!
Wellbeing at CLAPA
Statistics show one in four people will be experiencing a mental health problem at any one time. Nine out of ten people who have experienced a mental health problem have faced negative treatment from others as a result.
CLAPA's commitment to promoting wellbeing and ending the stigma around mental health extends to our staff, from those working in our small London office to those based around the UK. That's why we're signing the 'Time to Change' Employer Pledge. This is a commitment to changing the way we think and act about mental health at every level of the charity.

CLAPA already has four trained Mental Health First Aiders in our staff team, and our wellbeing subgroup which meets four times a year to talk about any issues. In order to sign the Pledge, we've submitted an action plan detailing what meaningful changes we will make. This plan includes changes to our internal policies and procedures, as well as additional trianing to help all our staff feel comfortable in starting meaningful conversaions about mental illness.
Time to Change is England's biggest programme to challenge mental health stigma and discrimination and is run by the charities Mind and Rethink Mental Illness.
What's next?
With these services proving as important as ever, we are committed to doing everything we can to keep supporting everyone affected by cleft across the UK, but CLAPA is facing a financial crisis, and urgently needs your help more than ever to stop further cuts to our vital services.
Can you help us be there for families like yours for years to come?