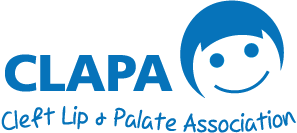 Regional Coordinator Project
CLAPA's aim is to have the infrastructure in place to provide local support to everyone in the UK affected by cleft. A core element in achieving this is our Regional Coordinator project through which we aim to have a Regional Coordinator in post across all eight regions of the UK.
The role of the Regional Coordinators (RCs) is to be a local point of contact for anyone affected by cleft, to train and support CLAPA volunteers and to liaise with local Cleft Teams and other healthcare professionals. The RCs also work to develop services – especially where there are gaps, to source funding and support and to build relationships with the local community.
Following the success of a Pilot Project in 2011, we obtained funding from the Big Lottery Fund to employ three Regional Coordinators (East of England, East and West Midlands (known as Central), South East) over four years, with the aim of improving local service provision for families, young people and adults affected by cleft Lip and/or palate (cleft). A fourth Regional Coordinator and part-time Support Officer are also in place in Scotland.
Some of the ways our Regional Coordinators can help are:
Establishing new roles for volunteers
Training and supporting volunteers, parents, and individuals affected by cleft
Helping to establish and support Branches and Happy Faces groups
Organising and supporting local events
Organising activities for CLAPA Awareness Week
Contributing to Cleft Team meetings and supporting patient involvement
Supporting antenatal groups
Running Residential Weekends and other activities for children and young people
Speaking at conferences, events and in schools about cleft and CLAPA's activities
Our RCs also work with CLAPA nationally on training and events, as well as contributing to policy and strategy.
The three core outcomes for this project are as follows:
Outcome 1: Volunteers demonstrate useful and transferable new skills, feel more confident and better able to support others affected by cleft.
Outcome 2: Children, young people and adults affected by cleft lip and/or palate report a positive difference to their mental wellbeing, enabling to live fuller lives in which having a cleft is not an issue.
Outcome 3: Parents or guardians of a child(ren) with a cleft feel less isolated and feel able to support their child in a more positive way.
The Centre for Appearance Research (CAR), based at the University of the West of England in Bristol, has been commissioned to conduct an independent evaluation of the project.
Evaluation Reports
Is this project meetings its goals? Are we achieving what we set out to achieve? Read the independent reports by the Centre for Appearance Research (CAR), based at the University of the West of England in Bristol, to find out.
CLAPA Scotland RC End of Project Report
CLAPA Scotland RC End of Year Three Report (2018)
CLAPA Scotland RC End of Year Two Report (2017)
CLAPA Scotland RC End of Year One report (2016)
CLAPA Scotland RC Inverness Focus Group report (2016)
End of Year 4 Evaluation Report (2016)
End of Year 3 Evaluation Report (2015)
End of Year 2 Evaluation Report (2014)
End of Year 1 Evaluation Report (2013)
Pilot Project Evaluation Report (2012)
Find Your Regional Coordinator
See our staff page for information about regional staff.