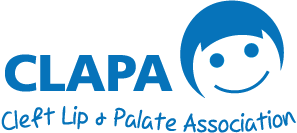 CLAPA receives funding from the Schuh Trust
We're excited to announce that we've received £9,934 from the Schuh Trust for our work with people
affected by cleft in the Central (East and West Midlands) region. The funding will enable our Central Regional Coordinator, Claire Evans, to organise Happy Faces groups, one-on-one support, activities and events, and a Patient Voices Group.
Ashleigh Trenzinger, Visual Merchandising Operations Manager at Schuh's Head Office, kindly invited us to apply for a grant from the Trust, and even wrote a cover letter for our application. Ashleigh's son Finlay was born with a unilateral cleft lip and palate in 2013, and Ashleigh and her family have benefited from CLAPA's work in the past.
"All the information we have gained through the CLAPA website has been invaluable in helping us through the difficult milestones we faced within the first year of our son's life, which involved two major operations. CLAPA provide us with latest research on the condition and new treatments as well as social events for children and carers. I am sure CLAPA will continue to be a valuable resource to us as Finlay grows up and we explain the treatment he received when he was born." – Ashleigh
Does your employer provide grants to charities like CLAPA? If so, our Trust and Grants Fundraiser, Rowena, would love to hear from you! Pop her an email to [email protected] or give her a call on 020 7388 4883.