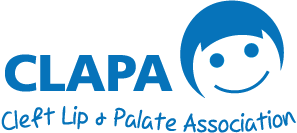 CLAPA is only able to continue our work supporting families like Luke's thanks to the support we receive from faith and community groups.
If you are part of an organisation and would like help CLAPA support your local cleft community, there are a wide variety of ways you can get involved.
Book a speaker
CLAPA is the only national charity supporting people and families affected by cleft lip and/or palate in the UK, and we want to let more people know about how we support their local cleft community from diagnosis through to adulthood.
Our volunteers have spoken at churches, mosques, Masonic Lodges, Rotary Clubs, knitting groups and other community organisations to let people know about our vital services. Help us inform more people about CLAPA's work by inviting us in to speak to your group.
Organise an event
There are lots of exciting ways to get your group involved with CLAPA's work. Our most popular ideas include:
Organise a charity collection during festive seasons, such as Christmas, Diwali, Ramadan or Chanukah. If you would like to receive CLAPA collection buckets or collection cans, please get in touch.
Have you got an upcoming Fete or Bazaar? If so, why not consider CLAPA as a charity beneficiary?
Commemorate the Patron Saints and encourage your group members to get involved.
Musical events are a fabulous way to raise money for CLAPA. Whether you are part of a choir, rock band, orchestra or a solo superstar, you can express your musical talents whilst raising vital funds and awareness.
Channel your inner Mary Berry and hold a Bake-Off at your next meeting.
If you are giving up something for Lent, why not ask your friends to sponsor you and help raise vital funds for CLAPA?
Volunteer
Volunteering is at the heart of our work, with hundreds of volunteers generously offering their time and skills to support over 20,000 members.
You could either help at our existing fundraising events, such as our sponsored walks, or volunteer during special volunteer days such as Mitzvah Day or Sewa Day.
For more information on volunteering, please visit our Volunteering Hub.
However you choose to get involved, we have a fantastic range of resources that we can provide to help get you started. For more information about how you can get your group involved, please contact our friendly fundraising team on [email protected] or by calling the office on 020 7833 4883.