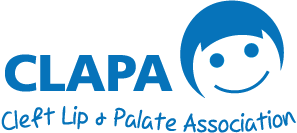 Thank you for choosing to fundraise for CLAPA.
Our vital services supporting families like Laura's are only possible thanks to the generous donations we receive from kind individuals like yourselves.
Our Fundraising Team, is happy to work with you to create bespoke fundraising opportunities for your team that suit your requirements and generate wonderful PR opportunities.
Benefits for your organisation
Empower your employees and boost staff morale.
Provide further insight into how your local community is affected by cleft.
Team building activities can encourage creativity and increase performance and commitment.
Actively use your employee's key skills and help develop new ones.
Promote a positive public image with customers, business partners and the wider community
What you can do
Whatever your interests, you can turn these into a fundraising event. Fundraising at work can be a fantastic way to make people aware of your cause and generate donations through generous work colleagues.
Here's a few easy ideas to help get you started:
Organise a onesie or themed fancy dress day.
Indulge your 'sweet tooth' and hold an office Bake Sale.
Take part in one of our Challenge Events
Show off your competitive spirit and hold a quiz night.
Encourage employees to sign up for The Weather Lottery
To find out more about how other supporters have raised money, please check out our Fundraising Stories.
How we can help
CLAPA are here to support you every step of the way, so don't be afraid to get in touch with any ideas or questions.
We have recently created 'A Little Guide to Fundraising' pack, including information about how best to fundraise at work. This pack is free and will help you with every step of your fundraising journey!
Request your free Fundraising Pack here
CLAPA is also more than happy to provide free materials and resources to help you with fundraising. Information about this can be found inside the fundraising pack, or here.
Whatever you have got planned, our Fundraising Team is here to support you every step of the way. If you need some fundraising resources or have any questions, please contact [email protected] or call the office on 020 7833 4883.