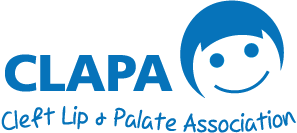 In celebration of our 40th birthday, CLAPA Trustee Nick Astor shares the story of how the charity supported his family at a crucial time, and what his hopes are for the future of cleft care.
Raising his hands, he started looking for words. That's what the obstetrician did. His eyes were kind and his body-language apologetic. He'd already told us her sex, but the expectant joy was never able to rise. He'd quickly followed it with, "There's something else…".
Twenty minutes later, I was holding on to the steering wheel of our car and crying. We were only 16 weeks in to dreaming about our baby. Each scan had been a test, a threat or a potential problem. We – or rather 'she' – had conquered all of them. This scan was just so we could be a little more focused on names.
We didn't know about cleft lip and palate. We'd seen adverts in the pages of Sunday papers for appeals. Young children with clefts staring into the camera. The obstetrician had told us he knew very little, but was aware there may be other associated health issues. He said there'd be information online, but it's probably best not to look. Speak to a specialist he said.
"She'll be okay", I told my wife through sobs. "We'll do what he said, we won't look it up on the web and we'll speak to someone tomorrow". We sat and composed ourselves for another five minutes. Before we left, we checked for a signal on the smartphones and agreed to find comfort in my parent-in-laws.
They raised their hands to their faces when they saw us, red-eyed, on their doorstep. Grand-parents-to-be having their dreams tossed and blown. They must have been expecting the worse. Their relief was temporary, as their concern was given reason and direction. We explained what had happened before dismissing what the obstetrician had said and started our online search.
The cursor in the search bar blinked. Fingers sat motionless on the keys. Is this what we want to do? What are we hoping to find out? Why am I thinking, "how bad will it be?" Why her? Will she be okay? What will her life be like? All the questions that you may have wistfully imagined answers to while watching the sunrise now cascaded in search of answers in front of a monitor. The idea of finding out as frightening as not knowing.
Perfect; what is it really? When you dream of your child you think, "I want a perfect baby". A baby that fits your dreams. "As long as she's healthy", you'll philosophically say, but you'd be lying. You want the baby you dreamt of with the perfect life. A life free of health issues and challenges. Then you think of the baby that fits other people's preconceptions of perfect. The little ball of joy, love and perfection will grow up and you won't be there to hold their hand as she faces preconceptions head-on. Knowing, but wishing it wasn't true, that the society's perception of perfection is first all about looks.
C. L. E. F. T. Five letters. A million and one search responses. As we clicked through, we ignored the website addresses. They may as well have read "worstdiagnosis.com" or "nightmarescenario.com". The fears around what our daughter would experience in life grew. The challenges she would face became greater.
The seed of guilt was sown within seconds of the obstetrician giving us the news. A fleeting feeling that was subsumed by anxiety and worry. While it lay in the shadows it started to establish its roots. By the time the search had started there were green shoots of guilt fed by misinformation. The more we read, the more we asked, "what did we do?".
Then she raised her hand. My wife had found a site with good news. Before and after pictures. We went through them. Each beautiful baby with their pre-op image and subsequent images. Guilt still festered, but the anxiety and concern began to be diluted by hope and belief. The site belonged to CLAPA.
We will never be able to thank CLAPA enough for what they did that night, nor on subsequent visits in the nights following. Combined with the most wonderful Cleft Nurse, Valerie (one of the world's greatest guardian angels), our world started to make more sense.
Within three hours of finding out our daughter had a cleft we had discovered what was possible and what the possible additional issues could be. In a desert of fake-news and misinformation we had found our paradise. Our daughter would be in safe hands, her long-term outcome was back to where we hoped it would be and we had the support of an entire community. Seldom has emotion swelled and shifted as much as it did that night. We wept again. This time with relief and hope.
She raised her hands in the womb and covered her face. My daughter was determined to make the 3D scan difficult. We giggled with excitement. We felt we could see her personality beaming through the screen. Eventually we saw her. Perfection. Our ball of joy and hope with a cleft. The cleft team made their preparations and we waited.
While we waited CLAPA became the comfort blanket. The support we'd turned to when people, through no fault of their own, made comments that temporarily shifted our perspective. Their site gave hope, guidance and support. They were our golden ticket and we clung to it.
While we educated ourselves through CLAPA, at the birth it was obvious that the doctors and nursing staff needed it too. After a long and difficult birth, it was declared that our little superstar would need to go to the Special Care Unit. Just an hour with Mum, before being whisked away. Why? Although we informed them of the cleft, they got a simple test wrong and she was tube fed on her first night. On her arrival at breakfast the next morning, Valerie 'educated' the staff and our daughter was returned to Mum. We were together and happier than happy.
How beautiful can she be? Dreams couldn't match her. Our hearts swelled, our lives complete and our hopes fulfilled. We arrived home with CLAPA bottles and full of confidence. Valerie visited up until the operation. A nerve shredding experience, but – again – one made easier by reading the experiences of others. CLAPA, the extraordinary community and staff, gave us hope, comfort and reliable information. In their website we trust. From the before and after pictures to the explanations of procedures and future potential issues. We were supported.
I raised my hand. I now volunteer for the organization that made a difference to us and continues to do so. My daughter is now eight years old. She's as beautiful now as she was then. Both within and out with. Her confidence leaping thanks to events ran by CLAPA. Her future supported by an amazing team.
What I do is nowhere near as powerful and impactful as others. I could be better. CLAPA needs me to be better. It needs to secure a future to help parents like my wife and me. Our story isn't great, but there's worse stories than ours. CLAPA's job will never be done. It will always be needed. To educate the health service, the general public, support families and, most importantly, those with cleft throughout their lives. It's become a cliché to suggest an organization made a difference, but CLAPA truly did. They were the spark of hope that shone bright in the looming darkness of despair. They became the burning torch that guided us through the first years of our daughter's life. They are the beacon of light that now helps us navigate the challenges of a child growing up. We need to keep their flame burning bright. We need CLAPA.
We raise our hands. Both to applaud and to contribute to their work. Together we can help. Together we can thank them. Thank you CLAPA.
Feeling inspired to raise your hand and get involved? Find out more!