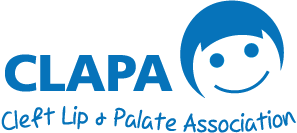 Parenting a child with a cleft lip and/or palate: The father's perspective
Parenting a child with a cleft lip and/or palate: The father's perspective
Nicola Marie Stock, Research Fellow for the Centre for Appearance Research and The Cleft Collective
Background
Following a diagnosis of cleft in their child, parents are likely to feel shocked and daunted by the potential challenges that lie ahead. Being able to access the appropriate support when it is needed is vital to the psychological adjustment of families affected by cleft. Fathers play a key role in their child's development and have a strong influence over the wellbeing of the family unit as a whole.  Despite this, research in this field has focused almost exclusively on the experiences of mothers.
The aim of this research was to explore the experience of having a child born with a cleft from the father's perspective, with a view to informing service provision and future research.
Method
Individual telephone interviews were conducted with 15 fathers of children born with cleft lip and/or palate living in the UK.  Interviews were transcribed verbatim and analysed for common themes.
Research findings
Fathers reported a number of experiences which are comparable to those reported by mothers in previous research.  Specifically:
Non-specialist health professionals (including sonographers, midwives, GPs and health visitors) often lack the knowledge, experience and skills necessary to provide appropriate support to families following the diagnosis and birth of a child with a cleft lip/palate.  This can have long-term damaging effects on the psychological adjustment of families.  Standardised training for non-specialists, as well as the provision of appropriate information and materials at the time of the diagnosis is needed to offer support to families until they are referred to a specialist cleft team.
Families may need additional support around the following areas: dealing with other people's reactions, coping with their child's change in appearance following surgery, knowing how to raise the topic of cleft with their child once their child is old enough to understand, getting access to genetic counselling and understanding the environmental and genetic contributors to cleft lip/palate.
Many positives come from having a child with a cleft lip/palate, including personal growth, developing resilience and being able to support other families in a similar position.
In addition, this research raised a number of issues specific to fathers:
Fathers felt there was little support available for expectant fathers in general.  Having a child with 'additional needs' made this more evident.
Following their child's diagnosis, fathers often adopted an information-seeking and support-giving role.  They believed they had to remain proactive, strong and positive in order to support their partner and child effectively, but in doing so felt there was no outlet for their own thoughts and emotions.
There are fewer networking opportunities for fathers and they often do not get the chance to speak to a health professional about their concerns without their partner being present.  Better support for fathers which addresses their individual information and support needs should be established.
The adequate inclusion of fathers in future studies should be a priority for researchers in this and associated fields.
Dissemination
The findings from these studies have been shared at UK-wide and international conferences and have been published in the field's leading academic journal, the Cleft Palate-Craniofacial Journal*.
Acknowledgements
Thank you to CLAPA for their help with recruitment and dissemination, and to colleagues at the Centre for Appearance Research.  Thank you to Cleft NZ for their interest in this research. Most of all, thank you to everyone who took part in the study for sharing their experiences.
Contact
For more information please contact Nicola: [email protected].
*References
Nicola Marie Stock and Nichola Rumsey (2015) Parenting a Child With a Cleft: The Father's Perspective. The Cleft Palate-Craniofacial Journal: January 2015, Vol. 52, No. 1, pp. 31-43: http://dx.doi.org/10.1597/13-035.