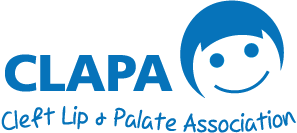 It's Cleft Lip and Palate Awareness Week, but today also marks our Adult Services Coordinator's birthday! Kenny Ardouin was born with a cleft lip and palate in 1991, and has since become a vocal advocate for the cleft community.
Kenny shared his story with us last year, and this year his mum Denise kindly wrote up her side of the story.
Share Your Story this Awareness Week
Note: As with all the stories written by our community, we don't change the terms the authors choose to use to describe their experiences, such as 'harelip'.
Denise's Story
"Congratulations you have a boy! He has a bit of a harelip, but looks otherwise healthy."
I can't describe the shock that I felt then. This wasn't how it was meant to be. None of the books or antenatal classes prepared us for this. My head was in a spin wondering what this meant for our future and our baby's future. I knew what a harelip was, but I'd never known anyone with the condition.
The joy and excitement we should have felt at our firstborn's birth was instantly snatched away from us and replaced with dread and fear of the unknown. The eagerly anticipated phone calls to tell family and friends of his arrival didn't happen. Instead, much more sombre phone calls were made to a select few asking them to inform others.  No-one knew how to respond.
Our son was immediately whisked away to the Special Care Baby Unit. One of the first things a nurse in the unit said to me was that if her baby had to be in SCBU, the best reason would be that they had cleft lip and palate. She went on to say that such babies tended to be perfectly healthy and were only usually here until feeding could be established, while many other babies were here because they were struggling to survive. Her words stuck with me.
An hour or two later (already gone midnight by this time) an orthodontist who would be treating Kenny turned up to explain the treatment process to us. Although still in shock, it was of some comfort to know that treating cleft lip and palate children was routine to him, and that our son was already in the system with a treatment plan underway.
The following day a representative from CLAPA came to visit me in hospital. Kenny would be having his treatment at the same hospital as her daughter who had been born with cleft lip and palate five years earlier. She was able to explain to me what to expect and to reassure me that our son would lead a perfectly normal life and be just like any other child. One of the resources she brought from the hospital was a folder of photos and information which had been put together to help new parents know what to expect during their child's stay. I found her visit very supportive and encouraging.
The first couple of weeks after Kenny was born seemed to be a whirlwind of appointments with different health professionals. We didn't have time to stop and think about it too much – we just had to get on with it for our baby's sake. At the time there was no internet to search so we relied on health professionals and CLAPA for advice and information.
All the treatment was being geared up towards the operation to close Kenny's cleft lip at 3 months of age. Initially, that operation couldn't come quick enough, but by the time he was 3 months old, I'd grown accustomed to how he looked and was a bit fearful of the change. Our son was a smiley, happy, very content baby. It seemed wrong that he had to go through this.
This was how it was for the numerous surgeries he had to endure throughout his childhood. He went into hospital a perfectly happy, healthy boy, but came out miserable and sore and this was always a difficult issue to deal with. Especially when not all his operations were the success we hoped they would be. His lip repair had to be redone a couple times, as did his palate repair.
Kenny is 27 now and I've lost count of the number of procedures he's had, but as a young child,  there always seemed to be one looming on the horizon.
A funny moment I recall was sometime after one of his grommet operations. He was poking his finger in one of his ears when he came to me accusing his younger brother of having put lego in his ear. My younger son vehemently protested his innocence, while Kenny quite adamantly said, "Well there's lego in my ear and I didn't put it there!" It turned out to be one of the grommets making its way out of his ear.
Despite setbacks like the initial lip repair not healing as expected, each procedure was a step towards the ultimate goal of looking and sounding 'normal'. It may have been two steps forward, one step back at times, but it was still progression. As he got older, Kenny didn't always see it from the same perspective though. Each surgery meant time away from his friends and routine, with an ensuing painful recovery. While we could see physical improvements, he began to view operations as obstacles to leading a normal life. When he declined jaw surgery at age 18 – an operation which would greatly improve how he looked – it didn't worry me too much. It was major surgery and a decision he'd have to reach himself, in his own time, and I felt fairly confident he'd do that. It took him a few years, and the result was remarkable, however, the price paid for that was a long, drawn-out recovery.
When Kenny was born, one of our fears was that school would be a terrible ordeal for him and that he would be bullied and harassed because he looked different. However, I would say school, on the whole, was a fairly happy time for our son. He was bright and always had good friends around him. This doesn't mean it was always easy. A huge decision we made was to move from England to New Zealand when he was 9 years old. Not only was there worry about ongoing treatment (though we'd been reassured that his treatment would continue much along the same path), but Kenny was leaving friends he'd grown up with and who accepted him for who he was. Up to that point he really hadn't experienced any negativity about how he looked. And now, here we were uprooting him and hoping that things would continue as normal at a new school despite him having a facial difference and a different accent! Much to our relief though, other than a couple of incidents soon after we moved which were quickly dealt with by his teacher, school was a happy and safe place for Kenny.
Not so out among the general public. Here he would have to put up with stares and comments from ignorant people. I know this got him down and very much affected his self-esteem. This lack of confidence due to the prejudices of others is what has probably had the most long-lasting adverse effect on Kenny.
But, I'm glad to say, it hasn't stopped him getting out of his comfort zone and doing things that others would think twice about. He likes to travel and frequently travels solo – often to other countries. He has moved to the other side of the world from his family and friends to do a job he firmly believes he can make a difference in.
Life has certainly had its challenges for him.
New Zealanders love their sport, so this is a great place for my two other sons who are very sporty.
However, Kenny has never had confidence when it comes to playing any sport. I'm convinced this is as a result of having his arms splinted for long periods – something which would have affected his fine motor skills – when he was very young. Each time he underwent surgery when he was a baby/toddler his arms were splinted while the wound healed. This amounted to a lot of time during a critical developmental period. Kenny would be the first to admit he can't accurately throw anything or kick a ball in the direction he's aiming. Another negative side effect of the splints was the inability to properly hug my child. Neither could he put his arms round my neck which is a natural thing for a young child to do.
I know it's hard for Kenny to observe how much easier many things in life appear for his younger brothers. Simple things like asking someone out on a date is a huge deal to someone who perceives that any rejection is likely to be because of how they look.
Until recently, just starting up a conversation with a stranger at a bus stop, or in a queue would have filled Kenny with fear as he didn't want to draw any attention to his facial difference, and he would have worried about the response he might receive. I have seen this slowly start to change. Maybe as he is maturing and broadening his horizons he realises there is less to fear. But I also believe his last two operations (the most recent on his nose) have made him look just like anyone else and so I imagine he doesn't get the comments he used to.
Kenny has achieved many things which make me proud. At age 15 he felt the need to set up an organisation for kids with clefts, as he felt the focus of other organisations was the parents, and the children's voices were never heard. His organisation later merged with Cleft New Zealand, a charity which he was CEO of for several years, and where he focused very much on the needs of young people with clefts. During his time as CEO he ran a couple of youth camps. I saw first hand the enormous amount of time and effort he had to put into organising these camps, but it was something he was very passionate about, so he just got on with it. The positive feedback he received from parents and young people who had gone on camp was truly heartwarming.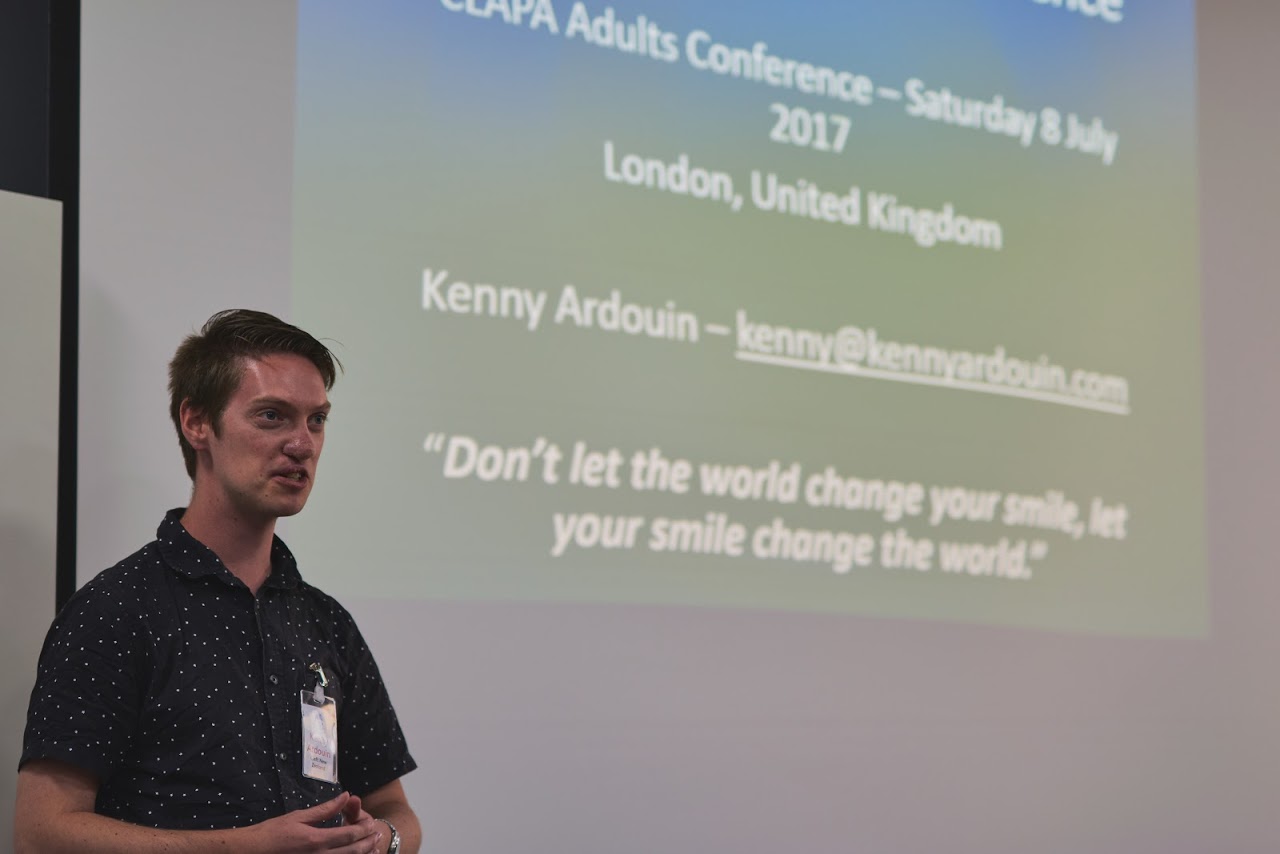 Radio is another of Kenny's passions. From an early age he showed an interest in broadcasting and ardently pursued it. At age 15 he started broadcasting from our house (I'm not sure he would have had much of a following then!), and at age 18 was given a weekly spot on a local radio station. Throughout university and in his various jobs he has continued to work on radio and when recently back in New Zealand he hosted a series of shows. I think radio appealed to him as he is invisible and therefore can't be judged by how he looks. This has always been an important outlet for him and has been a great source of confidence in himself and his abilities. To hear him you would never guess that he was born with cleft lip and palate.
The challenges Kenny has faced helped him decide on the career path which he has chosen. He is now a speech and language therapist and I'm sure his own experiences add great value to his interactions with, and treatment of, his clients.
Yes, he has faced challenges which I obviously would rather he never had to, but the challenges and experiences we go through in life, good and bad, make us who we are. I believe Kenny's experiences have made him stronger and more determined to achieve what he sets out to do.
Kenny has grown up to be a kind, compassionate and principled young man who I'm proud to say is my son.