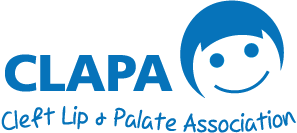 We know the impact of a cleft can last far beyond the first repair surgery.
Cleft Lip and Palate Awareness Week (7th – 15th May 2022) is all about 'The Cleft Journey', the unique path everyone in this community takes from diagnosis through to adulthood.
Every smile tells a story. This May, join us in busting myths and raising awareness by sharing what cleft means to you.
What's the Story Behind Your Smile?
To you, it might just be another part of your life, one difference among many others. But to someone who knows nothing about cleft or what it can mean, your story can be a revelation.
During Awareness Week, we want you to share your cleft story with the people you know on social media and beyond. Celebrate what makes your journey different, and help us make the world a better, brighter, kinder place for people affected by cleft.
Every story shared is a new audience educated. This Cleft Awareness Week, can you help us educate everyone in the UK about cleft lip and palate?
Writing a story for your fundraising page
Longer stories work great for fundraising pages too, but if you're after something short and sweet, use this handy template for Awareness Week.
7th-15th May is Cleft Lip and Palate Awareness Week. Three babies are born with a cleft every day in the UK, and already they face a 20-year treatment pathway, with many having their first surgery at just three months old.
The Cleft Lip and Palate Association (CLAPA) are here to make sure no one goes through this alone. They give people affected by cleft in the UK the support they need to thrive and feel confident about what the future holds.
This week, I'm raising money for CLAPA to help them reach every family, child and adult in need for years to come.
[If you're doing a fundraising challenge, explain it here in a few short sentences. E.g. "I'm taking part in the Step Up for CLAPA Challenge and walking 100,000 steps over the week."]
I'm doing this because…
[Now, it's time to write about why this matters to you! In a few short paragraphs, tell people…
What's your connection to cleft lip and palate?
What's one huge moment you remember that you can share here? See below for tips!
Did any of CLAPA's services help you? How?
Why are you fundraising?
The more personal you can make it, the better!]
After a tough few years, CLAPA urgently needs funds to keep their vital services going, and as a small charity, every pound can make a big difference.
Thank you for your support!
Writing a longer story
You don't have to be a world-class author to bring your story to life, you just need to write from the heart.
A good story doesn't just describe what happened, it takes the reader on a journey with you, helping them to understand how you felt at each moment and recognising the similarities in your shared experiences. It can also be a way of framing your difficult experiences in a positive way, perhaps by talking about how much you learnt or how things have improved since that time.
This Awareness Week, your story is a chance to educate a new audience about cleft lip and palate.
Get inspired by reading what others have written before you. CLAPA has a range of case studies and stories from all sectors of the cleft community on our website, as well as shorter 'Share a Smile' posts on our social media pages.
Getting started
Why do you want to tell your story in the first place? Do you want to reach others like you? Do you want to raise awareness of cleft so others know to be kind and empathetic if they come across it again? Whatever the reasons, make a note of these before you start, and refer back to them at the end to see if your story does this in the way you hoped.
Start writing your story by making a few notes about the key parts of your journey you want to include. Think of these as 'turning points' when things changed for you. For some, these might be major events like surgery, but for others, it could just be an offhand comment from someone else that changed how you thought about things.
When you get the impulse to start writing about one of these moments, start writing and don't stop. You can edit afterwards, but the most important thing is to get your thoughts down on the page. Once you start, you might be amazed at how much you can write!
Bringing memories to life
When you think back on your experiences, there are likely to be strong memories that stand out, such as the moment of diagnosis, or the first time you remember going to the hospital. There will also be smaller moments that made a big impact, such as the first time your child used a straw. Moments like these are the perfect way to illustrate how cleft can have an impact on a life.
To bring people into your story, take your time when writing about these memories to bring them to life.
How did you feel? What were you thinking? What do you remember about the sights, sounds, smells and tastes? What is it like to look back on it now?
Don't focus on factual details. Statistics like '1 in 700' can help, but the facts around when and where things happened don't matter as much as how they felt to you, and can sometimes slow a story down.
Focusing on strong memories like this can help to take your readers on a journey with you, and help them put themselves in your shoes.
Questions to get you started:
What do you want readers to remember about what it's like to be affected by cleft lip and palate?
Were there any unexpected positives about your cleft journey?
How did your experiences change you?
What is one piece of advice you wish you had received at an important moment on your journey so far?
If you could give your past self some words of encouragement about how your journey will go, what would they be?
Children's Activities: Creative storytelling
If you have children who would like to get involved at home, check out our 'Activities for children' page.
Step Up for CLAPA
To make your story go even further, why not sign up for our Step Up for CLAPA challenge or set up a Facebook Fundraiser? Right now, CLAPA needs you to invest in the future of the cleft community, and with just a few clicks you could set up a page where 100% of the money you raise goes towards helping us support families like yours through the lockdown.
Resources
Contacts
For enquiries about CLAPA, cleft lip and palate, and/or Awareness Week 2022:
Anna Martindale
Impact & Influence Manager
[email protected]
020 7833 4883