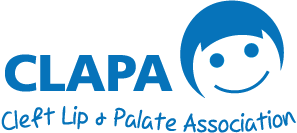 Cleft Lip and Palate Awareness Week 2017
6th-14th May 2017

This year, 1,200 babies will be born with a cleft lip and/or palate here in the UK.
Cleft Lip and Palate Awareness Week is a national campaign to fight the myths and misunderstandings around how cleft lip and palate affects people and their families in the United Kingdom, from diagnosis through to adulthood.
Cleft is a complicated condition which impacts everyone differently. The NHS provides world‐class treatment, but the challenges don't stop there. It can have long‐term effects on feeding, speech, hearing, appearance and more, but one of the biggest hurdles is a lack of public awareness and understanding.
That's why this Awareness Week we need your help to spread the word. We want everyone in the UK to understand the impact a cleft can have – and the difference the right support can make.
From 6th – 14th May 2017, the Cleft Lip and Palate Association (CLAPA) will be organising events around the UK to raise funds and awareness, and we want you to join in.
Help CLAPA 'Raise a Smile' – Learn more about our CLAPATHON on Saturday 20th May in the Queen Elizabeth Olympic Park in London.
Every penny can make a difference, and we need your help to make sure we can not only continue our current services but also reach out to the 1,200 new families that join the UK cleft community each year.
This May, please help us make a lasting difference to the people that need our support the most. Together we can make ignorance about cleft lip and palate a thing of the past.
How Can I Help?
Take part in an event, get your school or workplace involved, share your story, or even come up with a new and creative way to spread the word. Make a pledge to do something amazing this Awareness Week.
At CLAPA we believe that every smile tells a story – and we want to hear yours.
Whatever your connection to cleft, we need people willing to share their experiences in the media and as part of our Awareness Week campaign to help everyone understand the impact of a cleft and how support and understanding can make all the difference. Get in touch today.
We're also looking for people to talk about their experiences on film to form part of a video we'll be sharing during Awareness Week. All ages are welcome to join in. Find Out More.
We'll be sharing more resources to help you spread the word closer to May on our Get Involved page, so make sure you're signed up to our community to receive regular updates.
Looking for a case study or information about Awareness Week for a media outlet? Visit our Media Resources page.