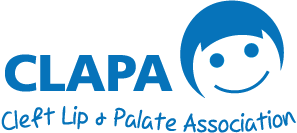 Awareness Week 2018: Jenny's Story

"Having a cleft means strength of mind through the best as well as some of the worst of times. It means I am equal to anyone else and am able to fulfil anything I want in my life as I've already made it through the worst. I actually think my cleft scars are pretty cool. Of course it wasn't without it's hardships dealing with bullying in high school and low confidence but now it doesn't really play much in my social life. I even started performing gigs in front of large crowds, which I would never even dream of doing back when I was younger! My confidence and self-image has definitely increased with age and surgery.
– Matthew, adult with a cleft lip
As Awareness Week 2018 draws to a close and we look back at the stories told by children, young people and their families, we also want to look forward to what happens when those children grow up, leave the NHS treatment pathway, and enter the adult world.
You might have spent your life being taken along to hospital appointments and being booked in for treatments and surgeries you needed, but at some point all of this responsibility will fall to you. You'll have to be looking out for your own health, making your own decisions, and sometimes even fighting for your right to get the treatment you need. On top of all this, you might look and sound different to the people around you, and may even have ongoing functional problems with your nose, teeth and palate.
There are around 72,000 adults living with a cleft in the UK today. While some may have received excellent treatment and support, we know that for many it's a different story. The issues faced by adults with a cleft can be complex. That's why we've just launched our Adult Services Project to help us understand and meet the unique needs of adults all over the UK.
Wherever you are, you're never too far away from the @CLAPACOMMUNITY Adult Engagement Focus Groups/Roadshow!
Find out more and book your place for the roadshow this summer to avoid disappointment here:https://t.co/WChzCLws7l pic.twitter.com/kzMF96JyJ6

— Kenny Ardouin (@kennyardouin) May 10, 2018
In the last few years in particular we've been able to reach so many more adults than before thanks to the power of social media. We were also able to launch our first medical information pages specifically aimed at adults, which have helped thousands of people in the UK and beyond take control of their health.
If you're an adult born with a cleft, we hope that CLAPA has made a positive difference to your life, and that you'll help us work to improve so many more lives by adding your voice to our Adult Services Project over the next few years.
Today, we'd like to end our series of Awareness Week stories by hearing from Jenny, a long-time CLAPA fundraiser who has kindly shared her story with us.
Jenny's Story
I was born with a right unilateral cleft lip and palate in 1981 at King's College Hospital in London. Back then, scans were not readily available, meaning my mum wasn't aware that I was going to be born with a cleft. She told me that once that, when I was born and she held me, she noticed something on my lip thinking it was a bit of blood from the birth. She later realised it wasn't that, but a cleft.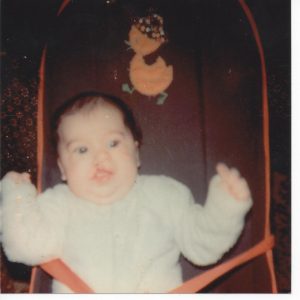 My mum wasn't fazed by this, and said to the nurse that there was something wrong with my lip. At the time there was a student midwife in the room and she was asked to leave by the nurse, but my mum insisted that she stayed. Nurses and more doctors arrived and reassured my mum that everything would be OK. The student midwife was there, holding me, while the others were with my mum.
We stayed in hospital for a few days, and I was given special bottles a bit like those you would feed a lamb with. They had long teats, but they made my mouth and lip so sore that my mum resorted to dedicating time to feed me by spoon for the next few months. I can only imagine how hard and time consuming this was for her, especially with looking after my brother, too (there were only 15 months between us).
At about 4 months old, I had my lip repaired. This was the most heartbreaking time for my parents, especially my mum, handing me over to the surgeon, Mr. Bennett. He had these giant hands and was going to work on me, a tiny baby! We were in hospital for a few days while I recovered. We came home the day before Diana and Charles got married, and Mum always remembers this and was pleased to be able to watch on the TV at home. We were home for the rest of my recovery.
At about 16 months old, I had my palate repaired, not knowing at the time that I would need many more repairs due to the palate repair failing. Over the years, I have had problems with my ears too, which is common with clefts, so I've also had my fair share of grommets.
Fast forward to when I'm about 3 years old and no longer living in London, but in Kent. I had a tooth growing in my palate which was causing me problems with my speech. This was removed just before I started school. My mum didn't want anything holding me back!
At school, I was very quiet and shy. I didn't like talking, and I had speech therapy a few times over the years.
I can't remember much about all of my operations or when they were. I always remember my bone graft, though. I had 8 teeth removed in preparation. It was the 14th January in 1992, 2 months before my 11th birthday. I remember arriving at the hospital on this cold, dark, early morning and walking into the children's ward feeling scared about what was going on and not really understanding what I was about to go through. I was prepped for surgery, gowned, and rubbed with magic cream on my hands for the cannulas. By mid-morning, I was ready to go into theatre.
I remember being wheeled along on the trolley, lights flashing as we were going down the corridors. We arrived at the anesthetic room and a mask was placed over my mouth and nose. I was told to think of nice things as I drifted off to sleep.
A number of hours later, I was awoken by nurses calling my name and telling me wiggle my toes. When my mum arrived I was being sick. She was upset and I was crying with pain. My hip hurt, my face hurt – everything hurt! I was transferred back to the ward, where I stayed for 5 days. I was not a happy girl.
There was talk of me needing jaw surgery in my adult years, and at 11-and-a-half, I started the brace work. I began with a removable retainer brace then, about a year later, I had 5 years of fixed braces. I was so pleased with the results. My teeth were straight. The pain of braces had been a success, and jaw surgery was never needed.
At 17, I decided to go for further surgery. Bearing in mind I'd not had anything done for 7 years, things had changed in the cleft system. They were now centralised and I had a new surgeon. Mr. Boorman was based at East Grinstead, some 2 hours' drive from my home in Canterbury.
It was at East Grinstead that I had my rhinoplasty, lip revision, cheek implant and a palate re-repair. Unfortunately for me, I spent a week here due to an infection, my cheek was painful and very swollen. It felt 3 times its real size and was so shiny. I was convinced it was going to burst! (I was reassured this wouldn't happen). With antibiotics, the swelling slowly came down. When I finally looked in the mirror, I was shocked at what I looked like. Two black eyes, plaster cast on my nose, and the stuffed-hamster-cheeks look!
After about 6 months of surgery, I was travelling to East Grinstead for intense speech therapy every 2-3 weeks for about 6 months. With this, I was fitted with an EPG plate, which is a bit like a retainer, but with wires and electrodes attached to a machine that is able to show exactly where you place your tongue for speech.
I had a tiny problem with cartilage protruding through my nostril a couple of years later, so I had that sorted out and, at the same time, another palate op. By this time, I'm thinking my palate is never going to stay repaired.
Sometime later I met a lovely man who, in time, became my fiancé. This is something that I always thought impossible, always lacking confidence in myself and thinking that I was too ugly for anyone to love or be seen with. I am forever thankful that I went on that blind date my friend organised. For the next lot of operations (mainly for my palate), I had my partner with me, and I'm sure I've put him through hell watching me go through surgery.
After a few years, I decided that I was fed up with the hole that appeared again in my palate. This time the surgery was to be at St Thomas' Hospital with another new surgeon, Mr. Atherton. It was 2015 when I had my buccal flap surgery, where muscle from my cheek was attached to my palate, and it was by far the worst surgery I've had.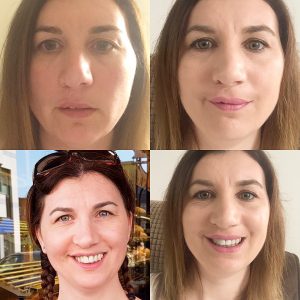 I went through pain, and every emotion going, for 5 weeks. I wasn't able to eat properly (mind you it was good for losing weight…not that I needed to, though.) After 5 weeks, it was detached and the best feeling ever was waking up and being able to open my mouth again, apart from the fact I was poorly after the op, and so had to spend an unplanned stay in the hospital. There were the views over London to improve things, though. I had another operation in 2016, to make the lump on my palate left from the buccal flap surgery made smaller.
Just when I thought I was done with surgery I decided that, while I'm still on the cleft system, I would like my nose and lip tweaked. Three weeks ago, I had the scar from my bone graft transferred to my lip to give it a fuller appearance and it looks so much straighter, a better cupids bow. I also had a piece of cartilage taken from my ear and added to the tip of my nose.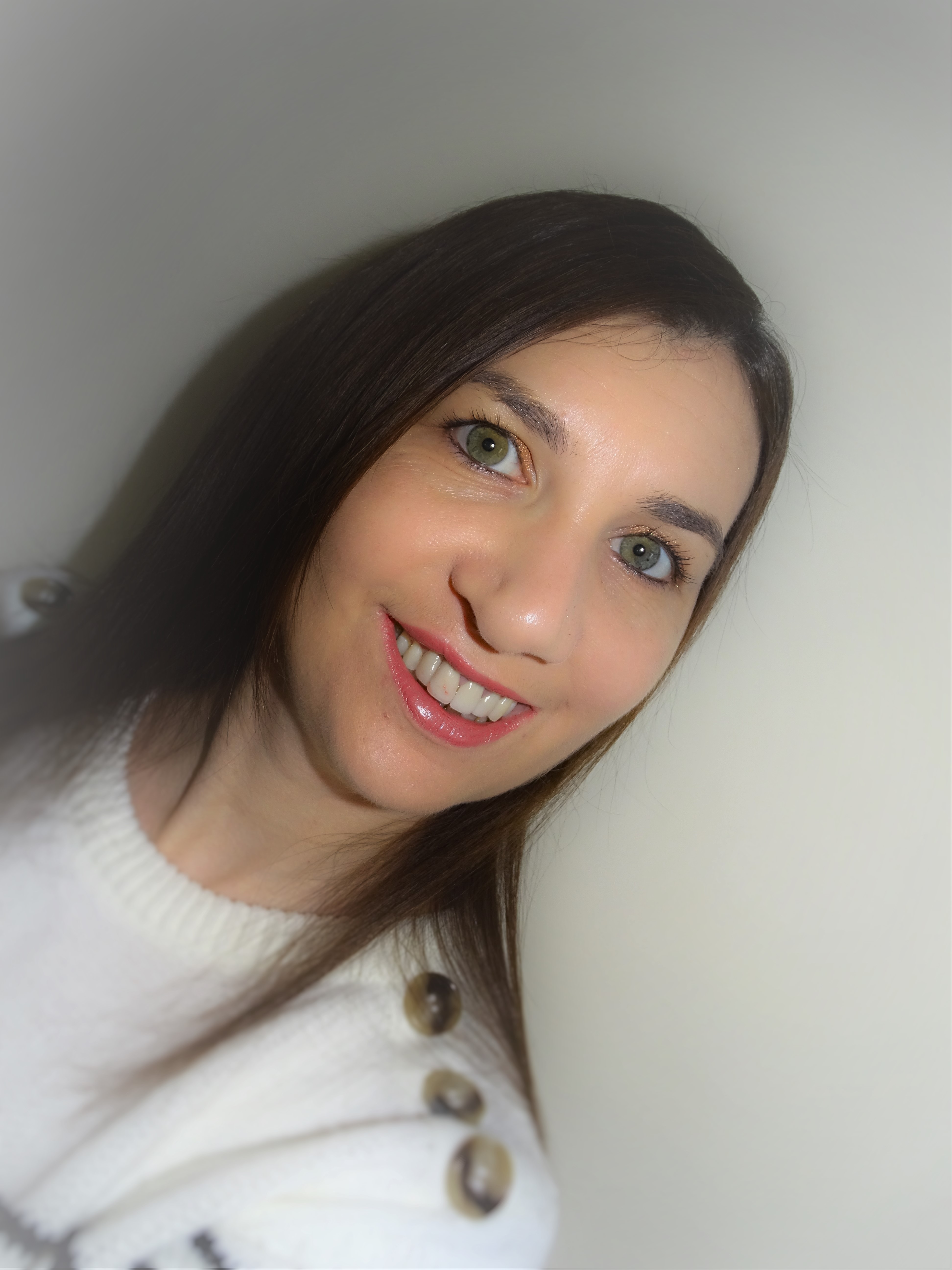 It's taken me time to learn to love myself for me, and to have the confidence to do the things which I find much easier now than when was a child. I've worked in retail since I was 14, so I've had to deal with people on a daily basis. I was always worried someone might say something about the way I looked, especially as a teenager, but thankfully nothing has been (not by a stranger anyway). I had name calling at school, and kids would mimic my lip by placing their finger on their lip and pushing the side up.
There is a quote I like that says "I love the person I've become because I fought to become her."
I don't let my cleft define me, and now I am older I have found a confidence I never had before, and do things I never thought possible, including having a photo shoot – not once, but twice! I loved every moment and told myself that I deserve this just as much as anyone else.
What Has Changed?
"Today there is definitely so much more awareness. My dad (who had a unilateral cleft lip and palate) definitely had a worse time than me. Technology, medical knowledge and public awareness has moved on so fast that having a cleft isn't so damaging psychologically and physically for the newer generations. Although public awareness and helping fight the stigma can still be made better through brilliant organisations such as CLAPA and its amazing awareness week."

Adult with a cleft lip and palate
At the turn of the century, cleft services were centralised into specialist teams, which has had a huge impact on the quality of treatment in the UK.
Modern technology, better procedures and sensitivity training means parents receiving a diagnosis today can usually expect a much better experience, especially once they're referred to their own specialist cleft nurse who will be on hand with reassuring information and practical advice.
Specialist surgeons around the UK performing cleft lip and palate repairs means fewer of these fail, and a stronger focus on the needs of children and young people means no child has to come in for surgery without knowing what it's for. CLAPA works to bring people together so no one has to go through any of this alone, and our online and offline support groups means answers and reassurance are close at hand, day and night.
But we know there are still many challenges for people affected by cleft – and we need your help to overcome them. Can you help us make a difference that lasts?