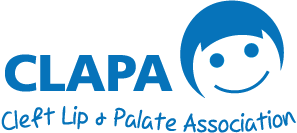 Help CLAPA Make a Difference that Lasts
Over the past five years, CLAPA has nearly doubled in size thanks to people like you who believe in our work and are willing to invest in a brighter future for people affected by cleft in the UK.
All this growth has come with some incredible opportunities, like our updated Parent and Peer Support Service, our new Adult Services Coordinator, and the success of our project to have a staff member cover each region of the UK. But there have also been many challenges. Demand for our services is growing fast – and we need your help to grow with it.
Even as our costs rise, it's important to us that our services remain accessible, and that we never have to cut back on the front-line work we do for families, teenagers and adults in need.
CLAPA needs your help now more than ever. If you've ever thought about getting involved with fundraising, becoming a regular supporter, or even just making a one-off donation as the tax year draws to a close, now is the time. If you were thinking of doing something during Awareness Week in May, whether it's with your local community or your workplace, school or college, 2020 is the year to take this next step and get involved.
We know that for our fundraisers and donors, CLAPA's work is very close to the heart. Almost all of you are personally affected by cleft lip and palate, and we hope that we've been able to give you the right support when you've needed it the most.
We don't directly ask for your help very often, but times are getting tougher for charities, and CLAPA is no exception. Funding is drying up, but with 1,200 new families joining the cleft community each year, the need for our services is only growing. With your help, we can reach every one of these families for many years to come.
If everyone on our Facebook page gave just £2/month, we could secure our frontline regional support services for an entire year, including Happy Faces Groups, Christmas Parties, family days and more. We could make real commitments to expanding the areas of our work under the most pressure, such as our feeding service, and make sure we never have to cut back what we can provide.
The cost of a coffee is all it takes to secure a future for the CLAPA Community. Can you help us be there for people and families in need all over the UK?
You can even help CLAPA for free while shopping at Amazon or at over 4,000 other online retailers from Asda to ASOS. Even your daily internet searches can help us reach more families each year!
Please – help us make a difference that lasts.

Can't see the donation box above? Visit CLAPA's Just Giving site to make a donation.
How have we grown?
Since expanding our range of special bottles and teats in 2016, we've seen a 50% increase in free Welcome Packs requested by new families in the UK.
In the last five years alone, our community has grown from around 5,000 people to over 20,000!
Since 2012, we've gone from one Regional Coordinator to four, plus six new local staff members generating activity and supporting volunteers all across the UK.
Since 2013 we've launched 20 new Happy Faces groups to provide the local, accessible, informal support which is so vital to new and expectant parents of children with a cleft.
Trained Peer Supporters have joined our ranks to give one-on-one support to adults born with a cleft lip and palate. April 2018 will see us training a number of teenage volunteers to support others like them.
We now have dedicated staff members focusing on adults born with a cleft, as well as children and young people. Our strategy up to 2020 focuses on these groups as a priority to match the services we already provide to parents and young children.
To find out more about how we've grown, and to see the kind of impact this has had, check out our award-winning Impact Reports.
How could your money make a difference?
£20 – A Welcome Pack of special bottles and teats for new parents
£40 – An awareness-raising talk for a school or community group
£100 – Train a new volunteer to run a Happy Faces support group
£300 – Train a new Parent or Peer Supporter to help others one-on-one
£1,000 – Run a local Happy Faces Group for a year