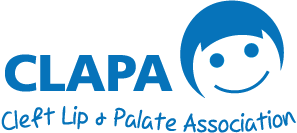 Update: CLAPA's Adults Project 2019
The CLAPA team have been working hard behind the scenes on the CLAPA Adults Project. We know you've been keen to hear what's planned for the rest of 2019, so here is a quick update from Kenny Ardouin, CLAPA's Adult Services Coordinator about the next stages of the project.
Things have been a little bit quiet on the Adults Services Project lately, but we've been beavering away behind the scenes!
These last few weeks I've been working with our friend Nicola at the Centre for Appearance Research on starting to write up the data from the survey – there's a lot to sift through – thank you to all those of you who took part. Many of your experiences were tough for Nicola and I to read, so we really want to do our best to make sure your stories are told and that we do what we can to make life a bit easier going forward.
In a couple of weeks' time I'll be giving a very brief overview of our findings at the UK & Ireland Craniofacial Conference in London and outlining our goals for 2019 to the NHS Cleft Teams whom we are very grateful to for their support.
Whereas last year, we were very in your face with the roadshows and survey etc., this year will see us do a lot behind the scenes to set up some initiatives (e.g. the leaver's pack, improving GP knowledge of cleft referrals, and publishing the research we've been doing etc.) that will hopefully last for a long time and have a positive impact well beyond our current reach and beyond the people currently engaging with CLAPA.
Of course, you will still see us pop up from time to time – we are hoping soon to start monthly Facebook live panel discussions in the Facebook group on topics which you've told us in the survey and at the roadshow are important to you, and we also hope to see you at our big event of the year – the Adults Conference on Saturday 14th September in Glasgow. The best way to make sure you get all the goss as it happens is to make sure you've signed up for our newsletter on the CLAPA website.
I always love to hear from adults in the UK Cleft Community – what you're up to, as well as your thoughts on what we're up to with the project, so if you ever want the more personal touch, do feel free to drop me an email to [email protected] and I'll do my best to get back to you as soon as I can!
That's all for now, take care, stay tuned! ☺️
Kenny
Read more about CLAPA's Adult Services Project