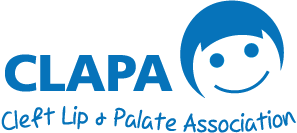 My cleft journey started 37 years ago when I was born with cleft lip and palate. I grew up like any other child with the added hospital appointments and operations thrown in, but I got through it. Back then, CLAPA didn't exist and they couldn't diagnose at the scans so, for my mum she was just handed me after giving birth and basically got on with it – and for that I'm truly grateful. My dad also was born with cleft lip and palate and I have an older sister who has gone on to have 2 children but both them were unaffected. I didn't let having cleft lip and palate stop me and fulfilled my dream of working with children and was a nanny in California which I loved. Sometimes I feel that what I went through as a child has made me a more determined person and has made me who I am today.
My love for looking after children continued and after marrying my husband Richard a couple of years later we found out we were expecting our first child. We went in our 20 week scan excited to be finding out the sex of our new baby, little did we realise that our cleft journey was about to start! Despite being born with cleft lip and palate and I guess some say I should have expected it, it was still very hard to take in. However, having the Cleft Nurse, Vicky Squires, phone me shortly after and the support of my husband and family got us thinking more positively and wondering what/who she would look like. When she was born, she was gorgeous and we totally forgot about the cleft – she had these gorgeous eyes and beautiful wide smile – in fact when it was time for her operation at 3 months I was really sad for her to be changing as I felt I was being given a different baby. She had two operations at 3 months and 6 months …she's now a happy 6 year old who also seems determined (some may say headstrong at times).
Four years later, it was like history was repeating itself. Again we were expecting baby number 2 and off for the 20 week scan and we were told we were having a boy and that they could see cleft lip/palate again. I'd taken the extra dosage of folic acid this time round (although there's no medical evidence that it prevents clefts) so I guess I must be the strong gene carrier. After a few wobbly days, which I'm sure everyone has, I then decided the best thing was to think positive and focus forward – after all there was nothing I could change. The following April, Austin arrived. His Cleft was more severe than both mine and Charlotte and he's had 3 operations. His operations were done later so whereas Charlotte's face had changed at 3 months, he was almost a year old as his lip was done in 2 stages. I'll be honest, I'm not a fan of hospitals, however when my children are in I put my "mummy" hat on – it's amazing the strength we find for our babies when we have to. Austin's now 2 and an amazing boy. I feel blessed to have 2 cleft children and wouldn't change them for the world.
I wanted to be able to help other parents of cleft children and I've now gone on and done the Parent Contact and the volunteer training, CLAPA hold these all around the country and if you're thinking of doing them I'd say do it, I highly recommend them! I personally got a lot out of them. I'm also the Happy Faces co-ordinator for Norfolk/Suffolk and I arrange meet-ups for those affected with cleft. Our numbers are small at present but I'm hopeful that, over time, the word will spread, people will join our Facebook page and more people will come along.
Finally, I helped a fellow cleft mum with her fundraiser last year, raising £1000 for CLAPA and when Charlotte was christened as a baby we decided no presents and had donations to CLAPA. I've met some lovely people on both my children's cleft journey both near and far and thank the Cleft Team, CLAPA and my wonderful family for their amazing support!!