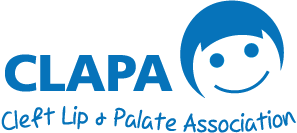 Changes to CLAPA's Peer and Parent Support Service
Our UK-wide support service for parents and adults with a cleft is now even better!
Parent and Peer Supporters (previously called Contacts) are volunteers trained by CLAPA to use their experiences of cleft lip and palate to provide one-on-one support to others in need. Over the years they have been a listening ear and friendly voice to so many people at all points along the treatment pathway, and their commitment and dedication to this role continues to inspire us.
After reviewing this service, CLAPA has decided to change the way it is run to make it safer and easier to access for everyone.
How Does it Work?
1. Get In Touch
Fill in our special contact form for adults with a cleft or for parents to let us know a little about you, what you'd like to talk about, and how we should contact you.
You can also email [email protected] / [email protected], or call the office on 020 7833 4883 to have a member of staff make a request on your behalf.
2. More Information
If we need more information to help match you to the right volunteer, we'll be in touch. We may also suggest a more appropriate service.
3. Make a Match
Based on what you've told us, we'll match you with the volunteer we think best matches your experiences and needs. A CLAPA staff member will contact you to confirm this and check your availability.
4. Share Information
We'll share what you've told us with the volunteer we've picked, and we'll also tell you who will be getting in touch.
5. Contact
Your Parent or Peer Supporter will contact you within 48 hours. We suggest you talk up to ten times to make sure you're getting the support you need, but this is up to you.
6. Feedback
You'll be asked to fill in a short feedback form after your last contact to help us improve this service.
Find Support
We have trained volunteers waiting to support adults born with a cleft as well as parents who need to talk.
Get in touch today to be matched with a volunteer within 48 hours.
Find Out More
My Parent Contact – a story of how one mother found new hope after getting in touch with one of our trained volunteers.