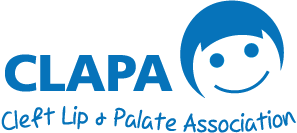 In her own words, Karen discusses her experience of growing up and living as an adult born with a cleft lip and palate. Find out how to share your story.
Background
Considering the Options
The Bone Graft
Implants
Teeth at Last!
In Conclusion
Background
I was born in 1952 with a cleft lip and palate. It is an example of how times have changed that my grandmother received a telegram to say that her daughter's baby had been 'born deformed'.
My mother was young and unmarried, and I can only imagine how overwhelmed she must have felt. She was given the choice of taking me home immediately and returning to the local children's hospital for my surgery later, or leaving me in hospital. The reason for the second option was that a 'plastic surgeon from a London hospital', with a different approach to lip and palate surgery, came down once a month and would see her baby. Despite how confused she must have been feeling, my mum managed to reason that a surgeon from a London hospital would probably be a better option; London being the location of teaching hospitals and associated with expertise. Thus began my history of treatment with Mr Charles Heanley. My main memories of this were that he would check my speech by asking, for example, 'Can you say 'sausages'?' Terrified into untypical silence, I would just nod, only to be berated by my mum on the bus home! We always left the hospital with a large container of friar's balsam to be used in the steam inhalations which characterised my childhood.
Apart from adenoid removal due to a growth (an adenoid is a patch of tissue in the throat, behind the nose), I had no further surgery in childhood. I had speech therapy quite late on (aged about 10 or 11, I think) but the possibility of further surgery, which had once been on the agenda, never resurfaced. On what was probably my last visit to him, Mr Heanley's only words of comfort to me were that, had I been a boy, I could have grown a moustache to cover the scar! Like many/most children who are in any way different, I had a fair bit of bullying which has left its mark.
Dentally, I was a bit of a nightmare. My teeth seemed to grow in all directions at once and all attempts to straighten them failed miserably. This was probably not helped by my neglecting to wind up the plate I'd been given to wear. The discovery of a tooth growing in the middle of the roof of my mouth probably generated as much trauma for the dentist, who had to cope with trying to remove this from a hysterical child, as it did for me. Aged 11, all attempts to sort out my natural teeth ended and I had my first false teeth on a plate which clipped onto my own teeth. A child of the '50s – no fluoride, too many fillings etc. – my teeth were never going to be good and every few years another tooth would be added to the plate. I was lucky to have some great dentists and I coped well until, having an emergency wisdom tooth removal in 2008, the dentist informed me I had an infection under it and would eventually lose all of the teeth on that side of my top jaw. My own dentist suggested that I go to a local private dental centre. I did start preliminary investigations there, but events (see next section) overtook me. I now dread to think what this would actually have cost!
I later found out I could be treated on the NHS, after my dentist referred me to hospital for a fistula, following another tooth extraction. When I explained that I had been planning to have private treatment, the hospital dentist advised me I qualified for NHS treatment because of my cleft. The emergency dentist had been right and, finally, I faced the dilemma of what to do next. I had one remaining tooth securing the wire for my false teeth plate on that side and that tooth would also, before long, need to be extracted. This was what brought me to the maxillofacial and orthodontic services at Salisbury District Hospital (SDH).
Considering the Options
One significant difference between child and adult patients is that, for adults, a lot of 'stuff happens' in our lives. Unfortunately, in 2008, I was also diagnosed with breast cancer so began a saga of surgery, chemotherapy and reconstructive surgery. By the time I came to see Mr Flood, the maxillofacial Surgeon at SDH, to discuss the options for my teeth, I was emotionally quite raw. The prospect of further surgery was daunting. I imagine children who have had repeated surgery must also start to feel exhausted. An added problem was the uncertainty of whether surgery would work, what surgery would be needed, and the almost total lack of information about how adults with clefts cope with tooth loss. I tried to locate information, for example from CLAPA, and posted a query about treatment options on a discussion boards for adults. This generated two replies; one from someone who said that she lived without teeth and it really was not a problem and one from someone who advised me to go for the implant option. Contemplating the options of no teeth or extensive and possibly unsuccessful surgery, I would attend appointments, only to then back off for months, trying to put it behind me, but knowing I was just delaying the inevitable.
It was a great help at this time that no-one tried to rush me. My delays were tolerated and my wish for a second opinion was respected. The lack of information about likely outcomes was frightening. I fully understood that this lack of research findings was due to us older people with clefts being a small and diminishing cohort so, understandably, not attracting research interest. A fairly anxious person, however, I feared the worst; that I would go through all this and still end up with no teeth. I compared the prospect of this surgery with the treatment I'd had for breast cancer, where I'd sat with the oncologist and discussed statistical prospects of recurrence following treatment. I'd been able to read research about reconstructive breast surgery and the likely risks and outcomes then, now I just felt frightened and uninformed. More delaying ensued! Eventually, in 2015, I decided I just had to face the uncertainty and start on the long process of bone grafting and implants.
The Bone Graft
A bone scan had revealed that I had very little bone in my top jaw. A bone graft would be needed because the lack of bone was too extensive to use animal or artificial bone. I found this quite daunting and, again, it was made worse by a lack of information. The hospital did provide me with some information – written for children. (It was good to know that I could bring my favourite toy and tell the anaesthetist what I wanted to dream about, but I could have done with more concrete information.) As someone who has spent years issuing dire warnings to students about taking great care with locating information on the Internet, I proceeded with great caution. I did however manage to download an information sheet about the surgery from another hospital's website. I was given dietary information, but found this rather limited. Attempts to follow up with queries to a dietician were unsuccessful. One thing which was useful was that, as I am monitored for osteoporosis, I was able to provide the results of my Dexa scan to aid the decision-making about which hip to use. As I've had a fair amount of surgery, I did what I hoped were all the 'right' things before surgery, such as maximising the exercise I took and avoiding alcohol in the period immediately before the operation (difficult as we were attending a wedding in Scotland immediately prior to my surgery!).
Before the surgery, I was alarmed that the anaesthetist did not seem to understand the fact that morphine gives me respiratory suppression, so that added to my anxiety. The operation went well however, and it was a relief to be able to stay in hospital for a couple of nights afterwards. I had excellent nursing care and remember waking up during the night to find a nurse very gently administering IV antibiotics into my ankle.
Recovery seemed very slow and left me feeling that I never wanted to eat soup again! I'd tried liquidising food, but found it so unappetising. Tony, my husband, devised a fabulous milkshake made from Build Up, full cream milk and clotted cream ice cream and became an expert with the juicer! I did want to carry a sign saying, 'No I'm not losing weight! They've told me I mustn't' (because of my need for calories to assist repair). It was very helpful that, on the couple of occasions when I encountered glitches, such as losing a sliver of bone, I was always able to go back to the hospital to see someone quickly. It was really helpful to have contact points at the hospital; it can be so hard to navigate the system. Unfortunately, securing regular follow-up appointments was not so easy. At one point, I became lost in the system which was frustrating and upsetting, necessitating lots of phone calls. I found this quite an anxious time because I was worried that, having been told there would be an optimum time for the bone graft taking and being ready for implants, I might miss this if there were delays.
Implants
The uncertainty continued because I needed to wait to see whether the bone graft had taken. In the end it was easiest just to put this behind me and carry on with life – albeit without teeth! After 8 months I had 5 implants inserted by the dentist. I opted to stay in hospital and paid to stay on a private ward. I wanted the reassurance of knowing help was at hand if there were any problems and I live an hour's drive away from the hospital.
I had a blockage in a salivary gland and there was some uncertainty about when and how this would be investigated. We discussed how abutments would be fitted to the implants and I opted for sedation knowing, from previous experience of dental work over the years, that it's hard to anaesthetise my top jaw because the nerves are not where they should be. I have also found injections very difficult due to my lack of gum. Unfortunately, sedation did not work either. I drifted off happily enough but woke up to the disappointing news that nothing had happened! I had not been able to tolerate the injections, had become very tearful and, having been given the maximum sedation, nothing more could be done. I imagine this is part of the difficulty of the considerable time lapse of over 60 years since my original surgery. There are no wiring diagrams for what was originally done. Presumably there is nothing that can be done about this. Although I was feeling I'd had rather too much surgery in recent years and I hate having general anaesthetics, it was a relief to have the abutments put on under a GA!
I came round from the surgery to my dentist giving me the good news that all 5 implants had taken and I felt so well that, although I had arranged to stay in overnight, I actually went home.
Teeth at Last!
Two years without teeth was trying, but surprisingly bearable after the initial 'soup' phase. I learnt that eating just took longer and not to give a broad smile in photos. The final stages of fittings for my bridge were uncomfortable and painful, and it was so helpful that the extent of the pain was acknowledged. I was treated very kindly and with great patience. Even having impressions – something I really hate – was handled very sensitively, and they were as bearable as possible. It was very helpful to be given advice about cleaning the bridge. One advantage about being an adult who has coped with chemotherapy is that I'm pretty meticulous about mouth-cleaning (essential in preventing infection) so now, as at every stage of my treatment, I obeyed orders! I felt elated to have my new teeth and spent the next few weeks grinning as much as possible. I even took my first selfie and e-mailed it to friends who had been enquiring about my progress!
I yet again entered a kind of vortex while waiting for a follow-up appointment! It is very frustrating to hold on the phone, hearing endless repeated messages and on-hold music, only to be passed from person to person with messages left in central bookings. I can only imagine that, the more stretched NHS resources become, the worse this kind of thing will be.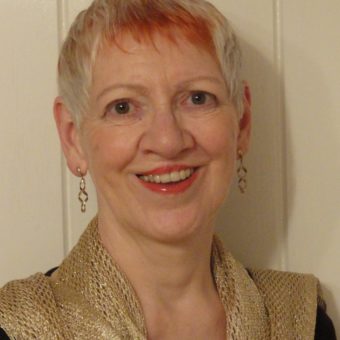 In Conclusion
If someone in a similar situation to me asked what they should do, I would unhesitatingly advise them to opt for the surgery. It has felt like a long two years but I am delighted both with the care I've received and with the outcome. The photo is a recent one of me all dressed up for a night out and still grinning!
Would you like to share your story? Find out how on our website.