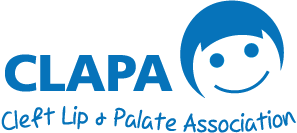 "I want to do everything I can to help raise awareness so that other parents won't feel as lonely and unsure as I did."
Public ignorance about cleft lip and palate is a huge challenge facing thousands of new families each year. Awareness Week is a chance to make ignorance of cleft a thing of the past.
Help us spread the word, share your story with #mycleftstory this May, and remember – the smallest act like clicking 'share' or even liking a post can have a big impact!
If you've got your own story to share, get in touch to add it to our Your Stories tag, or share it with your friends, family, school or workplace to help make Awareness Week personal.
Follow us on Social Media
To get all the updates about Awareness Week as they come in, make sure you're following us on Facebook, Twitter and Instagram!
Every time you click 'share' or 'retweet', you're helping make a brand new audience #CleftAware.
Dress Up Your Social Media Profiles

Facebook Header Image
Add our Facebook header image to show your support this Awareness Week
Other Resources
Download the Awareness Week 2021 logo below to make your own photo collage to share during Awareness week.