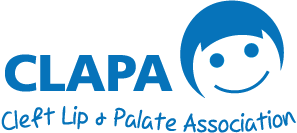 CLAPA Ambassadors are people in the public eye with a strong connection to cleft who use their platforms to raise awareness and help with fundraising.
Jennie Longdon
Jennie Longdon is a national radio presenter and podcaster. You can hear her every day of the week across the UK on both the Absolute Radio and Hits Radio Networks.
She also hosts a parenting podcast titled 'Two New Mums' where she has captured every part of her pregnancy and parenting journey. From the moment she found out she was pregnant to her son's cleft diagnosis, the birth and everything since. Jennie and her podcasting partner Amy Voce have created an amazing community for parents based on refreshingly honest conversations between each other and with guests and experts like Joe Wicks and Zita West, to name a few.
Jennie's son Bear was born with a unilateral cleft lip. After the 20-week scan, Jennie decided to share this journey with her listeners on her podcast, social media and on the radio. Her honest approach and support for CLAPA have meant she has connected with so many other parents on similar journeys.