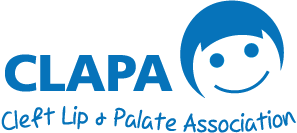 CLAPA's governing body is a board of Trustees who are all volunteers. The board is a mix of people affected by cleft lip or palate (with a cleft or parent of a child with a cleft) and health professionals involved in the care of people born with cleft lip and palate.
Individual Trustees are selected on the basis of what skills they can bring to the running of the charity. Vacancies are advertised on the website and via e-newsletters.
For more information on individual Trustees, see their personal bios.
Rona Slator (Chair) – Consultant Plastic Surgeon and Clinical Director, West Midlands Cleft Service
Nick Astor – PR and Communication professional and father of a child with a cleft
Jas Bhachu – Finance Professional and Treasurer
Cassie Footman – Human Resources professional and mother of a child with a cleft
Peter Hodgkinson – Consultant Cleft and Plastic Surgeon, and Clinical Lead Newcastle site Northern and Yorkshire Cleft Service
Oliver Hopkins – Management Consultant and adult born with a cleft
Yin Jones – Former barrister and mother of a child with a cleft palate and PRS
Jemma Morgan – IT professional and mother of a child with a cleft lip and palate
Marie Pinkstone – Lead Speech and Language Therapist, North Thames Cleft Service
Amelia Strangeways – Communications Professional and mother of a child with a cleft lip and palate
Trustees help CLAPA by using their varied skills and backgrounds to provide an overall strategic direction to the charity. They meet four times a year to review accounts and strategies, with the fourth meeting being an 'Away Day' where topics are discussed in more detail.
---
Rona Slator
Chair
Former Coordinator of West Midlands Cleft Service, Rona is a cleft specialist Plastic Surgeon and she became Chair in 2016.
Nick Astor
Nick is a broadcast and media professional with over 16 years experience. He has led an award winning animation company and, amongst many roles over 13 years at the BBC, commissioned online comedy and helped launch the successful global iPlayer VOD app. For a decade he sat on the committee board of The Network; a small charity dedicated to giving people from all backgrounds help to break into the media industry. He had also worked with other charities, such as Catch22, offering advice and consultancy. He is now a proud member of the Trustees with CLAPA.
Jas Bhachu
Cassie Footman
I am mum to Kiera and Regan – Regan was born with a complete unilateral cleft lip & palate. He's due for an alveolar bone graft in the next 12 months and has now got the bug for raising money for CLAPA.  I've had first hand experience of the excellent support given by CLAPA; it was a parent contact who put me in touch with my cleft services following antenatal diagnosis. I applied for a Trustee position because I feel very passionate about the work CLAPA do – not just in supporting individuals & their families but also in influencing a high standard of healthcare services, including education of health care professionals outside the cleft services who are involved in initial diagnosis.
I am delighted to join the team and bring over 18 years strategic Human Resources experience and now run a coaching & mentoring business from home. Much of my current work involves helping a broad range of individuals be the best they can be – from young people to frazzled parents and worn out entrepreneurs.
My family time is sacred and is usually spent playing/watching football, cycling & enjoying movie nights with my husband and the children.
Peter Hodgkinson
Consultant Cleft and Plastic Surgeon, and Clinical Lead Newcastle site Northern and Yorkshire Cleft.
Peter has had an interest in clefting since his PhD research when, while still a medical student in Manchester, he spent 4 years investigating craniofacial morphology in adults with cleft lip/palate using state of the art computer graphic statistical methods.  He subsequently qualified in medicine and went on to train in plastic surgery in Manchester, Slough, Newcastle, South Wales and Adelaide, South Australia. He has been a Consultant Cleft and Plastic Surgeon in Newcastle since 1996 and has led the cleft team in Newcastle upon Tyne since 2002.  Peter has a strong interest in multidisciplinary cleft working, and with colleagues in Newcastle and support from CLAPA he co-produced an informational film for parents about multidisciplinary cleft treatment.  When not working (almost never) he is a qualified horseman with an interest in heavy horses and keeps 3 Suffolk Punches – the rarest UK breed of horse with fewer breeding animals worldwide than there are giant pandas.

Oliver Hopkins
Oliver is an adult born with a cleft who works in London as a freelance consultant.
Yin Jones
Yin is a mother of 4 year old Hannah who was born with a cleft palate and Pierre Robin Sequence. Yin is a qualified barrister and, prior to Hannah's birth, had substantial experience as a prosecutor in the criminal courts. Yin is also an independent member of the Police Misconduct Panel for the Mayor's Office for Policing and Crime. Yin works for Tearfund, a Christian international relief and development agency.  Yin is a Parent Contact and was the Chair of the Great Ormond Street Hospital Branch. Yin applied to become a CLAPA Trustee to enable her to be involved in a cause which is very close to her heart and to play a key role in furthering the valuable objectives of CLAPA.
Jemma Morgan
I have been aware of the CLAPA charity since my son was diagnosed with a cleft lip and palate at the anomaly scan in February 2012. I became a member of the charity shortly afterwards. Rowan (pictured) was born in July 2012 with a right-sided unilateral complete cleft lip and palate. Rowan's operations (3 so far) have been performed by Mr Cobb in Bristol. Since Rowan's birth I have done some individual fundraising for CLAPA including running the Bristol 10K in May 2014 and nominating CLAPA for a charity award through the company I work for (Controls and Data Services) resulting in over £1000 raised. I am an IT Professional, currently working as an Implementation Consultant. In my spare time I like to run, grow fruit and vegetables on our allotment and visit art galleries and museums. Becoming a trustee and actually taking part in shaping this organisation for the future is really exciting, especially as someone who has relied on CLAPA's support and will continue to do so for years to come. You can follow me as @Jemmorgs on Twitter.
Marie Pinkstone
Specialist Speech and Language Therapist with the North Thames Cleft Service in Great Ormond Street Hospital

Amelia Strangeways
Amelia is a communications professional from Scotland. She has a daughter born with a cleft.