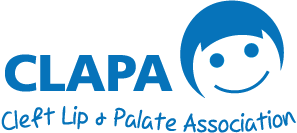 Volunteer Tanya Clark puts on a waxing extravaganza!
Even before Tanya Clark's son Brooklyn was born last year with bilateral cleft lip and palate she was determined to support others in a similar situation and has been volunteering and raising funds ever since!
In Tanya's own words:
We decided to do a fundraiser for CLAPA as we did one last year before Brooklyn was born and felt it was time again to see what we could raise. After attending a CLAPA training weekend I found I could specify where the money went to and so decided to raise money to help towards the cost of a new CLAPA website. We decided on getting family members to get waxed and for people to sponsor them. We then arranged several other ways of raising money including raffles, face painting, balloonists, Disney mascots all of which you could have your photos taken with. There was a performance by Zumba Kidz and lots of other things going off on the day as well.
The biggest thanks would go to my partner Dean for putting up with weeks of me stressing whilst organising and planning the event. Numerous nights getting up in the middle of the night to sort things, or reply to emails and chase things up. It's not easy to plan such an event with a young baby that has to be entertained and looked after! So when Dean wasn't at work he would help by taking control of all the care of Brooklyn and would let me get on with what I needed to do. As a family we agree that sitting on your phone or iPad isn't a good thing so we try to do this as little as possible when Brooklyn is about but organising this meant I was on my all the time, and
Dean was very patient and understanding about it.
I would also like to thank my family and friends as they were the ones that offered up their body parts to be waxed and also supported me in getting things together and arranging the raffle prizes and the venue and so on. So thanks to my dad & Stepdad – both absolute doting grandparents to Brooklyn – Wayne & Paddy. My Uncle Paul, cousin Paddy, and friends Andy & Steve and of course Dean who's legs are still smoother than mine now!
There are so many other people that helped make this day special that I would need a full page to list everyone but you all know who you are. I am so grateful for the help they all provided, and especially to every one of you that donated or came along on the day. You helped us raise a whopping £3,833.06, so well done and thank you to all involved.
Finally I have to say a huge thank you to the star of the show event though he did nothing but get attention and that's our gorgeous son Brooklyn.
We are thrilled at CLAPA for all the support that Tanya and her friends and family have given to the charity over the last year, raising an incredible total of £6,758.05! Thank you to you all but especially Brooklyn for being the inspiration for this amazing achievement!