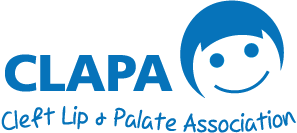 Theresa's son was born with a unilateral cleft lip and palate. She shares their journey from diagnosis to his first surgery and the challenges they've faced along the way.
I guess our story begins where most others do. We found out our baby has a unilateral cleft lip and palate at our 20-week anomaly scan. At first, Tom and I weren't really that bothered; we didn't know much about it aside from that it affected how a child looks and can be fixed.
We were rushed into a separate scanning room where a more in-depth scan was carried out, and we also found out his palate was affected. We found out about all the effects it can have – feeding, hearing, dental. That's not even touching on the mental effects it can have on someone. Once we heard this, my mind was racing.
Is it my fault? Have I caused this to happen to my baby? We already have a daughter, who was born with no issues. No one in our families had a cleft, so why us? Why our son? Sam is our rainbow baby. Would this have happened with our lost child?
As we continued through the pregnancy, the questions just kept coming. Kids are cruel. Will he hate us for putting him through this, knowing that kids will bully him?
A huge worry for me was whether I would connect with him when he was born. I didn't have the greatest birth with our firstborn and had an emergency c-section. This was a catalyst for post-natal depression. When Sam is born, am I going to see him as imperfect? Am I going to suffer again?
Like everyone else, we were in and out of the hospital with checks and scans and various appointments with our cleft team.
Eventually, we got to the birth – I was a week late and finally induced. I'd built myself up to the thought that I'd have to have another c-section that, when he was born naturally, I couldn't quite get my head around it!
Then they laid him on my chest, and I saw him for the first time. In that second, every single worry I had melted away. Tom & I had the most perfect, beautiful little boy.
Then they laid him on my chest, and I saw him for the first time. In that second, every single worry I had melted away. Tom & I had the most perfect, beautiful little boy.
Sam was admitted to our hospital's neonatal clinic for a few days. Unfortunately, he was only drinking 8mls before turning blue due to the cleft. The on-call cleft nurse advised he be fed through a tube with a syringe.
We were devastated. We knew he'd have an issue feeding, but the level of failure we felt was immense. We've failed our little boy; we couldn't even give him the most basic thing a parent should.
But in a few short days, he'd gone from drinking 8mls to 41mls without turning blue – our baby boy could come home!
A few months have passed, and Sam had his first cleft surgery at Alder Hey – his lip and hard palate. If we thought not being able to feed him ourselves was hard, boy, were we in for a surprise!
The first 24 hours were the hardest. Unfortunately, he'd been diagnosed with covid after the operation, so we were confined to a room and not allowed to leave. It also meant only one of us could stay.
Sam only slept for two broken hours the whole night, which meant I slept for less. He couldn't feed again; he kept trying to put the teat where his cleft was and realising he couldn't, and it hurt. The night nurse gave him an IV and somehow managed to get him to have 80mls of a bottle himself.
The next afternoon, he'd drank another 150mls by himself, and Tom came to bail me out so I could go home and sleep and look after our daughter. I don't think I've ever cried so hard as I did when I got in that car ready to come home.
It was like our baby boy had been taken away from us, and we'd been given someone else's. He was allowed home the next afternoon; he'd become more like himself, and he'd been drinking more. He still relied heavily on the pain medications, but he could come home!
We're now ten days after his surgery, and he's back to his normal feeds, sleeping a little better, and is almost off his pain meds! We still have so far to go, but we're one step closer to the end of our journey. Tom and I couldn't be prouder of our cleft boy.
Thank you to Theresa for sharing your story!
Have you got a story to tell? We'd love to hear from you! Get in touch here.